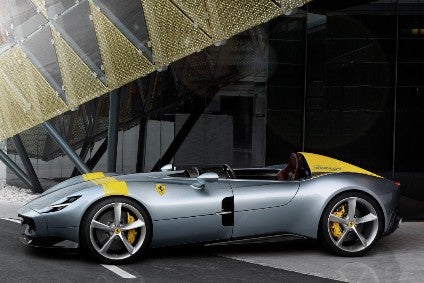 Louis Camilleri has a bigger job than most previous Ferrari bosses. Profits are sky high and must stay that way, yet the enormous costs of electrifying certain future models and replacing elderly existing cars plus adding an SUV must be met somehow. Which inevitably means creating more limited-build and obscenely lucrative hypercars such as the SP1 and SP2 without diluting the appeal of the Ferrari name itself.
Lamborghini says it can't keep up with demand for the Urus. Rolls-Royce is ignoring the haters as the Cullinan brings people to the brand who might not otherwise buy one of its cars. The Porsche Taycan Cross Turismo electric super-crossover is coming in 2021, as is a Lagonda, while the Aston DBX is due later this year. McLaren insists it doesn't do SUVs. Ferrari used to say the same thing. How then will its first attempt at such a vehicle be received by potential buyers?
As with other companies and brands in the greater Fiat Chrysler family, much has changed for Ferrari – which this year turns 90 – since the passing of Sergio Marchionne. His successor Mike Manley has been notably quiet when it comes to Ferrari, preferring to allow the supercar maker's CEO to be the visible face of the firm. There is a vast amount of change ahead too.
Even though Louis Camilleri says there will be V6, V8 and V12 engines for many years yet, it's no secret that Ferrari is working on new hybrid propulsion systems and at least one form of externally-charged electrification. Ferrari has a strong cash cushion although it will probably not want to spend too much of it on electric models just yet. The experiment of developing and then having to skillfully market an SUV is still new to the company. An EV can and must wait.
Here below is a round up of the latest expectations for the Maranello-based car maker's future models. Official plans were laid out by the CEO five months ago.
Icona series
F176 is said to be the model code for a special edition supercar available as a single or two-seater, part of the 'Icona' range of low volume/high cost models.
Ferrari used a September 2018 Capital Markets Day at its HQ to talk about the cars it plans to release by the end of 2022. Among them are two limited edition models, the single seater Monza SP1 and its dual-seat Monza SP2 equivalent. These were then presented to the public at the Paris motor show in October. Production has recently commenced.
The Monzas have the most powerful road car engine in Ferrari's history: a 603kW/810cv 6,496cc V12.
Cars
Ferrari is splitting its future model line-up into four sub-groups: Sports (replacements for the 488 and 812 plus an additional mid-engined model), GT (the 'Purosangue' SUV is one), Special Series and Icona (hypercars: first, the SP1 and SP2, next, a successor for the LaFerrari).
It might cost around 200,000 euro, yet the Portofino is the least expensive model. In theory, it's also the newest series production one. This car started life in 2008 as the F149 California. It then changed names to California T in 2014 before evolving into its current avatar in 2017, premiering at the Frankfurt IAA. The Portofino is a 2+2 coupé-convertible, powered by a 441kW (600cv) turbocharged V8.
The lifecycle, as with almost all FCA vehicles, should be a long one. Ferrari has tended to give its cars a facelift, a revised or fresh engine and a new name after five or six years. Which means in the case of the Portofino, there could be major change in 2022 or 2023 with production of the revised and renamed model set to continue until around 2026.
The current 488 is based on a model which was released even before the F149 California. The 458 Italia, a two-seat replacement for the 430, had its global premiere at the Frankfurt motor show in September 2009. The 458 evolved into the 488 GTB. This model had its global debut at the Geneva motor show in March 2015 and entered production six months later. As well as a major restyle, there was a new engine, a 660bhp biturbo 3,902cc V8. The 488 Spider has the same engine and is the convertible version. Its global debut was at September 2015's Frankfurt IAA and it went on sale from the following month.
The 488 Pista was a world debut at the 2018 Geneva motor show. It has a dry weight of 1,280kg which is 90kg less than the 488 GTB. The engine is a 530kW (720cv) version of the 3,902cc V8, the torque output of which is 770Nm. The 488 Pista Spider was then revealed during Monterey Week last August. Due to how many years it has been since the arrival of the first iteration, what is now the 488's replacement could well be revealed at the imminent Geneva motor show.
The additional mid-engined model is expected to be a high-power hybrid consisting of a biturbo V8 plus one motor. Positioning will be above the 488 with its release set to take place in 2020, although it could well be shown this year during Monterey Week or the Frankfurt IAA shortly after. Sources indicate that power will be sky-high, which means somewhere between 850 and 1000PS.
Next month marks eight years since the first series production Ferrari FF came off the line at the Maranello factory. This front-engined, four-wheel drive car was given an extensive re-engineering and a new body in 2016, becoming the GTC4 Lusso. Another derivative, the GTC4Lusso T, swaps the V12 engine for a 449kW (610CV) turbocharged 3,855cc V8. While it retains four-wheel steering, unlike the GTC4Lusso, the V8-engined T has rear-wheel drive. A genuinely new model should replace the Lusso and Lusso T in 2020.
The other current series production rather than limited edition Ferrari is the 812 Superfast. This car started out as the F12Berlinetta. It was the replacement for the 599 series and had its global debut at the Geneva motor show seven years ago. Powered by an 800cv 6,496cc 65° V12, this car remains rear-wheel drive only and the standard transmission is a seven-speed DCT.
The successor to the 812 Superfast is expected to have a hybrid powertrain. The market release should take place in 2021.
SUV
Ferrari's management wants to raise annual production past the 10,000 vehicles a year mark during the 2020s. The company also wants to double pre-tax profit to between 1.8 and 2.0bn euro EBITDA in 2022, Louis Camilleri stated back in September. An SUV will help with that goal.
Even though what he announced publicly often changed, FCA's former Sergio Marchionne said in October 2017 that Ferrari was looking into an 'FUV'. Why the company was and still is so many years behind its rivals in developing such a vehicle was not explained.
The Purosangue (thoroughbred) could have two rather than four doors. The SUV will be one of 15 new or refreshed models to be released between 2019 and the end of 2022, Ferrari's CEO told investors at the 18 September 2018 briefing. By the same timeframe, up to 60 per cent of the company's models will have hybrid powertrains.
Battery-supercar
Speaking at last year's Detroit auto show, Sergio Marchionne told the media that an electric Ferrari supercar would be developed, claiming that the company would be "first" to bring such a vehicle to market. Such a model would likely be very low volume and priced at a stratospheric level.
There was no mention of an EV at the Investors' Day briefing just eight months later. Therefore this model is presumed to have been either cancelled or delayed.
Reports for many other manufacturers' future models are grouped in the OEM product strategy summaries section of just-auto.com.
Future product program intelligence
More detail on past, current and forthcoming models can be found in PLDB, the future vehicles database which is part of QUBE.
Fiat was the first, then came Abarth, Lancia, Alfa Romeo and now this one is the fifth feature in a series covering current and future passenger vehicles made by Fiat Chrysler Automobiles. Others to come will focus on Maserati, Chrysler, Dodge, Jeep, and finally, Ram.