BRIC markets review – India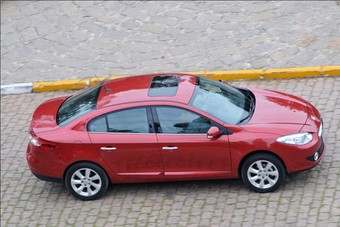 Renault's Fluence is being assembled for the local market in India
In the BRIC market review series this month, we take a look at the latest developments in India.
If China is widely viewed as a manufacturer to the world, India is seen a little differently. It has perhaps carved a niche as the world's 'back office' and an outsourcing specialist. Like China, it has a population of well over a billion people, but it has an annual vehicle market of just over 3m vehicles compared with China's 18m.
There are a number of significant differences between the two emerging market giants. For one thing, India is a democracy whereas China is not. China's controversial political system may actually have helped it to achieve very rapid economic growth from a virtual standing start in the 1990s. Once Beijing had decided that economic liberalisation could go hand-in-hand with a one-party state, there followed a rapid and single-minded pursuit to create the right conditions to maximise economic growth. The situation in India is a little more complex with the need to build consensus across multiple interests.
But India is emerging as a major automotive market in its own right, with indigenous companies, such as Tata and Mahindra, that are beginning to spread their wings in the international marketplace. The car market is growing rapidly and India is developing a successful specialism as a global manufacturing centre for small cars.
India's long-term prospects are also helped by favourable demographics. It has a young workforce – younger than China's – and economists believe that the conditions for a long and robust economic upswing are being generated by the emergence of a new class of well educated entrepreneurs and a growing middle-class, with an appetite for consumption. That said, the need for more investment in India's infrastructure is obvious if that economic potential is to be fully realised.
Economic overview
The International Monetary Fund (IMF) forecasts annual economic growth for India of around 8% in 2011 and 2012. It says that infrastructure investment will remain a key contributor to growth and that corporate investment is expected to accelerate as capacity constraints emerge and funding conditions remain relatively supportive. However, concerns have emerged over possible overheating, higher commodity prices and especially over the impact of rising food prices on Indian households. India reported weaker than expected growth numbers for the first quarter when the economy grew by 7.8% in the first quarter compared with the same period last year.
In response to fears over inflation, India's central bank has gradually increased interest rates over the last 18 months. The economic forecasters seem divided over the impact this will have on the economy, with some arguing that underlying demand growth will continue to be strong while others see higher costs of finance as well as generally higher prices hitting areas such as the car market.
The most likely scenario, based on the latest economic data, appears to be that the economy will slow to a 6-8% rate of growth over the next two years. Much depends on what happens to prices and how effective the government's fiscal and monetary policy is in terms of dampening inflationary pressures while ensuring that economic activity is not excessively squeezed.
Market cools in 2011
India's car market grew by close to 30% to reach just over 2.5m units in the fiscal year ended March 31 according to data compiled by the Society of Indian Automobile Manufacturers (SIAM). However, there are strong indications that the Indian vehicle market faces a slowdown this year. Sales numbers for May issued by vehicle makers suggest that demand has weakened in the face of higher interest rates and a large rise in the price of petrol. State-owned refiner Indian Oil Corp., the country's largest, raised the price of gasoline by 5 rupees a litre to 63.37 rupees in New Delhi last month. That is the biggest increase since June 2008.
Vehicle makers are also under pressure as they face the impact of higher commodity prices which are pushing up manufacturing costs.
India's overall car sales may expand by about 16% this year, after growing 30% in the previous year, Pawan Goenka, SIAM president, recently said. JD Power says that its light vehicle forecast for 2011 stands at 3.16m units, which is an increase of 17% over the previous year. Passenger vehicle sales should increase to 2.53m units in 2011, it says, a growth of over 16% compared to 2010.
Maruti Suzuki's total sales in May rose just 2% to 104,073 units and exports declined 13% to 10,554 cars, the company said. The vehicle maker sold 93,519 cars in the country in May, a 4 percent increase from last year. Maruti is aiming to improve distribution to rural areas.
Tata Motors car sales in India declined 9% to 19,401 units in May, the company said in a statement. Hyundai saw growth in May, but was boosted by its re-introduced Verna sedan.
Small cars centre of attention
As India's urban middle class grows, demand for cars in the A and B segments is rising; that's a trend that is strengthening as buyers feel the impact of higher operating costs – especially fuel and finance. It is estimated that almost a third of small hatchback buyers are first-time buyers. Many manufacturers are looking to get into this area of the market, which also holds the prospect of retaining first-time owners who are new to the brand.
The small car area of the market is seeing plenty of new product activity. Hyundai's new small car, code-named H800, is undergoing final testing ahead of a commercial launch this year, ahead of the earlier planned launch in 2012. "We are working on a product that would be best packaged to offer highest fuel efficiency and power in its class," said Hyundai director for marketing & sales, Arvind Saxena.
At General Motors India, the plan is to have a new entry-level car by the end of this year.
The General Motors car, due to be pitted against market leader Maruti Suzuki's top seller Alto, was originally scheduled to hit the roads in 2012.
"We will bring another small car that will cater to the needs of entry-level customers," said P Balendran, General Motors India's vice-president for corporate affairs.
GM is refocusing its efforts on smaller cars after the 2008 slowdown triggered a shift away from fuel-guzzlers. GM's portfolio of small cars now include the Spark, the Beat and the Aveo U-VA.
"Burdened with inflation and higher EMIs (monthly loan repayments), customers are going for cheaper cars. There is immense potential in the Alto segment that is now the entry level for a large number of customers," says Abdul Majeed, automotive practice head at PwC.
Indeed, some of it is visible in recent auto sales data. Sales of the Tata Nano have surged in recent months - it sold 6,515 units in May, down from 10,015 the previous month but up sharply when compared with 509 units it sold last November.
At Maruti Suzuki, the country's biggest carmaker, the Alto remains its bread-and-butter offering. The Alto sold 3.46 lakh units last year, the largest selling car worldwide.
The shift in favour of small cars is an international trend spawned by the global economic crisis of 2008 and since bolstered by a runaway rise in fuel prices.
In India, analysts say the full force of the global trend underway will be felt now as fuel prices, partially freed after decades of government control, rise sharply. Last month, petrol prices rose Rs 5 in one shot, such a sharp increase unprecedented in a country long used to small increases.
Skoda is also planning a new car for India in the compact sedan area. The segment is hotting up following the recent introduction of the Volkswagen Vento [aka Polo sedan], Hyundai Verna, Toyota Etios and, soon, the Ford Fiesta. Skoda's car is being developed on the Vento platform and will offer petrol and diesel engines.
The segment is considered the stepping stone to premium cars in India. Competition has become more fierce since since the launch of the Vento last year. The growing differential in the price of petrol and diesel and the City's lack of a diesel option is being exploited by competitors.
Ford gets Figo boost
Ford India wholesales for January to May 2011 rose 71% year on year to 51,420 units, including exports, boosted by the Figo, the updated previous generation European Fiesta-based model developed for the market. Ford India sold around 9,000 wholesale units last month - 7,046 in India and about 2,000 exports. Exports to Bahrain and Kenya began this month and the model is also sold in South Africa.
The company recently opened three new sales and service dealerships in India, expanding the tally to 173 outlets in 102 cities.
Toyota hits capacity constraints on Etios boom
Toyota has postponed the launch of diesel versions of its Etios and Liva models to next year as demand has far exceeded the company's expectations and prompted it to increase capacity. "We were earlier looking at an end-of-the-year launch for the diesel variants of Etios and Liva, but now it may only be launched in the first half of next year," Sandeep Singh, deputy managing director, Toyota Kirloskar Motor India, told the Hindustan Times.
"The demand for the sedan has exceeded our targets and we are trying our best to reduce the waiting period," he said.
Last month, Toyota also deferred the launch of the Liva hatchback by two months to June. In the meantime it has announced expansion of its manufacturing capacity by 60,000 units per annum. By mid-2012, its twin plants in Bangalore will make 210,000 cars a year against the 150,000 units targeted earlier.
Since its launch in December 2010, around 8,300 units of the Etios have been delivered from over 30,000 orders received.
Renault steps up, post M&M
Renault's Indian unit expects to sell 100,000 vehicles by the end of 2013. The company has rethought its India market strategy after ending of a joint venture with Mahindra and Mahindra last year. The locally assembled Fluence sedan is pitched as an entry level luxury car in India. The Fluence, a model also built in Turkey, is based on Renault-Samsung's SM3 model.
Renault is planning to roll out more models in India this year and next as well as increase components sourcing from India. Renault plans to double capacity at its plant in Chennai in the southern Indian state of Tamil Nadu to 400,000 by end-2012 which will roll out five models beginning with the Fluence.
Renault has said it plans to introduce another Renault Samsung-based model, the Koleos SUV, followed by three more cars next year.
At the Fluence launch, Renault also said that it might reconsider plans to team up with two-wheeler specialist Bajaj Auto on an ultra-low cost car to be sold in India if the vehicle's quality does not meet the company's standards. The small car, expected to launch in 2012, is aimed at rivalling the Tata Nano. Bajaj Auto is also planning a commercial vehicle version on the same platform.
Hyundai builds manufacturing hub
This year, Hyundai has launched the new Verna – called Accent in some markets - into India's mid size segment. The Indian range offers four 1.4- and 1.6-litre petrol and diesel engines, with optional four-speed automatic transmission for both 1.6s, plus a choice of four trim/equipment levels including first-in-class six airbags, MP3-capable audio and automatic climate control with cooled glovebox.
And it wants a healthy slice of the mid-size segment. "We are targeting sales of 45,000 in the first year," HMI sales and marketing director Arvind Saxena said.
The company has announced it will spend another US$90m in India, this time on a diesel engine factory planned to be operating by 2013.
It currently has capacity for 600,000 units annually in its two plants in India which is an 'export hub' also charged with supplying export markets such as the UK and Europe.
Hyundai India sold around 358,000 units in its domestic market alone in 2010 and plans 400,000 units in 2011. It is coy on disclosing export data but is known still to be the largest exporter of cars from India, ahead of Maruti which is a Suzuki and Nissan [rebranded Alto] exporter.
But: "We have opened two new plants in the Czech Republic and Russia and some of the exports hitherto shipped from India are now made by the new plants," Hyundai Motor Company president SS Yang told just-auto.
Premium makers gear up, too
India's luxury car market is becoming more interesting by the day as the three German brands, BMW, Mercedes and Audi, further firm up their plans for this market with a series of new model launches and plant upgrades that could see BMW's Mini back on the local agenda.
The premium car segment crossed the 15,000 mark for the first time last calendar year with BMW emerging as the biggest player.
"We control 40% of the Indian luxury car market and will likely retain our position in 2011," BMW India president Andreas Schaaf told just-auto at the local launch of the Vision Efficient Dynamics concept.
India's luxury car market has experienced robust growth in recent years and BMW has revised their estimates higher. "We couldn't comment on the likely figure but our ultimate dream is to touch the 10,000 mark," Schaaf admitted.
The BMW KD assembly plant in Chennai currently can build 10,000 units a year with a single shift. When asked what share BMW aspired to to by 2020, Andreas said: "The Indian luxury car market is estimated to increase 10 times to around 150,000 units annually and, at a conservative level BMW will have a share of 35-40%." At 35%, that's over 52,000 cars that must be assembled and/or imported. The automaker sold 2,927 units in the first four months of this year.
just-auto has learned from reliable sources BMW plans to upgrade Chennai in the next couple of years.
"We do not intend to stick to CKD [assembly] operations in India. India is regarded as a key market and we always think that CKD operation is a temporary model. Once the luxury segment reaches a certain level we will take the decision to upgrade it to a full-fledged [manufacturing] operation," Andreas said.
Following recent Indian government changes in CKD definition in the last budget, luxury car makers have to achieve a greater degree of localisation. A CKD vehicle unit now attracts 10% import duty if the engine is assembled in India, or 30% if the engine is imported in the kit. CBUs are levied a 60% tariff. Therefore, the luxury car makers are gearing up their CKD operations to assemble engines in India in the next couple of years otherwise they would attract higher import duties that make their cars expensive and uncompetitive.
With the growing fortunes of the Indian market, Indian upgrades are discussed twice a year at board level at BMW headquarters in Munich.
just-auto has also learned BMW is considering bringing Mini to India at some later stage. But it's arrival time has not been confirmed.
"We dropped the idea of bringing in Mini for the India market few years back. But the way this market is shaping up, the idea is again at the discussion level," Andreas confirmed.
Mercedes-Benz India is also planning to widen its product range to gain leadership in the luxury car segment of India. "We are planning to extend our portfolio upwards and downwards. We are bringing in the A and B class in the next couple of years," MD and CEO Peter Honegg told just-auto at the SL350 and GL500 launch.
Mercedes Benz plans to produce the A and B class lines in India. "If we want to bring in numbers then we have to produce these cars in India otherwise their sales would remain limited to a few cars," Honegg said. The Indian operation is awaiting German approval to commence manufacturing the entry level cars in India.
"We hope to produce these cars in India by 2013," Honegg said.
"We have to manufacture enough products locally to compete with competitors in the Indian market," Honegg said. "Local content [of the A and B-class] would not be more than 40%."
He added Mercedes Benz would bring in more diesel models due to the increasing popularity of such models in India. Mercedes Benz India sold 2,135 units in the first quarter of 2011, up 67% year on year. It sold 833 units in March alone, the highest sales in any single month.
"We have already sold 2,672 units so far in 2011. We sold 5,280 units last calendar year," Honegg said.
Plant capacity is so far no problem. The Chaken factory can produce 10,000 units annually with two shifts.
Meanwhile, Audi is evaluating various options to enter the domestic small car segment, including rolling out its recently-launched compact hatchback A1.
Component makers follow OEMs into India
As automakers set up plants and hike capacities to cater to the growing automobile market in India, component manufacturers are also building additional capacity to meet the demand. Partmakers are even reaching out to OEMs by setting up just-in-time plants dedicated to one automaker.
Tenneco, manufacturing shock absorbers, exhaust systems and catalytic converters in India, had already spent about US$20m here by 2010 and has finalised further spending for the next three years.
"We are planning to invest another $20m building capacity in existing plants in Bawal, Chennai and the new plant in Chakan," managing director Abhijit Mukerjee said in an exclusive interview with just-auto.
Tenneco currently has seven plants in Bawal (supplying Maruti Suzuki), Hosur (for Tata, Nissan, Mahindra & Mahindra, Toyota and Ford), Pondicherry (aftermarket and OE export), Pune (just-in-time facility for Tata & M&M) Chennai (Renault-Nissan) and Pune (M&M, Tata, GM and VW) and Halol (a dedicated factory for GM).
It is also building a new exhaust plant in Chaken. "We will shift the existing Pune facility to the upcoming Chaken plant. The plant will be operational at the beginning of 2012," said Mukerjee.
Tenneco specialises in emission control and ride control products and systems both for OEMs and aftermarket. It has sales of $4.6bn annually and around 80 manufacturing facilities on six continents plus 14 engineering centres world wide.
It is also gearing up its R&D activities in India. "Our Hosur unit has a dedicated R&D unit for ride control products and we are setting up an R&D centre for emission control at the upcoming Chaken plant," Mukerjee said. Tenneco plans to almost triple sales by its Indian operations in the next three years.
"We would likely triple revenue from India by 2015 and expect to book 25% growth year on year," he said.
Tenneco is also targeting the Indian commercial vehicle (CV) and two wheel markets as well.
"Currently, our focus is more on the passenger car segment with 80% of the revenue generation from car OEMs. We will likely increase the share of CVs and two wheelers in the next five years," Mukerjee said.
The company plans to hire more people in the next couple of years. Currently, it has 1,500 people working at its seven units.
Another Tier 1 supplier upping its game in India is Eaton. Eaton expects its India sales to treble to US$500m by 2015, aided by a strong domestic market and steady economic growth, its chief executive has said. Eaton is also said to be looking at buying Indian companies.
Automobile Domestic Sales Trends

(Number of Vehicles)

Category

2004-05

2005-06

2006-07

2007-08

2008-09

2009-10

2010-11

Passenger Vehicles

1,061,572

1,143,076

1,379,979

1,549,882

1,552,703

1,951,333

2,520,421

Commercial Vehicles

318,430

351,041

467,765

490,494

384,194

532,721

676,408

Three Wheelers

307,862

359,920

403,910

364,781

349,727

440,392

526,022

Two Wheelers

6,209,765

7,052,391

7,872,334

7,249,278

7,437,619

9,370,951

11,790,305

Grand Total

7,897,629

8,906,428

10,123,988

9,654,435

9,724,243

12,295,397

15,513,156
Automobile Production Trends

(Number of Vehicles)

Category

2004-05

2005-06

2006-07

2007-08

2008-09

2009-10

2010-11

Passenger Vehicles

1,209,876

1,309,300

1,545,223

1,777,583

1,838,593

2,357,411

2,987,296

Commercial Vehicles

353,703

391,083

519,982

549,006

416,870

567,556

752,735

Three Wheelers

374,445

434,423

556,126

500,660

497,020

619,194

799,553

Two Wheelers

6,529,829

7,608,697

8,466,666

8,026,681

8,419,792

10,512,903

13,376,451

Grand Total

8,467,853

9,743,503

11,087,997

10,853,930

11,172,275

14,057,064

17,916,035
Most popular news
---
Most popular insights
---
Oops! This article is copy protected.
Why can't I copy the text on this page?
The ability to copy articles is specially reserved for people who are part of a group membership.
How do I become a group member?
To find out how you and your team can copy and share articles and save money as part of a group membership call Shivani Hayer on
+44 (0)1527 573 732 or complete this form..