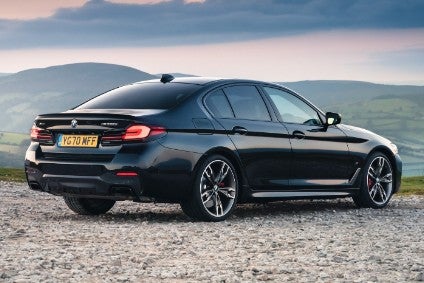 Until a few months ago, BMW didn't offer UK buyers what could well be – excluding the M5 – the best car in the 5 Series range: the M550i xDrive. A 4.4-litre biturbo V8 provides blistering acceleration, the suspension tuning is less extreme than the fastest 5 and best of all, pricing although high, is tens of thousands less than the M5.
It might seem unusual for any car maker to be adding rather than withdrawing V8-powered versions of an established model. BMW isn't alone in doing this, though. The unsaid thing is that OEMs know they don't have too many years left to benefit from the big returns that such vehicles deliver. Why else would JLR be putting a supercharged 5.0-litre V8 into the Defender and pricing some versions above and beyond six figures? Will people pay that? Of course they will; although likely not many in Britain but in countries where taxation on big capacity engines isn't as high as it is here, the Defender V8 has been eagerly awaited.
The relative rarity of an eight cylinder anything makes the new M550i xDrive extra special in the British market. As is the norm with most BMWs, the second and third numbers don't equate to the engine's capacity, which is 4.4 rather than 5.0 litres. Like the M5, it comes solely as a saloon and all-wheel drive is standard. And while mild hybrid technology with a 48V starter-generator has now been added for all four- or six-cylinder 5 Series saloons and estates, the M550i xDrive (along with PHEVs) is an exception to that rule.
Launched here as part of the facelifted 5 Series line-up announced last year, the 550 has some distinctive touches. That includes 20-inch wheels, grey exterior trim, a Harman/Kardon Surround sound system, an M Sport differential and adaptive suspension.
The bi-turbo V8 produces 395 kW (530 PS) of power and 750 Nm (553 pound feet) of torque. It's far from light yet economy isn't at all bad, this being an official 25.9-25.4 mpg. The fantastic bellow of its engine and the sheer excitement that driving it provides means the typical owner will probably see about the same as I did, which was 23 mpg. BMW has limited the top speed to 155 mph, and the 0-62 mph dash takes 3.8 seconds.
There's no escaping the fact that CO2 is twice that of the 520d's, emissions being listed as 247-252 g/km. When the 5 Series range also includes the likes of the plug-in hybrid 530e's 31-41 g/km you begin to see how BMW can offer the low volume M550i and M5 without having to worry about penalties from the European Commission. Will we be offered this engine in the next generation 5 Series? Probably not, at least not in the UK or EU-EFTA markets, due to the next round of even tougher emissions laws later in the 2020s. And that's also what makes the M550i all the more enticing today.
Depending on the mode you select, the V8 is either burbly or near-silent at idle. Roads were a touch icy when I drove the car but all-wheel drive meant grip wasn't an issue.
It's fair to say that in the past, certain BMWs have had suspension that was less than ideal for the UK's often crumbling roads yet this one somehow manages to give its occupants a compliant ride, while rewarding the driver with just the right amount of firmness. A lot of that is thanks to the test car's air system, which BMW terms Adaptive M Professional (an optional GBP3,695).
Similarly, there are zero issues with the car having run-flat tyres and it's also a relief not to have to worry about using one of those wretched tubes of gunk and mini-compressor should you drive over a stray nail or other sharp debris.
As for the steering, all I'd say is that it compares more than favourably with the GR Yaris which I was fortunate enough to have also had some time in recently – that's about the highest praise I can give the BMW. And aside from the width, which is something you're often having to be aware of, the M550i is just as thrilling to drive, especially when the weather is foul. I was lucky enough to find some long, long stretches of A road with very few other cars about late at night and this is where the big sedan excels.
About the only thing I could have wished for was some old-style BMW speedometer and tachometer read-outs but I guess the company's research must show that digital read-outs are the preference of most. BMW instrument clusters were once models of clarity, now they're still distinctive but somehow generic feeling at the same time. I'd rather see a needle a swinging around a perfect arc than an LED rev counter and all manner of other bright read-outs of differing shapes and sizes and colours.
For what you pay, and make no mistake the M550i is an expensive car, this new BMW certainly does deliver on the promise of being a different, even exotic experience compared to almost every other 5 Series sedan. Those big, unique wheels, the beautiful blue detailing on the headlight covers (GBP1,000 optional laser lights) and of course the boot badge tell anyone who knows their Fives that this is an especially rare one. For those who want almost all of the performance of the M5 yet without that car's unsubtle, menacingly brutal looks, this is the car to have.
Next for the 5 Series – an EV
The eighth generation 5 Series is still three years away so other than development codes, it's too early for firm details. Tentative information indicates that the sedan, Touring and long-wheelbase sedan are respectively G60, G61 and G68.
BMW stated in July 2020 that it would add an EV to the 5 Series line-up: "In addition to the BMW 7 Series, comprehensive electrification will be rolled out throughout the model line-up: Further examples of the "Power of Choice" will be the high-volume BMW X1 and BMW 5 Series, which will also be available in the future with all four drive train variants – fully-electric, plug-in hybrid, diesel and petrol with 48-volt technology."
A media statement three months ago revealed that a future electric 5 Series would be manufactured in Germany at the same plant which makes the existing model: Dingolfing. It is assumed that BMW will also build the electric 5er in Shenyang.