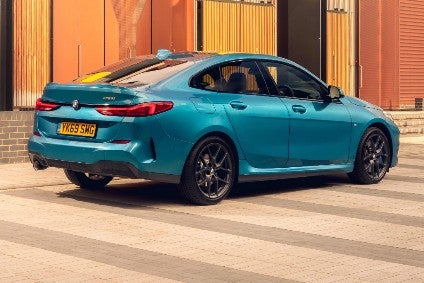 The worldwide sales launch for F44 has begun. BMW's new 4.5m long sedan is aimed mainly at the USA – expected to take 25 per cent of global volume – where, in the absence of the 1 Series, it becomes the brand's entry-level model. In Europe, Germany is seen as the top market, followed by the UK where 6,000 sales are forecast for the first full year.
As vehicle buyers continue to shift segments, so BMW is responding. The company hasn't publicised this fact, but the 6 Series GT – new in 2018 – was dropped in some countries, the USA and UK included, in 2019. It also hasn't found much love in Germany (only 1,509 registered last year), something which also happened to the 5 Series GT it was meant to replace. Audi (A7/S7) and Mercedes (CLS-Class) aren't doing too well with their big hatchbacks and sedans either.
Bye bye GTs, hello GC and iX
BMW has also decided not to replace the 3 Series GT, ditto the 1 Series three-door, there won't be a successor for the 2 Series Convertible and some believe that the 2 Series Gran Tourer and Active Tourer will be succeeded by one vehicle. We also know that the company is looking to slim down its line-up of powertrains yet on the other hand, there will be way more electric and electrified choices, not to mention additional EVs such as the iX3, i4 and many others later in the 2020s. And what about an X8? It's certainly possible and with Group profits in need of a boost, a max-margin SUV-coupe shouldn't be ruled out.
Segments expand and contract, and occasionally, certain models gain popularity as they age. That's happening with the i3, which had its best year yet in 2019 (4,800 sold to UK customers). And who would have thought that the X7 would find favour in Germany, but it's doing well there, just as the X5 is one of the biggest selling imports to the Chinese market.
Charles Turner, BMW UK's Product Operations Manager for the 1 Series, 2 Series, X1, X2, M2 and i3, sees a few different buyer groups for the new 2 Series Gran Coupé. He thinks there will be "…a number of down-sizers from 3 Series" but that the new car will also tempt quite a few prospects away from other brands, while younger buyers especially should be attracted to the new car. The lack of a direct rival for the CLA-Class Shooting Brake isn't an issue, he believes, plus some might say that the 4.7m long Mercedes is in a different segment anyway.
Four engines worldwide and three gearboxes
F44 is being launched with four engines, three of which are offered in Britain. We can choose from the 218i, 220d and M235i xDrive while in North America, there is to be a 228i xDrive powered by a 228hp and 258 lb-ft 1,998cc four-cylinder gasoline engine, the code of which is B48A20T1.
The base unit for Europe as fitted to the 218i has three cylinders and a capacity of 1,499cc with outputs of 103kW (140hp) and 220Nm. Depending on the market, the customer can choose from six-speed manual and seven-speed Steptronic dual clutch gearboxes.
There's no manual option for the diesel, the 220d coming with a standard-fit eight-speed Steptronic torque converter transmission. Power and torque for this four-cylinder unit are 140kW (190hp) and 400Nm. The 1,995cc diesel is new, incidentally, and as well as having a lower C02 average than the former one of the same capacity, there is a claimed five kilo weight saving.
The fastest variant is the M235i xDrive. Its 1,998cc four-cylinder engine (B46A20O1) produces 225kW (306hp) and sends drive to both axles via an eight-speed Steptronic Sport torque converter automatic gearbox. There were no examples of the 220d present at the recent UK market media drive event so it was only the 218i and M235i xDrive which were available to try.
BMW does front-wheel drive cars as well as the best, so in other words up there with Ford of Europe, and the base 2 Series Gran Coupe maintains that standard. The 218i GC's 220Nm isn't really enough to trouble the front tyres in any case but I suspect the decision to make the 400Nm diesel an auto-only affair was taken to prevent the risk of any unseemly steering-tug, that car being devoid of all-wheel drive.
The M235i xDrive is of course the pick of the pair and BMW's Charles Turner reckons the sales mix for this range topper could be as high as 15 per cent. That may sound ambitious but when I checked the NEDC C02 average, I discovered it's not that high: 153g/km. Equivalents for the 218i and 220d are 123-114g/km and 110g/km.
The official word is that there will be more variants to come, and amongst these none of us will be shocked to learn, there should be a plug-in hybrid. With mild hybrids having been selling incredibly well in some countries (e.g. Ford Puma in Italy) and the EU-wide 95g/km average to be enforced from next year, petrol-electric power must surely be on the way for the 2 GC.
It is often remarked that many of BMW Group's smaller models are less than generous when it comes to rear seat roominess and this continues with the new 2GC. The car is just 1,420mm high and while someone of my average height will be fine for short trips, longer ones would present a challenge. Even though there is 33mm more knee room than in the 2 Series Coupe, that isn't saying much. Worse, on some variants, the cosiness is made worse by hard shells on the seat backs (the front seats in the M235i have soft backs though).
Other than that criticism, which probably doesn't matter too much anyway, F44 is a first rate vehicle. At least the boot is a good size (430 l). I even wonder if there will be an extended version for China, although I haven't heard of any official plans to build the car there – standard wheelbase or otherwise. All production is at Leipzig and a back of the envelope calculation tells me that BMW is looking at a life cycle average of perhaps 40,000-50,000 cars a year. Provided that the US market likes what it sees, that could be attainable.
Frontantriebsarchitektur WE
There has been a tiny bit of confusion over the 2 Series' architectures. F44 uses FAAR WE. The 2 Series Active Tourer and Gran Tourer also use a front-wheel drive architecture but not so the 2 Series Coupé and 2 Series Convertible, the same applying to the M2.
Next year we'll see a new 2 Series Coupé (G42) and M2 (G87), but the Convertible won't be replaced. Both new cars will be based upon CLAR WE, the Group's latest RWD/AWD platform. When the time comes to replace the Active Tourer and Gran Tourer MPVs, FAAR will be used. Therefore the only RWD 2 Series vehicles will be the Coupé and M2.
The BMW 2 Series Gran Coupé UK market sales launch commences on 14 March priced from GBP25,815. Apple CarPlay is on all cars but Android Auto does not become available until July.