VEHICLE ANALYSIS: BMW i3 Range Extender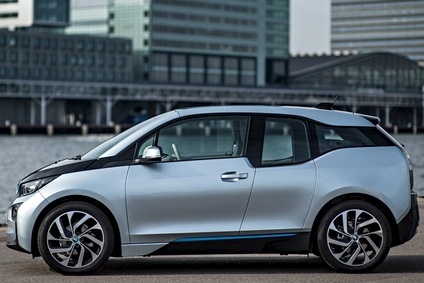 The i3 Rex costs £33,830 before a £5,000 government grant is applied
The 'Rex' motorbike engine sounds anything but BMW-like at idle, and parts of the interior are similarly non-premium, yet none of that matters: the i3 is a hoot to drive.
As you might imagine, there has been a vast amount of media-specific information on the i3 but I don't recall reading anything from BMW which tells you one of the most important things about the car. Namely, how much fun it is. You'd be right to think any BMW should bring a smile to your face the moment the road before you empties of other vehicles. Yet, until now, no EV that I've tried has felt as though the chassis set up was specified by engineers who love driving.
Acceleration from 0-100km/h is claimed to be 7.2 seconds (7.9 for the Range Extender, or Rex, as BMW calls it), with the top speed limited to 150km/h "for efficiency reasons".
Possibly because it's so quiet and there's so much glass, with the windscreen way ahead of you, that the car always seems to be going even faster than it is. Such is the force of the regenerative system, that you hardly need touch the left pedal. This takes some getting used to, and for the first 15 minutes or so I was watching the rear-view mirror closely. The brake lights will illuminate if you do back off suddenly but a few times following cars got uncomfortably close. Still, no-one flashed their lights to try to tell me my brake lights weren't working. And these tailgaters could well have just been trying to get a look at what is admittedly a very strange and new sight on our roads.
The Renault Zoe has until now been my favourite electric vehicle. That's because it feels like a small luxury car. Now BMW has very cleverly created a new niche, although it had to, if you think about it: could you imagine the reviews if its first EV turned out to be boring to drive? It's the steering which convinces you. The directness is as good as that of a first generation Ka, or again, another oldie, the Honda S 2000. More up to date comparisons? Mazda MX-5 or Subaru BRZ. Have another read of those models and see what links them. Exactly - all were, or are, lighter than their class rivals. So it is for the i3. And narrow tyres also help.
The grip from the low rolling resistance tyres needs to be experienced to be believed, body roll isn't excessive and the ride is very comfortable. I found myself laughing entering and exiting empty roundabouts, it's just so much fun. You back off a little to slow progress, cruise in, then press the throttle hard and the car just leaps onwards, and with such precision for exactly where you want the front wheels to be. Now and then, progress can be a mite jerky if you start driving it like a normal car at in-town speeds - it's all about gentle presses and light steering effort, as well as no sudden lifting off.
In the home market, the addition of the Rex engine adds EUR5,000 to the list price. In Britain, it's GBP3,000, which is about 1,300 euro less than what the Germans have to pay. The car is priced at EUR34,950 in Germany (or 39,950 mit Rex) whereas here, the standard model is GBP30,830 or GBP33,830, less a GBP5,000 government grant. Before you get too excited about how inexpensive these cars seem to be, the on-test one I tried was an eye-watering GBP39,595 (before the grant) or double what a Zoe costs. That was courtesy of all manner of options and accessories, such as 20" alloys, adaptive LED headlights, an electric glass sunroof, special silver paint, Park Assist, and some trick Harmon Kardon speakers.
I want to reference the Zoe one last time before we move on. Having checked all the specs, I now believe the hype about the benefits brought to its new i cars by BMW and its partner SGL's carbon fibre manufacturing system. The Zoe is 4,084mm long, so just 85mm longer than the i3. The weight of the Renault is 1,468kg - a lot for a B segment car. A Škoda Fabia, which at 4,000mm from end to end is but 1mm longer than an i3, tips the scales at 1,130kg in base form. And the i3? As an EV, the equivalent number is 1,270kg, or as a Rex, it's 1,390. Just imagine what might be possible if battery cells ever become lighter. That's why so much effort went into making every part of the car weigh as little as possible - heavy cars of course mean a lesser range from stored energy.
During the limited time I had with the test vehicle, the cells weren't fully charged but all the same, the car zipped along enthusiastically and for the first time in an EV, I overtook someone. Easily. And there was no thrum of the petrol engine firing up and revving like mad as can happen in the Chevy Volt and Vauxhall Ampera. In the BMW, there is just this pleasant hum. Alas, it's a different matter entirely at idle. Fear not, the sound is nothing like the deafening clatter of two-strokes in an Italian city but it's strange to hear a kind of putter-putter coming from the rear end of a BMW.
The company is cagey about where it sources the 647cc petrol engine from, but the word is this 25kW (34hp) two-cylinder motor is bought in from Taiwanese scooter specialist Kymco. Lift the tailgate and you won't be able to see it, as although it's mounted adjacent to the electric motor and therefore above the rear axle, this is all hidden from view. Incidentally, the Rex increases the car's maximum range in day-to-day driving to around 300km or about 185 miles.
This little car's looks might be polarising but surely the interior will win back the doubters. You more or less walk into it and the fact that the rear doors open in the style of a Rolls-Royce only underlines the sense of entering something a bit special. I spent a little bit of time perched on the rear seats and there's an abundance of space back there, and even the boot has a fair amount of volume.
BMW says 25% of the materials used in the interior and 25% of the thermoplastics are recycled or made from renewable resources. And 80% of aluminium parts are produced using clean energy or are made from recycled aluminium. That's definitely worth trumpeting but I wouldn't be surprised if some of the more shockingly raw surfaces are quietly covered over with fabric when it comes time for a minor model year update in 2015. No doubt the first batch of buyers will give the company any feedback it needs should changes in this area be deemed necessary.
The i3 went on sale across Europe from November 2013. As well as its recent arrival in Britain, the car is being rolled out to the US, Canada, China, Japan, South Korea and certain other markets over the remainder of 2014. The US is expected to become the largest market and should demand require it, the company has the capacity to build 40,000 units per annum at its Leipzig plant. Daily production has just risen from 70 to 100 cars, with 5,000 cars built since the start of 2014.
BMW UK is upbeat about the sales potential for not just the i3 but its forthcoming i8, a spokesman telling me that this year's allocation of PHEV supercars is gone, with 250 deposits now paid. As for its smaller brother, the expectation is for 2,000 cars to be sold in 2014, and so far the total is 800, with a mix of 55% Rex/45% EV.
Most popular news
---
Most popular insights
---
Oops! This article is copy protected.
Why can't I copy the text on this page?
The ability to copy articles is specially reserved for people who are part of a group membership.
How do I become a group member?
To find out how you and your team can copy and share articles and save money as part of a group membership call Shivani Hayer on
+44 (0)1527 573 732 or complete this form..