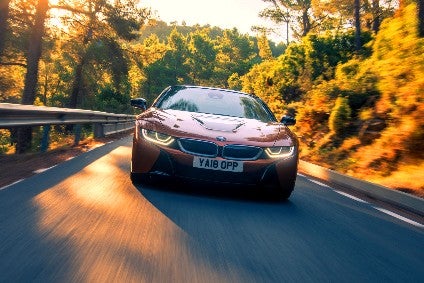 After our recently published overview of BMW's cars, SUVs and high-performance M models, we take a closer look at the firm's 'i' range of electrified vehicles. Initially just featuring the i3 and i8, there are now a number of models planned under the electric sub-brand.
B segment
The i3 was BMW's first real go at a series production electric car. Befitting its pioneering spirit, the i3 had some groundbreaking design elements – a body structure made from carbon-fibre-reinforced plastic (CFRP), interior panels made from recycled plastic and its unconventional backward-opening rear doors. It first emerged at the Frankfurt Motor Show in 2011 before going on sale in 2013. BMW hasn't announced plans to replace the i3 so it's not clear whether it'll be replaced by the time it goes off sale around 2020.
BMW makes roughly 25,000 i3 models per year at its Leipzig, Germany factory, with the CFRP body panels made in conjunction with SGL at its plant in Landshut. Those body panels are pre-impregnated with colour, eliminating the paint shop from the production line. It was facelifted in 2017 at the same time as the sportier i3s was introduced with a bigger battery pack and faster acceleration. All models can be fitted with an optional two-cylinder motorcycle engine to function as a range extender once the battery's exhausted.
D segment
The third confirmed model in BMW's i electric vehicle range is the i4 saloon. It's expected to go on sale in 2020 after having been revealed in concept form as the i Vision Dynamics at the 2017 Frankfurt Motor Show. Production is predicted to be in Munich and could continue until 2027, with a facelift around 2025. The i4 will be based on a new modular architecture that'll allow BMW to fit the same model with electric, combustion or hybrid power.
BMW claims the i4's lithium-ion batteries will give it up to 435 miles of range on a full charge – comfortably more than the rivalling Tesla Model 3 and Jaguar I-Pace. Considering its long-legged ability, it's unlikely that BMW will offer the i4 with a range extending gasoline engine, instead opting for fast charging technology where available. Basic versions will be driven by their rear wheels while all-wheel drive will be optional on more powerful models.
Alongside the i4, BMW has been hinting at another model – the iNext. This model is due in 2021 and will be built at the firm's Dingolfing, Germany plant. Not much is known about what form the iNext will take – whether it'll look similar to the i4 saloon or whether it'll follow its own styling direction. Either way, it's expected to be a showcase for BMW's latest self-driving technology, with BMW claiming it sits halfway between SAE autonomy levels 3 and 4 – able to drive itself in most situations without human interaction.
Like the i4, the iNext will probably remain on sale for around seven years, meaning it'll go off sale some time in 2028. A facelift in 2026 will ensure its looks remain up to date and could see it fitted with a more advanced battery that'll push the range beyond the 435 miles of the first model. BMW claims the technology on display in the iNext is scalable and modular, so will make its way around the rest of the range if demand matches expectations.
E segment
After some initial confusion, BMW renewed its trademark on the i7 name in August. At first, it was thought the i7 would remain a compact car with the rumoured i9 luxury car sat above it. However, after scrapping the i9 project, it's thought that the i7 will be taking its place – that means it could take the form of a large saloon to rival similar models from Tesla while also sitting above the incoming BMW i4.
If BMW follows through with its plan, the i7 could make its first appearance in 2022 and may last until 2029. It has been suggested that the i7 will feature hydrogen fuel cell technology developed alongside Toyota in place of a battery pack. If this turns out to be true, it'll probably be sold in very limited numbers reflecting the early stage of this technology and the limited availability of hydrogen refuelling stations.
Supercar
At the top of BMW's i range is the eye-catching i8. This futuristic, mid-engined supercar blends BMW's electric know-how with a tuned version of the 1.5-litre turbo three-cylinder gasoline engine from a Mini Cooper. Total system output is 374hp and it'll hit 60mph from rest in 4.4 seconds. If the driver is more judicious with the accelerator, the i8 can cruise about on battery power alone for 22 miles.
Production of the i8 began in Leipzig, Germany in 2014 at a rate of roughly 3,500 per year and is expected to last until 2021. An update in 2017 saw it gain a little extra power and a convertible model. Like the smaller i3, much of the i8's structure and body panels are made from CFRP to save weight and increase stiffness. It was also the first series production vehicle to feature Corning's hardened Gorilla Glass in place of traditional glazing.
Future model plan reports for other manufacturers can be viewed in the OEM product strategy summaries section of just-auto.com.
Future product program intelligence
More detail on the past, current and forthcoming models for BMW AG's car brands can be found in PLDB, the future vehicles database which is part of QUBE.