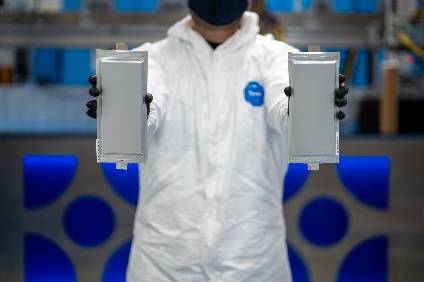 Earlier this week, US-based solid-state battery startup Solid Power announced a new $130 million investment round led by BMW and Ford.
The investment is the second the two companies have made in Solid Power following a $20 million investment in 2018. Solid Power has already sent hundreds of 2Ah cells for validation by the OEMs and will use the investment to ramp up its production facilities to build a pilot line to produce 100Ah test cells from 2022.
Solid Power's cells can be made on existing lithium-ion battery manufacturing equipment but, unlike current cells, do not need to undergo the electrolyte filling and cycling phase. The company says these processes account for 5% and 30% of production costs respectively in a GWh-scale Li-ion factory. Cutting manufacturing costs would further strengthen the case of solid-state cells over those with liquid electrolytes.
BMW's solid-state plan
BMW has committed to introducing solid-state battery technology by the end of the decade. The German automaker announced the target alongside confirmation that its battery plans had been designated part of the EU's Important Project of Common European Intertest (IPCEI) scheme – intended to secure the continent's automotive value chain as it transitions from combustion-engine manufacturing to a market dominated by electric vehicles. The government support includes a EUR68 million grant from the Federal Minister for Economic Affairs and Energy for BMW's battery projects.
Like Daimler and Volkswagen, BMW sees solid-state battery technology as the next step beyond today's lithium-ion cell designs, so considers it strategically important to build knowledge in this emerging field. This can also be seen as an attempt for BMW and other European manufacturers to leapfrog China and other Asian countries that have already built out extensive conventional lithium-ion manufacturing networks and supply chains. For its part, BMW had previously been accused of moving too slowly on electric vehicles and losing a potential early lead – a contributing factor to the resignation of its previous CEO Harald Krueger – so this move can be seen as an effort to make up for lost ground.
Solid-state batteries swap the conventional liquid electrolyte used in lithium-ion cells for a solid one. Compared to current cell technology, this reduces their size, increases their energy density, lengthens their life cycle, lowers the risk of fire, and – once perfected – should reduce production costs and make them easier to recycle. However, identifying the ideal chemistry for solid-state cells has proven difficult, leading most automakers to use conventional lithium-ion cells in their EV lineups.
BMW has stated that solid-state batteries will eventually form part of the strategy for its 'Neue Klasse' of electric vehicles.
BMW has stated that solid-state batteries will eventually form part of the strategy for its 'Neue Klasse' of electric vehicles.
The first model within this new range is the BMW iX electric SUV due later in 2021, followed by the i4 four-door coupe also due later this year. BMW expects to put solid-state batteries into series production by the end of the decade, but states it will show a demonstrator vehicle before 2025. The rollout of its 'Neue Klasse' will see BMW offer an electric vehicle in 90% of the segments it competes in by 2023, with the manufacturer predicting that 50% of its sales by 2030 will be electric models.
The focus on recyclability as well as battery performance points to BMW's commitment to make these batteries as green as possible. It notes that the cells destined to be used in the iX already contain 50% recycled nickel and is aiming to be able to fully recycle its solid-state cells to reduce consumption of raw materials.
Currently, BMW's cells are manufactured at three sites – Dingolfing, Germany; Spartanburg, USA and Shenyang, China. The company plans to start production of cells at its facilities in Leipzig, Germany later in 2021, with full battery manufacturing also starting in Regensburg, Germany in 2022 following a ramp-up through 2021.