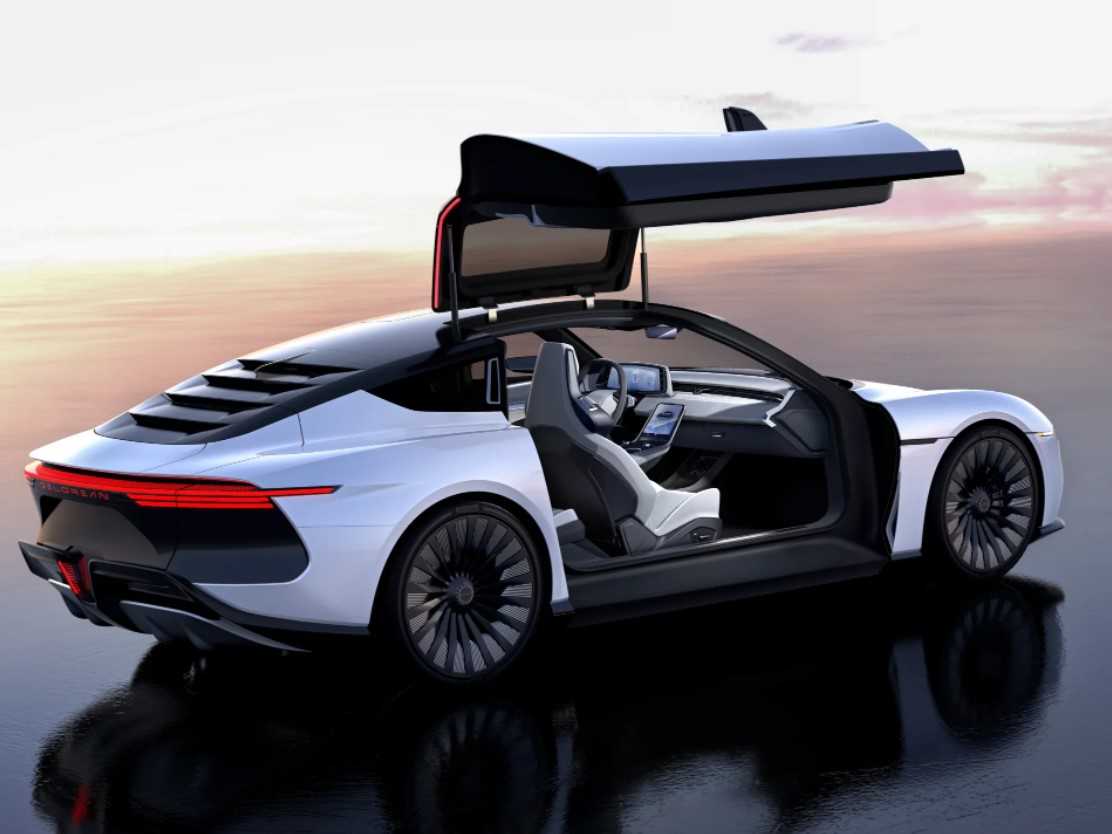 Petrolheads and movie fans of a certain vintage could be given a reason to celebrate as a Texas-based company confirms it wants to bring back the legendary DeLorean brand.
The marque's original iteration had a tumultuous existence throughout the 1970s and '80s – its iconic stainless-steel DMC12 had a starring role in the Back to the Future film trilogy; but poor demand, worse build quality, financing woes, and the arrest of its founder on drugs charges saw the original company enter bankruptcy in 1982. Since then, the rights to the DeLorean name have ended up in the hands of Stephen Wynne, who runs DeLorean Motor Company in Texas, providing spare parts to the few thousand DMC-12s still on the road.
Now, however, the brand is being reinvigorated under the guidance of new CEO Joost de Vries, who has previously held positions at Tesla and Karma. Spearheading its new campaign is the DeLorean Alpha5 – a high-performance battery-electric 2+2 coupe aiming to compete with the Porsche Taycan, Tesla Model S Plaid and Mercedes-AMG GT. The Alpha5 claims to return more than 300 miles on the US EPA testing cycle, with impressive acceleration to match. While it shares few if any visual cues with the original DMC-12, the Alpha5 will employ some of the largest gullwing doors ever fitted to a production car, giving the car a strong parked presence while allowing access to the rear seats.
While the Alpha5 is striking, and its announcement includes some details of DeLorean's planned strategy for bringing it to market, we feel there are some notable omissions in the announcement that should give prospective investors reason to question whether DeLorean is actually able to deliver on its stated objectives.
The warning signs
Mismatch between Alpha5's potential price point and its likely production volumes
In discussions with media, CEO de Vries has pointed to rivals including Porsche Taycan, Tesla Model S Plaid and Mercedes-AMG GT. As a result, one might extrapolate that the Alpha5 will be priced in a similar ballpark to those stated competitors – ie. somewhere between $100,000 and $200,000. While that price seems plausible for an EV claiming a 300-mile range and 3.5-second 0-62mph time – we'd expect a far higher price mirroring the low-volume Rimac Nevera (>$2,000,000) if DeLorean planned to offer substantially better performance than is stated.
However, DeLorean has said Alpha5 production will be outsourced to Italy – a likely partner is Italdesign Automobili Speciali, the production department of Italdesign design studio that penned the new car. Italdesign Automobili Speciali is a coachbuilding operation specializing in ultra-low-volume, rarified vehicles that typically carry a far higher price (in excess of $1,000,000) than the DeLorean's stated rivals, meaning it probably would not be cost effective to build a series of low six-figure supercars there.
While DeLorean has not confirmed the Alpha5's price point, nor who will build it, the company needs to clarify whether this is a million-dollar exotic, or a six-figure luxury production car. The fact its initial run is for just 88 units implies the former, but its stated rivals would suggest the latter.
The first production batch won't be road legal
DeLorean has said the first production run will be 88 cars, in reference to the Back to the Future series. However, those 88 vehicles will not be homologated for road use, available for track driving only. This is not necessarily unusual when talking about low-volume, stripped-out track race cars from Ferrari and Lamborghini, but is almost unheard of for a luxurious 2+2 coupe more intended for road use. That the first 88 cars cannot be driven on the road seems a bizarre business choice and will strongly limit the number of potential buyers.
Homologation for low-volume cars can be expensive but rivals from Pagani, Bugatti and Koenigsegg all accept it as a cost of selling cars to customers, so it's odd that DeLorean appears to be avoiding it.
No powertrain details, but blockchain buzzwords are already being thrown around
Another eyebrow-raising facet of the Alpha5 announcement was the fact that the first 88 vehicles will be 'physical avatars' of associated NFTs (non-fungible tokens). While linking a product with an NFT is not inherently problematic, investors must take note of the exaggerated risks associated with embracing this mercurial blockchain technology.
Hype around these digital tokens reached fever pitch in 2021 and companies across various industries queued up to highlight their efforts in the space. However, in the face of collapsing NFT sales, vicious and widespread consumer pushback on social media, and growing concerns over the extremely high prevalence of scams and bad actors in the NFT space; many companies have begun to abandon the technology as it represents too great a risk of reputational or financial damage if the bottom falls out of the NFT market.
DeLorean's announcement, however, remains littered with NFT-related buzzwords in lieu of any concrete details on the vehicle's powertrain or performance.
Limited production or business strategy, but the company is already planning an IPO
DeLorean says it has completed its initial seed round of funding. CEO de Vries has stated DeLorean plans to become "a public company", citing the fact that "building cars isn't cheap, and you need lots of money to make it happen". He has hinted that the company could look at launching its next funding round alongside an IPO, potentially as early as August.
While this strategy is typical of new automakers seeking to break into the market, it seems a little premature for DeLorean to begin courting investor capital without having anything approaching a working prototype to demonstrate it actually has the capability to build production-ready cars.
Future plans are vague at best
The revived DeLorean's plans start with the Alpha5 but include three other models at this time. Next on its agenda is an ICE V8-powered sports coupe, which will be followed by a battery-electric sedan and then an electric SUV, potentially powered by a hydrogen fuel cell.
What stands out here is the lack of consistency between vehicle strategies. One might expect DeLorean to develop a battery-EV powertrain for the Alpha5, and then adapt that powertrain for the rest of its lineup. However, the fact DeLorean's strategy bounces between BEV, ICE and FCEV powertrains, suggests it lacks a concrete vision of its future powertrain strategy.
This isn't the first time a revived DeLorean has said it will build an EV
In 2012, when DeLorean Motor Company was still under the stewardship of Stephen Wynne, the company floated the idea of building an electric version of the original DMC-12 sports car. This would use the iconic wedge-shaped stainless-steel body, but fit a battery and motors in place of the
original V6 gasoline engine. The car was intended to go on sale in 2013 but, after failing to secure a production network or enough orders to start building vehicles, the plans stalled. Of course, the new DeLorean appears to be much more than a low-volume retro car with an EV powertrain, so the fate of the 2013 model won't necessarily translate to the Alpha5.
Now is a good time to capitalize on a frothy EV investment landscape
The astronomic rise of Tesla over the last decade has completely shifted the investment landscape in the automotive industry. Before Tesla, battery EVs were low-volume oddities intended for specific use cases but, after its rise, every OEM on the market is scrambling to action EV strategies of their own. This has led to a bubbling investment market with no shortage of ready capital for EV startups, and no end to the queue of players lining up to convince investors they will be the next trillion-dollar EV company.
In this context, extreme caution must be exercised when evaluating the potential of EV investments – does the company have a clear go-to-market strategy? Does it actually have access to the facilities and specialist knowledge needed to ramp up EV production? Is the product itself a plausible competitor to the ever-growing list of proven EVs that are already taking the market by storm?
The answers to those questions will determine how likely an EV startup is to put its plans into action.
Certainly, the DeLorean Alpha5 is a cool concept and a fun, nostalgic nod to a brand and car that came to define an era for car enthusiasts. However, investors must be careful to look beyond the hype and to robustly question whether a company is actually able to deliver on its stated objectives.
This article was first published on GlobalData's dedicated research platform, the Automotive Intelligence Center