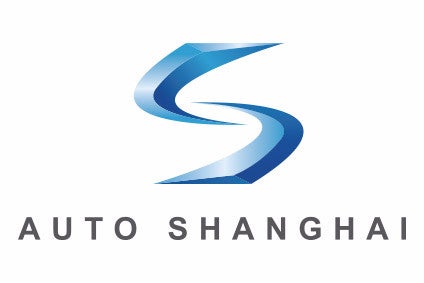 Auto Shanghai took place across 12 halls, each of which has two levels, with total floor space of 360,000 square metres quoted by the organiser. There were 136 scheduled press conferences on 16 and 17 April plus multiple events which took place in the days (and weeks) beforehand as OEMs attempted to have their brands' voices heard in the welter of announcements.
More information about the following future models can be found by searching PLDB, just-auto's global vehicle database. Simply click on the link at the end of this list.
Aiways U7 Ion concept: an MPV which 'hints at a new model'. Has 12 screens plus a robot 'which can move around the interior of the vehicle to ensure occupants' comfort'.
Aston Martin Rapide E: range of "over 200 miles" on WLTP cycle is claimed. Only 155 cars will be made with deliveries due to commence in Q4.
Audi AI:ME concept: a pure design study meant to show the brand's vision for autonomous electric cars of the late 2020s. The 4.3m hatchback's interior features plants.
Audi Q2 L e-tron: this long-wheelbase, fully electric version of the Q2 will be made in China by FAW Volkswagen.
Baojun RM-C concept: revealed earlier in April at a fashion show, this is the motor show premiere of the brand's first concept.
Bestune E² Concept: futuristic design study.
Bestune T² Concept: slab-sided SUV design study but also expected to be a preview of the T99.
BMW 3 Series Li: 4,829mm long sedan will be in production by mid-year at Brilliance-BMW's Tiexi #1 plant. Wheelbase measures 2,961mm (standard sedan: 2,851mm).
BMW X1 xDrive25Le (model code: F49): new battery gives extra range of a claimed up to 110km for this PHEV compared to the original 60km.
BMW X3 M and X4 M (F97 and F98): both powered by a 352kW (479PS) 3.0-litre biturbo in-line six with 598Nm (442 lb-ft) of torque. There is another option for each: the more powerful X3 M Competition and X4 M Competition. Their version of the same engine produces 375kW (510PS) with unchanged torque.
Bordrin iV6: codename of this electric crossover prototype is B31. FAW will manufacture it on this Chinese start-up's behalf from the first quarter of 2020.
Bordrin iV7: the C31 project is this larger, boxier SUV which as a concept has seven seats, a layout which should be retained for the potential production model.
Buick Encore & Encore GX: the second of the two's suffix signifies that it has a longer wheelbase.
Buick GL8 Avenir concept: high-end version of the existing MPV – launched in 2016 – is likely to be in production soon. It also offers a preview of a facelift for the GL8 range.
Buick LaCrosse facelift: US production ended in February but it continues at the SAIC-GM Jinqiao South plant in Shanghai. The update brings with it the first use of General Motors' LSY in a Buick. This turbocharged 2.0-litre engine has outputs of 177kW (237hp) and 350Nm (258 lb-ft). A nine-speed automatic gearbox is standard. L3T, a 1.3-litre engine, is expected to be added in 2020.
Buick Velite 6 MAV: the fully electric version of the existing Velite 6 was announced a year ago but not seen until Auto Shanghai.
BYD e1: based on the out of production F0, this 3.5m long EV is powered by a permanent magnet motor which has a stated output of 45kW (61hp).
BYD e2: the company says very little about this crossover in its media information.
BYD e-SEED GT concept: a bright red electric supercar with a retractable steering wheel and butterfly wing doors.
BYD s2: there are no images of this SUV in BYD's media information.
BYD Song Pro: the SA2 project is a large, five-seat SUV which is based on the BNA architecture. The Dynasty concept at Auto Shanghai 2017 had been a preview.
Changan CS75 Plus: confusingly, this large SUV is expected to be the replacement for the CS75 which was only facelifted a year ago.
Chery Arrizo 5e: confusingly, this prototype is an electric version of the existing Arrizo 6.
Chevrolet Onix: a new generation of this small sedan will be manufactured in certain countries, including China, where it will be made by SAIC-GM.
Chevrolet Tracker: GM China's media release contains close to no information about this SUV. It is presumed the Tracker replaces the Trax and is therefore the 9BUX project?
Chevrolet Trailblazer: GM does not say why different models in various countries now have the same name. This one is the production version of the FNR-CarryAll concept.
CHJ Automotive Leading Ideal (LI or Li) One: this 5,020mm long plug-in hybrid SUV was presented to the media at an event in Beijing during October 2018 as a prototype. This is the pre-production model and it too has a range-extending powertrain. This comprises a dual-motor system consisting of a 1.2-litre three-cylinder turbocharged petrol engine which charges a large battery. Combined outputs are claimed to be 326hp and 530Nm (390 lb-ft) and the maximum range is said to be 700km (434 miles).
Citroën C3 XR facelift: announced back in January, this is the small SUV's motor show premiere.
Citroën C4 L facelift: the exterior revisions are minor and the engines are unchanged but the interior comes in for a major update with a far larger touchscreen.
Citroën concept: was a no-show even though the brand confirmed this vehicle in October 2018.
DearCC Enovate ME-S concept: potential preview of a C segment crossover for Fujian-Dongnan's Enovate sub-brand.
DearCC Enovate ME-7 concept: prototype of an electric SUV which could be on sale later this year. DearCC is owned by the same firm which controls Soueast/Southeast.
Ford Edge ST: unlike the rest of the world's Edge (which is built in Canada), China's locally made model has seven seats. It now gains an ST variant.
Ford Escape: motor show debut for the new SUV after its world debut earlier in April at an event in Amsterdam. China's Escape has a unique grille.
Ford Escape ST-Line: black mesh grille and fog lamps are paired with 19-inch wheels for this new trim level which is also available for Ford China's locally built Edge.
Ford F-150 Limited: special version for China, powered by the Raptor's 280kW and 672Nm biturbo V6.
Ford Taurus facelift: three and a half years on from this big sedan's market release comes a mild restyle.
GAC NE Aion LX: the second electric vehicle for Guangzhou Auto's New Energy division is an SUV in the style of the future Tesla Model Y.
Geely Bin Yue PHEV: this 4.3m long model went on sale in China last November and was the first SUV for BMA (B segment Modular Architecture). Now comes a PHEV powertrain.
Geely Emgrand GL PHEV: the project code for this plug-in hybrid version of the GL sedan was FE-5HA. It should be on sale later in the second quarter.
Geely Jia Ji (or Jiaji): formerly the MPV concept, this is a 4.7m long MPV available with 1.5-, 1.8- and 1.5-litre PHEV powertrains. Development code was VF11.
Geely Jihe A: the GE11 project's production name means 'Geometry A'. This 4.7m long EV was shown to the media in February and is the first model for the Geely New Energy sub-brand. It has a special silver badge adapted from the usual Geely one, the official name of which is 'Quantum Silver Shield'.
Geely Preface concept: 'the brand's first high-end sports orientated sedan based on the CMA architecture', Geely states.
Geely Xingyue: this 4.6m long coupe-crossover was formerly known only by its FY11 development code. The model name is the same as that of an asteroid.
Great Wall Cannon concepts: two pick-ups, the second being a Raptor-style off-road variant, both based on the new Wingle 7.
Grove Granite concept: Pininfarina-developed four-door coupe design study which is meant to be a showcase for Grove Hydrogen, a Wuhan-based firm.
Grove Obsidian: prototype of a hydogen-powered SUV which its maker says will be in production in 2020 and have a range of up to 1,000km.
Gyon Matchless: Grow Your Own Niche revealed this striking four-door shooting brake prototype. The side profile is meant to look like an hourglass.
Hanteng Red 01 concept: dramatically angular fastback said to be powered by a 2.0-litre petrol engine but a future production model will reportedly also be an EV.
Haval H6 Coupe facelift: 124kW and 285Nm 1.5-litre turbo engine is also new for this SUV, standard gearbox is a seven-speed DCT.
Haval Vision 2025 concept: design study for a potential new generation of crossovers and SUVs.
Honda X-NV concept: this Vezel/HR-V-based electric SUV for Dongfeng Honda will be in production later in 2019, joining its twin, GAC Honda's Everus EV-1.
Honda XR-V facelift: Dongfeng Honda's version of the HR-V/Vezel gains the equivalent updates which that model had in other markets in 2018.
Hongqi H5 FCEV concept: fuel cell prototype.
Hongqi H5 Sports: special grille and new bumpers for this additional version of the 4,945mm long Mazda6-based sedan.
Hongqi HS5: not dissimilar to the U-Concept, an SUV which premiered at Auto Shanghai 2017. The design study had a screen within its steering wheel.
Hozon Auto Neta 02 concept: bright purple prototype of an especially curvy small crossover from a firm which can also be called Hezhong Automobile.
Hyundai Elantra PHEV: the company named this model in the headline of its Auto Shanghai press release but then made no further mention of it.
Hyundai ix25: a new generation of this small SUV which will also be sold in some markets as the second generation Creta.
Hyundai Santa Fe LWB: wheelbase extended by 100mm to 2,865mm and length to 4,930mm. The rear end is also different and there are seven seats.
Infiniti Qs Inspiration concept: Nissan says this is 'an electrified sports sedan for the future' and a preview of a forthcoming model. That model will be made in China.
Jeep Grand Commander PHEV: 2.0-litre petrol turbo engine and one motor with a claimed range on the battery pack of up to 70km.
Jetour X90: Chery Auto revealed this big SUV as the X90 at the Beijing show a year ago. Production started in February but this is its motor show debut.
Jetour X95: prototype of an X90-based large SUV should be in production later in 2019. Jetour's X70 and X90 are already strong sellers.
Jetta VA3: the rest of the world's Jetta is the VW Sagitar in China so FAW Volkswagen can use this model as the basis of its new rival brand for Baojun.
Jetta VS5: as the SEAT brand is not presently available in China, the Ateca is given some changes and turned into this crossover.
Jetta VS7: the SEAT Tarraco gains new front and rear ends as well as other changes and like other Jettas, will be manufactured by FAW Volkswagen in Chengdu.
Karma Revero facelift: it started life long ago as the Fisker Karma, has only been on sale in its present form since May 2017 and now it gains a BMW range extender engine.
Karma SC1 Vision concept: unlike the Revero this design study of a sports car is an EV. It has two large scissor-action doors, slim headlights and no grille.
Karma Pininfarina GT concept: the Mahindra-owned firm has given the Revero a 2+2 coupe body. A production version is said to be in development.
Kia K3 PHEV: the K3 has been available in South Korea for almost a year and in North America (Kia Forte sedan) but this is the world premiere for a plug-in hybrid variant.
Land Wind E315: preview of an SUV which JMC says was developed by GFG Style.
Land Wind Xiaoyao: C segment SUV which doesn't look too dissimilar to the Mercedes-Benz GLA-Class. The miniature photographer on its roof may not come as standard.
Leap Motor C-More concept: preview of a potential C segment electric crossover. The design study is claimed to have a range of up to 500km. Production promised for Q4, 2020.
Lexus LM 350 and LM 300h: these two variants of the brand's first MPV will be for China and Taiwan only. Both will be made in Japan at Toyota Auto Body's Inabe plant.
Lotus Type 130: just the name and a blurry image of this electric hypercar at this stage, plus news that the vehicle itself will be revealed later this year at an event in London.
Lynk 01 facelift: very small exterior changes (new lower grille) but also some updates to the interior.
Lynk 02 PHEV: plug-in hybrid version of this SUV joins the 01 PHEV crossover and has the same 1.5-litre petrol engine+one motor.
Lynk 03 PHEV: this sedan has an identical powertrain to the 01 PHEV (crossover) and 02 PHEV (SUV).
Maxus D60: prototype version of a ladder frame SUV which is based on the T60 and due for a sales release in China during the fourth quarter.
Mercedes-AMG A 35 Saloon L: joins the five-door and Saloon and is powered by the same 225kW (306PS) and 400Nm turbocharged 1,991cc four-cylinder engine.
Mercedes-Benz Concept GLB: preview of X247 GLB-Class which some claim is a 'small' SUV. This 4,634mm long prototype is revealed only months before the production model.
Mini Clubman facelift: after three and a half years of production there are now minor exterior changes and updates for powertrains.
Mitsubishi e-Yi concept: a new name for the Engelberg Tourer concept from the Geneva motor show.
Nio ET Preview: prototype of this would-be rival for the Tesla Model 3 heralds a car which is due out in 2020 and is expected to be called ET7.
Nissan Sylphy: the new generation of Dongfeng Nissan's C segment sedan will be more or less the same car as other markets' Sentra and Pulsar sedans.
Porsche Cayenne Coupé & Cayenne Turbo Coupé: 4,939mm long rival for Mercedes-Benz GLE Coupé, Audi Q8, Range Rover Sport and BMW X6.
Qoros MILE II concept: a year on from the debut of the MILE I at the Beijing show comes this new crossover design study.
Renault City K-ZE: production version of the Kwid Zero Emissions concept from last year's Paris motor show. Build will be with Dongfeng Motor via the DRAC joint venture.
Renault Koleos facelift: this was not publicised but the DRAC joint venture will soon switch over to production of a facelifted model which premiered at Auto Shanghai.
Roewe Max: SAIC has given the RX8 some minor changes and created this additional SUV.
Roewe Vision-i concept: large, futuristic crossover with an especially spacious interior
Seres SF5: new brand name and a restyle for the former SF Motors SF5 prototype. To be available in two forms, the faster of which has a claimed 1,039Nm and 684hp.
Singulato ic3 Urban Dream Chaser: the former Scion eQ EV/Toyota iQ EV comes back to life.
Škoda Vision iV concept: updated from its first appearance at the Geneva show in March.
Toyota C-HR EV: battery electric version of the B segment crossover appears at Auto Shanghai as a prototype. FAW Toyota will build it from 2020 but has not named the plant.
Toyota Izoa EV: Guangqi Toyota's electric version of the C-HR will also be manufactured in China from 2020. The plant in question is yet to be named.
Toyota Rhombus concept: crossover study which has only one seat in the front compartment and a lounging area for up to three occupants behind.
Venucia e30: the low-cost brand might be part of the Dongfeng Nissan JV but the e30 is Renault-based and more or less the same model as the Renault City K-ZE.
Volkswagen e-Bora: SAIC Volkswagen has the e-Lavida and FAW Volkswagen has this equivalent plus the e-Golf. All three have a 100kW APP290 motor.
Volkswagen e-Lavida: the electric version of China's best selling vehicle is finally shown to the public in production form, some four years after it was announced.
Volkswagen ID. Roomzz concept: full size electric SUV will become available in China first during 2021.
Volkswagen SMV concept: FAW Volkswagen has wanted its own equivalent of SAIC VW's Teramont, so this 5.1m long model will soon be manufactured in China.
Volkswagen SUV Coupé Concept: 4,586mm long preview of a future Tayron-based SUV-coupe for FAW VW.
Volkswagen T-Cross: it may have the same name as the model manufactured in Spain but SAIC Volkswagen's T-Cross – on sale a few days ago – is longer and wider.
Volkswagen Teramont X: also from SAIC Volkswagen, this five-seat fastback-SUV will be available in China during the third quarter. VoA's Atlas Coupe should be near-identical.
Wey X concept: design study of a crossover similar in size to the VV5
Wuling Hong Guang V, Hong Guang S and Hong Guang S3 facelifts: SAIC GM Wuling has said nothing about any engine changes but there is a new gearbox.
Xpeng P7: Xiaopeng Automotive Technology's electric four-door coupe was developed with the project code of E28.
Zedriv GT3 concept: at only 4,000mm in length, this attractive little EV is smaller than the Porsche 911 or Nissan 370Z which it manages to resemble.
Zotye A16 & B21: these SUV prototypes are for now known only by their development codes. Both looked like the Mazda CX-5 but with radically different front and rear ends.
Future product program intelligence
Find more data on vehicle lifetime and future product plans with PLDB from QUBE.