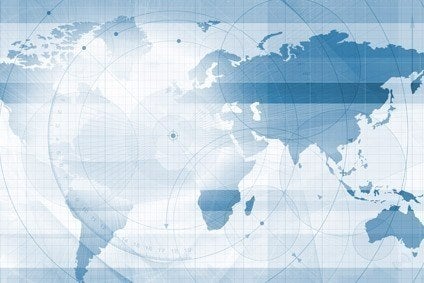 In the full year 2014, Argentina, Brazil, India, Russia, Thailand & Turkey are set to become an even greater drag on global light vehicle markets than in FY13, declining by at 9.1% or 1.1m to 11.13m units. In the previous five years and during the global financial crisis they were key drivers. Sabine Blümel considers the implications for the industry. This third instalment considers Asia (India and Thailand) and Extended Europe (Russia and Turkey).
India – waiting for structural reforms
In 2007-2012, the Indian economy and automotive markets were booming: GDP and private consumption were growing at more than 8% p.a. and the Indian light vehicle market almost doubled, expanding 91% or 13.9% p.a. from 1.71m units in 2007 to 3.27m in 2012. However, during 2012, the economy had started to slow, and GDP growth fell to below 5%, hampered by structural weaknesses such as lack of investment both for private and public sectors, over-regulation, an overly bureaucratic civil service, undue political influence by interest groups, to name but a few negative influences.
The currency sell-off in 2Q13 exacerbated India's macroeconomic woes. A decelerating economy now had to contend with weak direct investment, high inflation (of around 10%), rising interest rates and higher fuel prices. In 2013, disposable income was squeezed and private consumption growth decelerated sharply, to just 2.8%, from 6.0% in 2012. As a result, the light vehicle market declined 10.5% to 2.93m, the first decline in a decade. In the fiscal year to April 2014, weighed down by political uncertainty ahead of the general elections, light vehicle sales declined another 6% to 983.9k units from a weak 2013, notwithstanding a surprise cut in excise duty, though valid only for the first half of the year.
The new PM Modi's success in securing an absolute majority in the lower house of parliament may have reduced political uncertainties, but he is facing almost impossibly high expectations from voters, stakeholders and international investors. He has yet to announce his strategy for transforming the Indian economy and solving its daunting structural problems. India is in need of removing growth constraints such as food price inflation, disincentives for employment, in particular for young people (10m of whom enter the job market every year), over-regulation of all aspects of the economy, inadequate infrastructure, stagnation in manufacturing, fiscal and current account deficits.
However, recent political optimism has led to a modest recovery in car sales in the past three months (May-July) and there are indications of a moderate recovery in light vehicle sales for the remainder of the year, in particular vis-a-vis a weak 2013. This points towards stabilisation or a moderate recovery for the Indian automotive market in the full-year 2014. In view of extremely low car ownership levels, a widely expected macroeconomic improvement in 2015 should lead to some acceleration in car sales – growth in excess of 10% is widely expected next year. However, there remain considerable downside risks for the medium-term outlook.
The European and US OEMs play only a minor role in the Indian automotive markets. In 2013, Renault-Nissan, together with their Korean subsidiary Samsung, held a market share of 4%, the VW Group and Ford some 3% each and GM 2%. The dominant market leader is Maruti Suzuki that held some 30% of the market, ahead of Tata (14%), and Hyundai and Mahindra with 13% each. Toyota and Honda held 5.0% and 3.0% respectively. Premium brands account for only 1% of the market.
Suzuki and Hyundai are using their Indian production bases for exports of small cars; India has become a global hub for small car manufacturing. However, in 2013, the OEMs cut their production by 13% to 3.52m units, in line with lower orders at home and in some export markets; there was a 23% reduction in net exports. A weaker currency should provide additional export opportunities thus allowing production to grow again in 2014.
Thailand in trouble
The Thai light vehicle market more than doubled, growing 109% or by a calculated 17.9% p.a. from 0.62m units in 2007 to 1.40m in 2012. However, that impressive growth paints a slightly misleading picture. During the financial crisis, the Thai light vehicle market underwent a mild recession, declining 14% during 2008-2009, and had a roller-coaster ride since then. In 2010, it recovered strongly, by 18.7% to 0.63m units as GDP and private consumption recovered strongly by 9%. However, in 2011 and 2012, the market took off, growing 22% and 81% driven mostly by government incentives. Following a devastating flood crisis in summer 2011, and in order to revive the automotive markets, the government introduced a 'First-time Car Buyer' rebate scheme, expiring 31st December 2012. The pull-forward effect of the scheme boosted light vehicle sales not only in the full-year 2012 by 81% to 1.40m units, but also by 42% year-on-year to 522.9k units in the January-April 2013 period, until the OEMs had fulfilled orders arising from that scheme. However, the payback has been brutal and the Thai light vehicle market has been in retreat since May 2013, resulting in an 8.3% decline to 1.29m in the full-year 2013.
During the first four months of 2014, light vehicle sales collapsed 43% year-on-year to 289.3k units, coming off that inflated 2013 base. In view of the recent and dramatic political developments, there is a considerable downside risk to the forecast of a decline of at least 27% to 0.94m units in 2014 and a moderate, 7.7% recovery to 1.01m in 2015. Premium brands account for less than 2% of the market.
Since mid-2013, anti-government protests and political stalemate have led to consumer confidence nose-diving and the Thai bhat weakening dramatically; private consumption almost stalled and increased only 0.3% in FY13, after 6.7% growth in 2012. The outlook has turned even bleaker as a military coup of May 22nd has already received royal approval and been followed by the imposition of martial law.
OEMs most affected are the Japanese manufacturers, led by Toyota. Thailand is a production and export hub, in particular for the Japanese manufacturers that account for 90% of Thai sales and production. Indeed, in 2013, a 12% increase in net exports (to 1.13m units) allowed production to increase marginally to 2.42m, notwithstanding a decline in domestic sales. In 2014, if net exports can just be kept stable, the cut in Thai production should be limited to some 15% (to 2.03m units).
Russia: mired in worsening recession
Unlike the non-European emerging markets, Russia suffered a severe recession during the global financial crisis and in 2009, GDP and private consumption contracted 8% and 5% respectively. This resulted in a 50% collapse in the Russian light vehicle market to 1.37m. However, the recession was sharp and short and followed by a swift economic recovery in 2010-12, when GDP growth – led by higher energy prices that boosted Russia's economy – was topping 4% a year and private consumption growing by almost 7% per annum. Light vehicle sales, helped by government incentives, boomed, growing 56% or 26% p.a. from 1.47m in 2009 to 2.93m, an all-time high in 2012
However, even before the full onset of the crisis in the Ukraine earlier this year, the Russian economy was on a downward trajectory and had slowed dramatically: the real GDP growth rate fell from more than 4% in 2010-11, to 3.4% in 2012 and 1.4% in 2013. This is attributable to considerable structural problems at the core of the economy such as lack of internal investment and increasing capital flight, both caused by a bad business climate, lack of sufficient protection of property rights and rule of law. Russia's economy is over-reliant on energy and international energy prices have been moving down as global supply (particularly in North America due to the shale and fracking boom) has moved up.
However, the escalating crisis in the Ukraine, economic sanctions and a high degree of uncertainty have dramatically worsened Russia's economic outlook; real GDP is expected to shrink in 2014 and recover only moderately in 2015. Private consumption that in 2010-12 had been an economic driving force, decelerated sharply, from 7.9% in 2012 to 5.5% in 2013. Higher interest rates and a weaker rouble have dampened consumer confidence, dramatically worsened the outlook for private consumption and are the two main negatives affecting car sales.
Higher interest rates and a dramatic weakening of the rouble are the main negative factors affecting car sales. A weaker rouble that has lost 20-25% against major currencies is sharply reducing the affordability of vehicles. Indeed, in 2013, foreign exchange affected 82% of vehicles sold in Russia; 36% were imports and 46% foreign branded vehicles from local production that have a relatively low local content. Additional drawbacks include the extension of the 'utilisation' tax to include locally produced cars since 1/1/2014 and the low probability of a new car incentive scheme any time soon (but watch that space).
After a 5.5% decline to 2.77m in 2013, the Russian light vehicle market declined another 9.9% year-on-year to 1.41m units during the seven months of 2014 and is heading for a decline of more than 15% to some 2.3m in the full-year 2014 and of less than 5% to 2.2m in 2015E. The market is not expected to start to recover before 2016 or to reach the 2012 all-time high before the end of the decade.
However, there is a considerable downside risk and the ultimate outcome for light vehicle sales in 2014 will depend on government policies, positive ones such as a new incentive programme (possibly from 4Q14 onwards) and/or negatives such as import restrictions for complete vehicles. Speculation about the government planning import restrictions also for automotive components is in our view sabre rattling as this would all but destroy the nascent domestic auto industry characterised by rising volumes for foreign makers working with local firms to produce cars in Russia under Decree 166.
In 2013, Renault-Nissan together with their Russian associate AvtoVAZ, owner of the Lada brand, held a 30% share of the Russian market; ahead of Hyundai-Kia (14%) and GM and the VW Group that held each some 10%. Premium brands account for some 7% of the market.
Russia is a net importer of light vehicles and the local production by foreign OEMs is mainly determined by Russia's punitive tariff and fiscal policies. Russian light vehicle production that was trimmed by some 2% in 2013 is therefore set for a more substantial cut in line with sales. A decline of 10% is forecast for 2014, as a weaker rouble fails to offer substantial export opportunities.
One area of uncertainty is AvtoVAZ. It has been losing share in Russia's car market for years as output in Russia of foreign brands has risen. However, any measures taken that adversely impact foreign producers could benefit AvtoVAZ. Furthermore, higher prices for imported components will also hit its main foreign rivals in the Russian car market and could improve the company's competitive position inside Russia (possibly boosted further by whipped up nationalist sentiment)..
Turkey – in retreat, but offers export opportunities on weaker currency
Unlike non-European emerging markets, Turkey was not able to avoid a recession during the global financial crisis, though the economic setback was considerably more benign than in Russia. The Turkish light vehicle market, traditionally heavily influenced by government subsidies and tax policies, and as such detached from economic realities, declined 17% in 2008, but actually advanced more than 10% in 2009, when the economy, including private consumption were in decline. Since 2010, the Turkish light vehicle market had a mixed performance and peaked in 2011, at 0.87m units, 75% up on a trough of under 0.5m units in 2008. Following a 10% correction in 2012, the Turkish market increased by almost 10% to 0.85m units in 2013.
During the first half of 2014, the Turkish light vehicle market declined 25% year-on-year, to 285,000 units. Decline is set to continue with the market forecast at just 0.65m units for the full-year 2014.
A deteriorating macroeconomic outlook, a sharply weaker currency and dramatic increase in interest rates have depressed consumer confidence. In January, in order to prevent the freefall of the Turkish lira, the Bank of Turkey more than doubled the repo-rate to 10%, raising the rates for consumer loans by some 400 basis-points. In view of a polarised electorate, the fact that the former PM Erdogan was elected President in August looks likely to increase political tensions in the future.
The macroeconomic outlook has deteriorated sharply and growth rates for GDP and private consumption are expected to halve from 4.0% and 4.6% respectively, in 2013, to some 2.0% in 2014 and recover moderately, to about 3% in 2015. However, additional headwinds causing a sharp decline and downsizing in this year's automotive market include:
an unexpected increase in the already high purchase tax by 5%-points to 45%, 90% and 145% respectively, depending on the engine size;
the introduction of credit restrictions, also specifically for car loans.
Turkey has a free-trade agreement with the EU and the Turkish assembly plants are fully integrated into OEMs' European networks. The improved export conditions thanks to a weaker Turkish lira should therefore mitigate the negative impact from the decline in domestic demand and devaluation for the main players. Main market players include the Renault-Nissan group that held a 20% market share in 2013, Ford and Fiat with some 12% each, GM, PSA and Hyundai with some 8% each. The VW Group that had an 18% market share in 2013 is unique as it does not have an assembly facility in Turkey. Premium brands account for some 9% of the market.
We calculate that in 2013, Turkey's net exports (production minus sales) amounted to some 220,000 or 20% of total production. However, the Turkish plants are highly specialised, focusing on a narrow product as they are integrated in the OEMs' European plant networks. In 2013, 78% or 0.84m of the 1.07m light vehicles produced in Turkey were exported and some 0.62m light vehicles were imported.
In view of a (slowly) recovering European auto market, Turkish light vehicle output has a chance to remain flat despite the declining domestic market, raising the calculated net export to 0.4m units (around a third of production) in the full year 2014.
See also:
August 2014 management briefing: Emerging markets in trouble (2) – South America
August 2014 management briefing: Emerging markets in trouble (1) – Overview