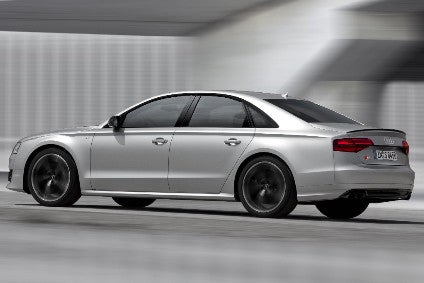 Are there really people who think the 585PS 4.0-litre biturbo V8 S8 is too slow? It seems so, as Audi now sells a 605PS plus variant which also has a handy lift in torque to 750Nm.
How do we know that this big, enormously powerful car is aimed mostly at the Chinese market? Come with me as we open a rear door and climb into one of two individual seats. Pull it gently shut and the last part of that action sees an electric motor take over as soft-close is automatically activated.
The herringbone pattern grey leather perforated leather seat coverings feel super-luxurious but then what's this – something you don't see too often any more: an ashtray. Ah yes, lots of people smoke in China, and not fitting somewhere to deposit your Chunghwa fag-ends risks offending Very Important Plutocrats.
The S8 plus' rear passengers also have one 12V socket each, located just below air vents which are integrated into the back of the driver and passenger armrests. Again, there are one each – the usual thickly padded rest is split down its middle which is a clever touch. Back in the back, there is simply loads of lounging room. A pull-down armrest where a third passenger would otherwise sit contains two cupholder recesses with spring-loaded glass or can grips. There is a further cubby found within a rear-hinged armrest under which sits a felt-lined compartment.
Above you is soft lighting via 40cm long strips integrated into the alcantara headliner and four coat hooks. These are in the usual places but also one on either B-pillar above the additional vents. There are speakers built into these pillars plus a further two Bose branded ones in each door. Dark grey alcantara trim on these rear doors matches that on the ceiling and there is a third components to the trims: carbonfibre. Something unusual is there too: lock/unlock buttons. In fact all four doors have these controls.
One oversight is a lack of any soft trim on the backs of the seats: hard grey plastic is broken up by a large curve of glossy carbon fibre but still, it can make for the occasional bashed knee, which isn't very premium feeling. Maybe Audi also needs to think about a long-wheelbase S8 plus? Well, this company, which is the master of finding new niches, would already offer such a car if its research showed there could be a demand. Let's presume then that there wouldn't be enough potential buyers out there to justify the development cost. Only that Mercedes-AMG is already in this tiny segment with the S 63 AMG L. And here's something interesting: this car is available solely in the UK and certain other RHD markets. Maybe for once, Audi has overlooked an opportunity.
The big Benz has the same 585PS (430kW) as the Audi S8 but this comes from a 5.5-litre V8, which like the Audi's engine, has two turbochargers. Its pricier brother, the S 65, has a biturbo 6.0-litre V12 which produces 680PS (463kW). Perhaps Audi will take on the S 65 when the next generation appears in 2017? An RS 8 powered by the Volkswagen Group's new Porsche-built petrol V8 is the obvious missing piece in Audi's high end model range so watch this space.
Having discovered what a peaceful and luxurious place the rear seats of the current S8 plus are, any owner should then immediately jump in the chauffeur's seat to find out what she/he is missing out on.
The firing-up ceremony is a delight for any petrolhead. The starter motor has a satisfying sound as the software has been programmed to give a theatrical couple of super quick churns, and then the turbo V8 thumps into life. Look around and you see the same Bose branding on the door speakers and lots of shiny carbon fibre pieces of trim, which extend across the dashboard and down the sides of the transmission tunnel. There are also silver trim plates on the door sills and these illuminate.
As you press the silver START ENGINE STOP button, the tacho (no redline) and speedo (markings to 200mph) needles not only spin but red LED light up and trace these arcs both ways. At the same time, the MMI monitor rises out of the dashboard and the carbon-backed mirrors whirr into place. Told you it was all a bit theatrical.
The gear selector can sometimes fail to find R when you are in a hurry making three point turns so these can take longer than is ideal. You can tell the basic age of the A8 – it first appeared in 2010 – is at play here as the fiddly lever is inferior to the system on the new A4.
The steering wheel is a thing of beauty and like the tachometer, it has an S8 logo. There is a long curve of leather covered trim across and around the dashboard which links to the doors and this reminds you of the Jaguar XJ. Good touches include the bonnet opening pull which is on the correct side for RHD markets. Nice. A minor irritation is the lack of electric boot closing. Why not, when there is opening from the key fob or driver's door?
The engine itself you can't see too much of but the Volkswagen Group does plastic covers so much better than its rivals. Best that I don't single out JLR yet again as one OEM which needs to work on this for all of its cars but someone there really needs to take a look at the moulding of the new SQ7 TDI's diesel V8 (there is a review of that model coming soon) for a lesson in how to make plastic look like aluminium: I had to tap it to tell.
The tyres are HUGE (21-inchers) and the silver and anthracite wheels are gorgeous. The black and grey grille has carbonfibre trim inserts and S8 badges front and rear, but nowhere do the words plus or Audi appear. There are four big tailpipes and WHAT a sound.
So, how does it drive? Acceleration is epic. Push this car hard enough and you can feel the front tyres struggling to get the power down for a split second as torque is channelled to the rear axle – remember, this is basically an FWD/AWD architecture. The eight-speed tiptronic (torque converter automatic) transmission works without fault and considering there is up to 750Nm available in overboost mode – 700Nm is the standard output – that's doubly impressive. As is the 18mpg average I saw and I did explore the plus' phenomenal outputs on a few occasions.
As mentioned when I reviewed the S8, the front differential is located ahead of the clutch. This allows the axle to sit far forwards and means a lengthy wheelbase. There is also more rearward weight distribution for better driving dynamics.
Does the world need the plus version of the S8? Yes it does. It works on a number of levels, and yet again highlights how Audi has become the dominant force in almost all premium segments, pushing aside BMW and Mercedes-Benz. Have you see how the 3er is faring against the hugely popular A4/S4? There will soon be a new A6 and you can guarantee it will give the E-Class a much harder time than the current shape one does. Expect the successors for the A8 and S8 series to attack the S-Class, S 63 and S 65 far more aggressively than the relatively low key current models do.
Sure, worldwide S8 plus sales will be small but think of this car as a four-door R8 and it makes a lot of sense. BMW continues to think there would not be enough demand for a potential M7 but the existence of the S8, S8 plus and Daimler's Mercedes-AMG S 63 and S 65 prove why the product planners in Munich need to think again.
Fourth generation S8
The replacements for the A8 and S8 are expected to use a new aluminium platform called MLB/PL65. Audi's chairman, Rupert Stadler, told the media at April 2014's Beijing motor show that an A8 e-tron would be launched "in the years to come", which was taken to mean as part of the next generation model range. The car's petrol-electric plug-in hybrid (PHEV) powertrain is expected to be shared with that of the future A6 e-tron.
The A8 hybrid hasn't been too successful so the PHEV powertrain will likely succeed it. This is expected to be the first car for the power generating suspension system which Audi is said to be developing. The company's then head of R&D, Ulrich Hackenberg told journalists attending the launch of the A3 e-tron in June 2014 that the company was working on a "generator suspension." We await further details but it should harvest the kinetic energy currently wasted when wheels are compressed after tyres hit bumps.
The AU651 A8, A8 L, S8 and potential RS 8 series cars will all be made in Audi's Neckarsulm factory, constructed from aluminium.