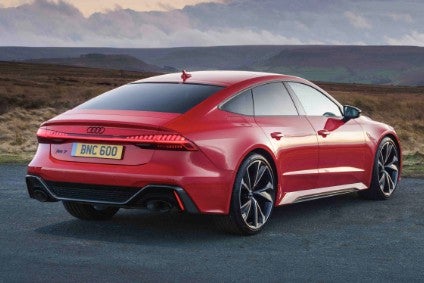 Audi's fastest and most expensive hatchback, now in its second generation, has six hundred horsepower, eight hundred newton metres of torque and can rocket to 100 kilometres per hour in 3.6 seconds. It also now boasts 48-volt electrics, mild hybrid technology and can return in excess of thirty miles per gallon. 
Before it sounds as if I'm in denial about the latest RS 7 Sportback's eco credentials, yes, it should be pointed out that the official Combined consumption is only 23 mpg and the CO2 average is 280 g/km. This then, won't be a cheap car to run, especially when the latter number means first year road tax comes in at GBP2,175. Ouch. Driven sensibly, at least the petrol bills won't be too bad, plus a 73 litre tank means the owner won't need to fill up that often.
Motorway cruising is where the 30+mpg average comes in, even if it's easy to see consumption plunge into the low teens if you want to make the most of the RS 7's muscle. Don't forget that this is no lightweight, tipping the scales at 2,065 kg before options. Speaking of which, the list is long, and can lift the almost one hundred grand standard price towards a hundred and forty thousand pounds.
The test car, which was fully loaded, costs GBP138,765. Here's a sample of how a buyer could spec their RS 7 to that sort of level:
head-up display: GBP1,450
RS Sport exhaust system: GBP1,450
top speed raised to 189 mph: GBP1,550
glass sunroof: GBP1,750
glossy black 22-inch alloy wheels: GBP2,000
black Alcantara headliner: GBP2,100
carbon black styling pack: GBP4,800
Bang & Olufsen 3D sound system: GBP6,300
ceramic brakes (including red callipers): GBP9,700
Powertrain
Revealed a year ago this month at the Frankfurt motor show, the generation two model is powered by an evolution of the 3,996 cc biturbo V8 which Audi shares with Porsche, Bentley and Lamborghini. The RS 6 Avant has the same powertrain. The engine's 441 kW is boosted by a starter-generator, with up to 12 kW of power able to be recovered and stored in the MHEV system's lithium-ion battery.
The energy recovery system is activated when the driver lifts their foot from the throttle pedal at speeds between 34 and 99 mph. In such conditions, energy harvesting takes place or the engine is either switched off automatically, restarting happening via the belt-driven alternator-starter. Cleverly, even if the car's brakes are applied, when the front camera clocks the vehicle in front beginning to move, the engine will be automatically re-started.
Another part of the fuel saving technology is a cylinder on demand system. When in higher gears at low to medium loads and engine speeds, cylinders two, three, five and eight will be shut off. This is achieved by pausing injection and ignition as well as closing the intake and exhaust valves. The four deactivated cylinders will begin firing again the instant that the driver applies more pressure to the throttle. In practice, it's just about impossible to detect that this is happening.
Torque is sent mainly to the rear wheels, the front-rear split being 40-60 via a mechanical centre differential, while the eight-speed automatic transmission also features a launch control function. Depending on road conditions and what the driver is doing with their right foot, up to 70 per cent of the engine's output can be directed to the front wheels and up to 85 per cent to the rears.
Air suspension
The RS 7 Sportback has a ride height that's been lowered by 20 millimetres compared to the A7 standard suspension. Thanks to air springs, above 74mph, the car is powered by a further 10 millimetres. Just like when the engine is switched to four-cylinder mode, you don't notice the change but the road holding at high speeds is exemplary, some of which is thanks to all-wheel steering.
You can also tweak the handling via an electronic system which offers the choice of Comfort, Automatic, Dynamic, Efficiency and two modes which offer custom choices: RS1 and RS2. In the last of these, ESC (Electronic Stabilisation Control) can also be switched to a Sport setting.
There's been one big change for the interior compared to the old RS 7 and that's an extra seat. Folding that split bench increases luggage space to 1,390 litres but even with the seat backs upright there's 535 litres.
All seats come trimmed in perforated, honeycomb pattern leather with RS embossing, that logo being repeated on the flat-bottom steering wheel, aluminium shift paddles and multi-function buttons, with an Audi Sport emblem projected onto the ground when the doors are open. The overall effect is a genuine sports-luxury step up from other versions of the A7 Sportback and A6 saloon/Avant, even if the basic dashboard architecture and most controls are shared.
Along with the equally new RS 6 Avant, the fastest variant in the A7 line-up is one of the best cars in the history of Audi's RS range. Pricing will keep it as exclusive as its Mercedes-AMG E 63 & CLS 63, BMW M5 and Porsche Panamera rivals, something those who can afford any of these models will appreciate.
What's next?
The RS 7 is obviously way too new to be talking about any changes that Audi could be planning but the AU583 series A7 itself will be three years old in March next year. For that reason, we may well see a mid-cycle facelift either towards the end of 2021 or else in the first half of 2022.
In other news, for the first time in the history of this model series, Neckarsulm will no longer be the sole production plant. That's because China's SAIC Volkswagen joint venture plans to produce a special extended wheelbase A7 L at its Ningbo factory. The RS 7 Sportback will remain exclusive to Neckarsulm though and there is unlikely to be an RS 7 L.