PRODUCT EYE: Audi RS 6 Avant - the 189mph estate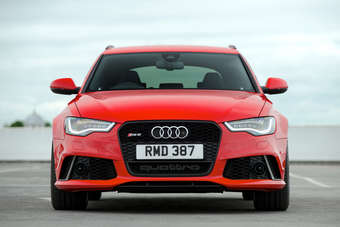 According to Audi, the 'fastest estate in the world' has a top speed of up to 189mph (304km/h)
A Maserati might have been the best sounding car Glenn Brooks has driven this summer, but it isn't the fastest. Surprisingly, that honour goes to an Audi estate.
I'm yet to see a privately bought RS 6 Avant but at the media launch, there were more than a dozen of these GBP75,000-plus cars. I drove three examples so as to familiarise myself with different options and accessories and each of them was priced at over a hundred grand. For an Audi Avant?
In fact, the brand has form when it comes to supercars disguised as station wagons. When I first got into this business in the 1990s, one of the cars I most wanted to drive was the Porsche-engineered RS 2, a super-estate that was based upon the 80 Avant. Quite a few RS models have followed, to the extent that the range now comprises the TT RS, RS 4 Avant, RS 5 (Coupe & Cabrio but no Sportback), RS 6 Avant, RS 7 Avant and an even an SUV, the RS Q3. The RS 7 goes on sale in Germany this month and will soon be landing on these shores but the RS 6 is the brand's newest model for the UK, having reached showrooms just a few days ago.
So what is it, apart from astonishingly rapid? Take an A6 estate, push out the arches and fit huge 20-inch wheels; drop the ride height and replace the suspension with an air system (it's the first RS model to have pneumatic rather than steel springs but if you want a conventionally sprung car you can order one); redo the interior with a sports-luxury theme; give the exterior mirror casings a silver finish; and add the word 'quattro' in big letters below the registration plate. What did I forget? Oh yes, the small matter of a 3,993cc TFSI biturbo petrol V8 that delivers 700Nm of torque to both axles. It's greenish too, as it automatically becomes a V4, switching off cylinders, two, three, five and eight when you don't need them.
The world first heard about the latest generation model when Audi issued a media release last December but we didn't see it until the Geneva motor show three months later. The reason it wasn't at January's Detroit show was that it won't be sold in US, Mexico being its sole North American market. Audi of America believes its customers will prefer the RS7 Sportback. That one has the same engine as the RS 6 and will soon be introduced for the US and Canada's 2014 model year (the Mexicans are lucky, like Europeans, they get the choice of both cars).
Why am I talking about America when the focus of this car review should be the UK? Well, something historic has happened for Audi in recent times and that's the US having now overtaken Britain as a larger market for the brand. The official numbers I looked at show sales for the first seven months being 87,341 versus 84,528. Or to put it another way, populations of circa 300 million people versus circa 60 million is one way of showing just how far ahead of its weight Audi UK has been punching for many years. OK, there are other factors but my point is valid however you slice up the numbers - Britain is one of Audi's leading global markets and way ahead of all others in Europe, bar Germany.
The ongoing boom in sales of new cars here is especially apparent if you look at what's happening to premium auto makers. If I run my eye down the SMMT's numbers by brand for July and the year to date, Audi is but one example of a brand that has lifted sales (up 12 percent) by more than the market average of 10.34%. Even little Lotus is up, by 23 percent, the same as Jaguar, but Audi might not thank me for pointing out that Mercedes-Benz registrations have climbed by 14 percent (BMW is up by just 2.4 percent). Clearly, there is a lot of cash splashing about, so it's the right time to launch a pricey super-estate.
You will want to know how a GBP75,500 RS 6 becomes a GBP104,240 car so here goes: Black Valcona leather with rock grey stitching - hold your breath it's GBP5,675, then add 620 pounds for power door closure, another 400 for a heads-up display, adaptive cruise control with Stop&Go will set you back a further GBP2,255 and there's all sorts of other gear including GBP6,300 worth of Bang & Olufsen sound system - once you've seen those dinky speaker towers rise out of the corners of the dashboard you'll have to have this option. Sunroof? That will be another GBP1,225.
If you think I forgot to highlight an optional set of ceramic brakes as major factor in the cost of the above spec, I didn't. Are you ready for to be, er, stopped in your tracks? Seven thousand, two hundred and eight pounds. Told you. Would this be the right moment to quote Audi's data which shows its new estate flagship as being predicted by CAP Monitor to have the best residual in its class? Before I give you the number, CAP reckons the BMW 550i SE Touring Step Auto will be worth just 30 percent of what it costs now in three years' time, while the Benz E 63 AMG estate auto is rated at 32 percent. And the RS 6? You should get 34 percent back come trade-in time.
Should I take Audi UK to task in this review for charging like a wounded bull? Nope, I'm not going to. We live in a country where the market rules, so if people are prepared to pay lots of money to have exactly the car they want, then let them do so. It's worth noting that a lot more RS 6s are going to be sold here this year than cheaper, fully-loaded Lexus LS sedans - brand image is what matters to people who can afford the monthly payments, which is why Audis that cost six figures are not as rare here as some might think they would be.
Audi says the segment in which the new model competes is under 1,000 units a year. Other vehicles that come to mind would be the BMW 550i M Sport Touring, Mercedes-Benz E 63 AMG and E 63 AMG S estates as well as two saloons: the XFR-S and the M5. Jaguar is said to be planning a Sportbrake body style for the former but BMW doesn't do an M5 Touring, not even in Germany.
The tagline 'supercar pace in a versatile bodyshell' is how the marketing machine will be softly selling the hyper Avant and you can sense in that approach. For buyers of these cars, it's enough that anyone whose opinion they value will know what their car is and how much it costs. Unsurprisingly, in that context, most are expected to be ordered with multiple high-cost extras. Don't believe me? Audi has data which proves that fully seven percent of all former A6 estate sales were of the previous RS 6. As the new shape car is unique in the segment here for having permanent AWD, plus considering how well all high priced cars are selling, don't be surprised if the C7 series model improves on the historic percentage.
Forgive me for taking this long to get to the performance figures. These numbers are not erroneous: zero to 62mph takes just 3.9 seconds and top speed is 189mph if you choose to have it derestricted or a mere 155mph if you're happy with the standard spec (there's also a 174mph limit option).
Does anyone need an estate which is that fast? Of course not, but again, it's a case of the people who matter to the target buyer demographic also knowing the vital stats. The media launch took place at one of Audi UK's favourite hotels, close to Ascot. It is a beautiful part of the world and sadly it's also replete with lots of 30mph or 50mph zones. But, the M3 and M4 are not too far afield. Yet even there, you only begin to test the lower limits of the RS 6. This car cries out for an autobahn, especially with that intimidating front end styling.
I would hesitate to call this a sensible supercar but you can make a case for it, if you need to justify your purchase. The CO2 average is a best in class 229g/km and the Combined figure of 28.8mpg is equally amazing considering the available performance. A lot of that is thanks to some trick gearing courtesy of an eight-speed tiptronic that will shift into the highest possible gear as quickly as it can, should the foot inside Tod's loafer be pressing only lightly on the throttle. And if you need a fresher in Audi-speak, the s tronic you'll find in an RS 5 means means dual clutch auto, whereas tiptronic translates as an eight-speed torque converter automatic with paddle shifters.
Two extra gears in the auto transmission is one reason for the decent consumption numbers but the loss of around 100kg in kerb weight to 1,935kg has played a big part too. How did Audi do it? The old-shape RS 6 Avant, built between 2007 and 2010, had a 426kW/572hp 5.0-litre biturbo V10 which weighed a lot more than the new model's 224kg (including all key add-on parts) 412kW/560hp 4.2-litre V8. It also sucked 42 percent more petrol into its innards and blew out 31 percent more carbon dioxide. If that's you I can hear calling out in the back row "wasn't there an RS 6 saloon?", you're correct. But few people wanted it, which is why there it's Avant only for the just-launched model.
I loved the old ten-cylinder RS 6 which I once got to drive at GM's Millbrook testing ground in Bedfordshire. On a banked track, it was a nice place to be, hands off the wheel at a steady 100mph. Wish I had been allowed to go faster but thems was the rules that day. I had better not say what speed I might or might not have reached in the new one on a light-with-traffic motorway. I will say that it made a much better noise than the old turbo V10.
Audi hasn't given up on its V10. Indeed, the latest one fitted to the still newish R8 V10 plus sounds so much better than the engine in the old RS 6, as you'll know if have good external speakers on your TV (if you haven't seen THAT ad click here). For me, the turbo V8 sounds even better and it would be what would make me buy the new RS 6. I'll end this review with how Audi Deutschland is choosing to market it. Speed? Sort of, but it's more like power with practicality. And a sense of humour. Wait till the end and just listen to that engine.
Most popular news
---
Most popular insights
---
Oops! This article is copy protected.
Why can't I copy the text on this page?
The ability to copy articles is specially reserved for people who are part of a group membership.
How do I become a group member?
To find out how you and your team can copy and share articles and save money as part of a group membership call Shivani Hayer on
+44 (0)1527 573 732 or complete this form..