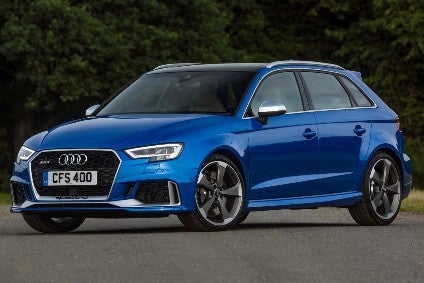 Did anyone really think the 367PS pre-facelift RS 3 Sportback lacked power? Clearly, some did. Or perhaps Audi felt the need to trump the 381PS of the Mercedes-AMG A 45. So it gave the RS 3 another 33PS. Four hundred horsepower certainly does have a nice ring to it.
Ten days ago I was trying out the new VW Polo. It's 50cm shorter than the RS 3, so really, not that much smaller. It occurred to me that the Audi's engine has more than six times the power of the base 65PS Polo. And with only two and a half times the cubic capacity.
The RS 3 has two and a half times the cubic capacity, and more than six times the power of a base Polo.
Will the arms race between Germany's mass manufacturers of high-priced vehicles continue? We know there's a new A-Class not too far away. Which means the next Mercedes-AMG version will also be with us some time in 2018.
The word is, there will be more than one car this time around. The five-door hatchback will be succeeded by a fresh shape and Daimler will add a sedan. That's not the end of the story though.
Rumour has it that the RS 3 Sportback and Sedan having been pumped up to 400PS means the A 45 4MATIC will become the A 50 4MATIC. The successor to the A 45 is expected to have a 294kW (400PS) version of the turbo 2.0-litre engine, although surely Mercedes-AMG must be tempted to lift output to 300kW (408PS).
The A 50 would continue to be a rival for the Audi RS 3 Sportback. However, there should also be a lower-power version, to be called A 35 AMG, which would be a competitor for the S3 Sportback. Its output would be in the range of 320-350PS. All of which goes to show that Audi is still the benchmark for super-rapid cars in this size category.
If you're reading this and thinking "what about BMW?", the answer is "only 340PS". That's the output of the most rapid 1 Series five-door hatchback. The M140i also takes 4.8 seconds to reach 100km/h and despite no four-wheel drive, weighs 1,525kg compared to 1,510kg for the Audi.
Sorry BMW, I don't understand why you've chosen not to stay competitive. Especially when, with a RWD platform and a straight six turbo, you could hammer the cred of the Audi and the Benz with old-school authenticity. The F40 1 Series is only a year from launch at least. Perhaps BMW will hit back hard with a 400+PS M150i.
Just how fast is the RS 3 Sportback? Scintillatingly so. The standard S tronic (DSG) gearbox helps this Golf-sized rocket reach 100km/h in only 4.1 seconds. The noise as it's doing so is as addictive as the surge of torque and power. Top speed is claimed to be 250km/h (155mph) and there is an option to have it raised to a bonkers 280km/h.
The interior of this car is a lesson in understated luxury.
The Combined fuel consumption might well be 28.0 mpg. Certainly I didn't see a number as good as that. You could do, if the temptation to often call upon the available 480Nm can be resisted.
Another price to pay is a sobering 192g/km average. Is that so bad a number? Think about the fact that this sort of power and speed were not too long ago unheard of in the C segment. There was an experimental Golf, the R 400, which never made production. Probably the danger was that it might have challenged the RS 3.
The interior of this car is a lesson in understated luxury. The Alcantara-trimmed steering wheel is exactly the right size, the dashboard and centre console are in no way overburdened with controls. The A/C is easy and quick to set, and the optional digital instrumentation is, yes, an improvement on an analogue layout.
The boot could be bigger and lifting its floor reveals not a spare tyre but a giant sub-woofer, at least it did in the press tester. This is part of a 705W Bang & Olufsen sound system, which has 14 speakers.
Other new features are three driver assistance systems. The first is traffic jam assist which can briefly take over the steering. Then there is emergency assist to bring the car to a standstill automatically if required, and cross traffic assist rear. That monitors the road for unseen vehicles when reversing. I found it especially handy when trying to exit a 45-degree parking space with longer vehicles parked beside me blocking the view. Without this system, you have to slowly-slowly creep out and hope that oncoming cars realise you can't see them and awaiting a headlight flash. That can be unnerving and dangerous.
The car supplied by Audi was predictably loaded with options which raised its not outrageous GBP43,240 to GBP53,595. The fantastically indulgent list includes an RS Sport exhaust system (a grand), matte aluminium styling pack (800), wireless phone charging (325) and matrix LED headlights with dynamic indicators (895). Carbon front brakes are available too. These will set you back four and a half thousand pounds.
By late 2020, will I be writing about an RS 3 which has replaced one with only 400PS?
This just isn't a car which anyone could or would moan about, surely? Maybe if you're the suffering neighbour each time it starts up in the early hours perhaps – to the driver it makes a wonderful noise – but that's really the only thing anyone could dislike. Me, I would give the optional aluminium roof rails a miss (see the pic). Other than that, the looks are menacing yet not too aggressive.
As I said right at the start, the latest RS 3 is a facelifted model. This was first seen at last year's Geneva motor show. The updated 2.5-litre five-cylinder engine is claimed to be 26kg lighter than the former 270kW one of the same capacity. That's mainly thanks to an aluminium crankcase.
This engine has such a special tone to it due in some ways to a 1-2-4-5-3 ignition sequence: ignition alternates between directly adjacent cylinders and those furthest apart from one another. The ECU also contributes. Mashing the throttle pedal instructs flaps in the exhaust system to swing open for an even fuller sound. A scroll through the drive select control lets you then choose a setting which opens and shuts off these flaps individually giving an even more melodious bark. That isn't just part of the RS sport exhaust system (you can tell it by black tailpipe trims) but also features on the standard car.
Orders for the latest Sportback and Sedan were accepted in Europe from April under the "Audi Sport" label; the market launch followed last August. Britain is one of the world's best markets for RS Audis and the 3 is no exception to that rule.
Five-door cars (there is no three-door) are built in Ingolstadt, while sedans for North America and Europe come from Györ in Hungary. This also applies to the S3 Sportback and Sedan, while Audi Hungaria also builds the S3 Cabriolet. There isn't an RS equivalent of that one. Which is a pity. Just imagine how great the extra cost exhausts would sound in an open RS 3. Maybe for the next generation? That car is still at least two years away. Don't bet on it having the same power output as this one either. By late 2020, will I be writing about an RS 3 which has replaced one with only 400PS?