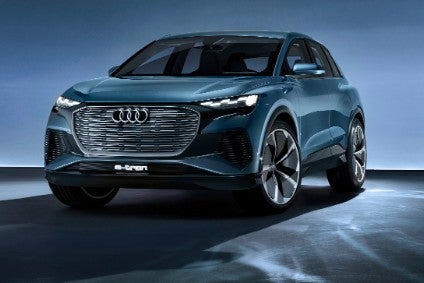 In the second of a two-part series rounding up what's current and what's coming for the Audi brand worldwide, the focus turns to crossovers and SUVs. The range, already large, stretches from Q2 to Q8 but misses some numbers. Will those gaps be filled in, and what about EVs?
There is certainly room below the 4,191mm long Q2 for a sub-4m model. Officially, Audi has no plans to add such a vehicle but the company could create a Q1, basing it on the VW T-Cross, and/or a Q1 e-tron later in the 2020s.
The Q2 had its world premiere at the Geneva motor show in March 2016, with production at the Ingolstadt plant commencing six months later. An extended wheelbase model, the 4,229mm long Q2 L, is built in China and sold mostly there too. It is part of the FAW Volkswagen joint venture and was the first vehicle for a second phase of the JV's doubling of its capacity at the Foshan manufacturing base to 600,000 units per annum. The expansion was completed in June 2018 with 110,000 units per annum set aside for the Q2 L. Sales of this model commenced in October 2018.
A high performance version of the Q2 was revealed to the public at the Paris motor show in October 2018. The SQ2 shares its engine with the soon to be replaced S3: a 221kW (300PS) and 400Nm (280 lb-ft) 1,984cc four-cylinder turbo. Drive goes to both axles via a seven-speed DCT S tronic transmission. Other changes include four tailpipes, suspension lowered by 20mm, a bespoke front bumper and grille and special 18″ or 19″ wheels.
A fully electric version of the extended wheelbase Q2 is built exclusively in China, production having commenced last November. The Q2 L e-tron is the first Audi which runs solely on batteries to be manufactured in the PRC. The CATL-supplied pack gives a maximum range of 265km. Power and torque are 100kW and 290Nm.
As the basic Q2 dates to 2016, Audi will likely facelift the whole line-up, including the EV, later in 2020. The next generation model is due in 2023.
The brand has two models in the C-SUV segment, the older of the pair dating to 2019 although Q3 production started up in October 2018. Vehicles for European markets are manufactured in Hungary, while build in and for China commenced in January 2019 as part of the FAW Volkswagen joint venture. A plant in Brazil which had continued to make the old shape Q3 into the second half of last year then switched over to the latest generation model a few months ago.
The Q3 Sportback is one of Audi's most recently arrived additional models, the first examples reaching customers late last year. This model is positioned above the Q3 and while it shares much with that SUV, the roof is lower and the vehicles look quite different. Its maker terms the 4.5m long Q3 Sportback a "compact SUV coupé" and its obvious rivals are the BMW X4 and Mercedes-Benz GLC Coupe.
There is also an RS Q3 Sportback, the powertrain of which is identical to that in the RS Q3: a 294kW (400hp) and 480 Nm (354 lb-ft) 2.5-litre TFSI five-cylinder turbo engine. The life cycle of these models should be seven years, meaning facelifts in 2023 and replacements in 2026.
The missing four in Audi's SUV line-up will be taken up by a fully electric model. Although yet to be seen in production form, the Q4 e-tron appeared as a concept at last year's Geneva motor show. This 4.6m long SUV will be built alongside other fully electric VW, SEAT and Škoda models at the Zwickau/Mosel plant in Germany. Reports carried by Chinese media in June 2019 claimed that SAIC Volkswagen will also make the Q4 e-tron. The joint venture's Anting plant in Shanghai is said to be the location and this would be the JV's first Audi model. Although slightly shorter than the Tesla Model Y and likely to be more expensive, that vehicle is the target competitor.
By the time it goes on sale in late 2020 or early 2021, the Q4 e-tron will be the fifth fully electric Audi, joining the e-tron, e-tron Sportback, Q2 L e-tron and e-tron GT.
The Q5 remains Audi's most popular SUV. It has been in production for more than three years, the lead plant being San José Chiapa, close to Puebla where Volkswagen has its own manufacturing base. Audi's Mexican manufacturing hub opened in September 2016, coinciding with the debut of the second generation Q5 at the Paris motor show. As is the case with the original, kits are sent to India and Russia for assembly in those markets.
Another new plant, this time in China, also makes the Q5 albeit in special extended wheelbase L form. The FAW Volkswagen factory in Changchun began producing the Q5 L in March 2018. The facility's annual capacity is 300,000 vehicles of which roughly half is taken up by the Audi SUV. The increase in wheelbase and length is 88mm.
The next news for the Q5 and Q5 L will be facelifts later in 2020. Both models are due to be replaced in 2023/2024. For SQ5 data see the link to PLDB at the end of this report. Details of the Q5 50 TFSI e quattro and Q5 55 TFSI e quattro, each of which is a PHEV, can also be found there.
A Q6 coupe-crossover based on the Q5 which some had said was in the planning stages is believed to no longer be a current project. Instead, this size segment is served by the e-tron and e-tron Sportback.
Audi's first fully electric SUV comes in two forms, the e-tron 50 and e-tron 55, the numbers signifying relative power and torque outputs. These are respectively 230kW and 540Nm versus 256kW and 561Nm. Battery pack capacities are 71kWh and 95kWh. So as to conserve energy, both cars are in RWD mode for most of the time, the front axle being added when needed. Both 50 and 55 have two motors, with the large lithium-ion battery positioned between the axles and below the passenger compartment.
Audi's Forest plant produces the e-tron (and the closely related e-tron Sportback) as well as battery packs for both models. FAW Volkswagen will also start making the e-tron later in 2020, production being based at a plant in Changchun.
The 4,901mm long e-tron Sportback is almost identical in length to the e-tron, Audi terming the low-roof model "a dynamic SUV coupé" by its maker. Production commenced recently with the first deliveries about to take place in European markets.
Audi will likely launch three-motor e-tron S/e-tron Sportback S and even more powerful e-tron RS/e-tron Sportback RS variants. Second generation models are due in 2025/2026.
The current generation of the brand's largest (5,052mm long) SUV had its public debut at the Detroit auto show in January 2015. The Q7 mark two was originally both slightly shorter and narrower than the original but a mid-life facelift announced in June 2019 saw the length increase to 5,063mm.
An eight-speed tiptonic transmission is standard, as is quattro all-wheel drive. Depending on the country, a 5+2 seating layout is either optional or standard-fit.
The SQ7 TDI was announced in March 2016. This was the first vehicle to be powered by the Volkswagen Group's 4.0-litre diesel V8. This engine has a Valeo-developed turbocharger which is powered by a motor instead of exhaust gases. The impeller, which pumps air and fuel into the cylinders, still spins at 10,000 rpm even when it's not needed, so turbo lag is eliminated. Power is 320kW (435hp) and torque is 900Nm. As well as the electric turbo, there are two conventional turbochargers.
There is a newly added gasoline-powered alternative called simply SQ7. This is powered by a twin-turbo 4.0-litre V8 which develops 500hp (373kW/507PS) and 568 lb-ft (769Nm) of torque.
The third generation Q7 and its derivatives are due for launch in 2023. They should again be manufactured in Slovakia.
Having entered production only 18 months ago, the Q8 is therefore still around two years away from a facelift. This SUV is 4,986mm long, 1,995mm wide and 1,705mm high. A coupé-style roof line makes it look much lower than the Q7 sister model. That model is 66mm longer, but 27mm narrower than the Q8.
The initially announced worldwide line-up was as follows:
45 TDI, 170kW (231PS) & 500Nm mild hybrid 2,967cc V6 diesel – became available from February 2019
50 TDI, 210kW (286PS) & 600Nm mild hybrid 2,967cc V6 diesel, eight-speed tiptronic (hydraulic torque converter)
55 TFSI, 250kW (340PS) & 500Nm supercharged 2,995cc petrol V6, seven-speed s tronic (dual clutch transmission) – from February 2019
The 48-volt primary electrical system incorporates a lithium-ion battery and a belt alternator starter. During braking, it can recover up to 12kW of power and feed it back into the battery.
The RS Q8 is the fastest version of Audi's large coupe-SUV. Its world debut took place three months ago at the LA auto show. The model's 4.0-litre V8 delivers 441kW (600PS) and 800Nm (590 lb-ft). Details of other Q8 variants, such as the SQ8, SQ8 TDI and Q8 plug-in hybrid can be found in PLDB.
Reports for many other manufacturers' future models are grouped in the OEM product strategy summaries section of just-auto.com.
Future product program intelligence
More detail on past, current and forthcoming models can be found in PLDB. That includes Audi SUVs which are not discussed in the above report.
This was the fourth feature in a series examining the current and future models of Volkswagen AG's passenger vehicle brands. The first one looked at Volkswagen's global cars range, including future EVs, while the second examined VW brand SUVs, crossovers and pick-ups. The third had Audi cars as its focus, while the next one will discuss what's ahead for Škoda.