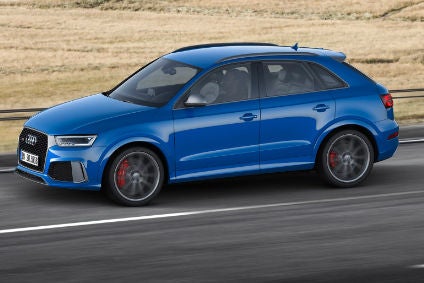 The 367PS RS Q3 performance might seem like a model which no-one asked for. Small sales numbers but big margins from high-priced niche vehicles such as this one are, however, what have helped to keep Audi ahead of BMW and Mercedes-Benz.
UK lead suddenly gone, European one under threat
Being the number one premium-priced high volume brand across EU and EFTA markets is not something which Audi takes for granted. November data are yet to be issued by ACEA so for the moment, we can still call this brand the leader amongst the German Three. The reason for that cautious note is the closeness of the numbers: 706,157 for Audi, 702,003 for Mercedes-Benz and 684,281 for the BMW brand for the year to end of October.
Audi has had a shock in one of its biggest and most profitable markets: the loss of number one status in the UK during November. Much of the reason was due to a 28 per cent surge by BMW. The brand from Munich has also snatched the lead for the year to date, its registrations reaching 167,527 versus 165,985 for Audi. Despite the C-Class being again in the top ten last month, Mercedes is some way behind on 159,608.
Why did Audi fall behind and can it hit back?
What is causing the one problem for Audi is the late arrival of the second generation Q5, the current model being now more than eight years old. The other issue is the lack of a direct rival for the 2 Series Active Tourer, which is an especially popular model for BMW.
Audi won't be worried too much, as it has multiple new models due out within the next 3-6 months. Some of these are replacements for cars which are not big sellers, but even so, the likes of the next A8 and S8 and their ADAS tech will give the brand an image boost. The margins from these cars and others, such as the just released A5 and A5 Sportback ranges, are not exactly wafer thin either.
The case for a super-SUV in the C segment
The RS Q3 performance, which is one of the more unusual of Audi's low volume SUVs, naturally helps to justify the high pricing of the other variants which sit below it in the Q3 range. In the UK, the performance costs from GBP47,850 but the car I was lent came in at GBP53,050 due to extras such as a glass sunroof (GBP1,125), Bose surround sound (GBP690) and Active Lane Assist (GBP450).
This high performance SUV has been around since making its global debut at the Geneva motor show in March 2013. A concept version had previewed the production car at the Shanghai motor show eleven months previously.
The RS Q3 was originally powered by a 228kW (310hp) 2,480cc five-cylinder petrol engine. Maximum torque was quoted as 420Nm. German market deliveries commenced in October 2013. A facelifted Q3 and RS Q3 were announced in November 2014. These went on sale from January 2015. The RS Q3's output rose to 250kW with torque of 450Nm.
The even faster RS Q3 performance had its world premiere at the Geneva motor show in March this year. Its outputs are 270kW (367hp) and 465Nm (343.0 lb-ft), while the CO2 average is 203g/km. Maximum boost is 2.35 bar absolute. Top speed is limited to 155mph and 0-62mph takes a claimed 4.4 seconds.
Drive goes to 20-inch wheels via an electronically controlled multi-plate clutch and there is a locking differential as part of this permanent four-wheel drive system. A seven-speed S tronic, which means a dual clutch transmission in Audi's language, is standard.
Built by SEAT but powered by a uniquely Audi engine
The RS Q3 is manufactured in Spain. Specifically, at SEAT's Martorell plant near Barcelona, where all other variants of the Q3 are also built and will be until the next generation model series arrives in 2018. Last year, the number of cars produced was increased to 134,170 (2014: 112,815). Martorell's Q3 line operates three shifts, employing 2,700 staff.
Cars powered by five-cylinder engines have become rare. This one has an pleasantly throbby tone to it which turns into a welcome howl as revs rise. Use the paddles to shift and it's a sublime unit to enjoy stretching to its limits. As an aside, the company not too long ago celebrated 40 years of making I5 engines.
The RS Q3 came to me not long after the Macan GTS and while not quite as well balanced as the larger Porsche, it was still superb. The Audi also made me nostalgic for Volvo's much-missed five-cylinder engines. Even though the Drive-E units which have replaced them are more fuel efficient and have far lower levels of emissions, they lack the character of the old inline fives.
Inside, it's the usual high-end finish to everything which we know and love Audi for, though I remain sad that the warmly glowing crimson needles of the speedometer and rev counter have gone. I did like the pearl white outline around the speakers in the doors as these provide a contrast to the red illumination of the steering wheel controls and HVAC switches' similarly coloured lighting.
Pseudo RWD dynamics from a FWD-AWD platform
Something that the RS Q3 has in common with the Porsche Macan GTS and Turbo is its ability to rocket out of junctions or overtake with zero tug from the front tyres through the steering wheel. In some circumstances, you could even mistake the RS for a rear-drive biased SUV. Audi's chassis engineers have done that good a job on the Volkswagen Group's now fairly aged PQ35 architecture.
Compared to the similarly sized RS 3 Sportback, the RS Q3 obviously sits higher off the road, allowing a better view of the empty space you can charge into after overtaking. Something that is hard not to do when you know how good that engine is going to sound as it's revved. It's during these sorts of moments when you really see the appeal of hyper performance SUVs, and given this car's modest 4,410mm length and 1,841mm width (excluding mirrors) it's dead easy to place on the road and also to park.
More high priced niche SUVs to come
Is fifty thousand pounds too much to pay for the top of the line Q3? No, not when it's this well sorted, dynamically, and remember too, you're not going to see many others on the road, ever. With Audi now the UK's fifth most popular brand (behind Ford, Vauxhall, VW and BMW but maybe returning to fourth place in 2017), the future will surely bring yet more low-volume niche models such as this one.
A new dimension of the genius of premium-priced German OEMs is how we will now readily pay more so as to stand out from lesser beings' mainstream premium brand models. Don't doubt for a moment then, that when Audi replaces the SQ5 and SQ5 TDI in 2017, we're likely to also see these SUVs joined by an RS Q5 for the first time. To be likely followed by an RS Q5 performance.
The next generation model – what we already know
While the timing is yet to be confirmed, in September 2014, Spanish members of Volkswagen Group's works council told the media that the next Q3 would again be built at SEAT's Martorell plant. The announcement followed an annual meeting at VW headquarters in Wolfsburg. However, Audi contradicted this with a media release issued in January 2016. Instead of Martorell, European build of AU326, the next Q3, will be at Audi Hungaria's Györ plant. The architecture will be MQB A/B.
The second generation Q3 should also be made in Brazil (Curitiba) from 2019, and in China too, by FAW Volkswagen at Changchun in Jilin province, but Györ will be the only place worldwide to be building the future RS Q3.