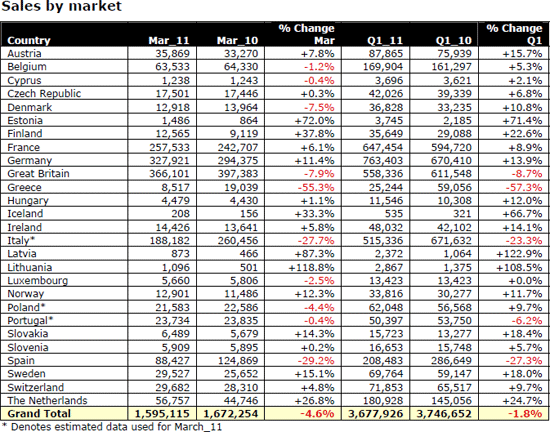 In this month's management briefing Dave Leggett takes a look at developments in major vehicle markets across the world. He begins with a look at the global economy and the major vehicle markets of Western Europe
As the auto industry recovers from the effects of the most serious economic recession since the 1930s, you could be forgiven for thinking that the effects of the recession are still very much with us. Unemployment is still high in the US. House prices are falling, along with the car market, in Britain. Indebted households are not exactly in the mood to spend big. There's a sovereign debt crisis in the background that threatens more international financial instability in Europe. If it's a recovery, it perhaps doesn't feel like it in some parts of the world. And there is the added uncertainty for the global economy presented by the rising price of oil (and still unfinished geopolitical turmoil in North Africa and the Middle East) and commodities in general (including foodstuffs). And the crisis in Japan is generating further uncertainties for the automotive supply chain.
But there are pluses, too. The US vehicle market is coming back along with a stronger economy and many firms have come out of painful restructuring with lower break-even points. The emerging markets of the world have been taking up the slack as demand has faltered in mature markets. 2010 saw vehicle production in the world hit a record high. And meeting soaring demand in Asia has lifted the German economy to the extent that unemployment there is at its lowest level since 1992.
Overall, the outlook for the auto industry isn't at all bad given where it has just come from. Total industry volumes can continue to grow with higher demand from emerging markets driven by rising motorisation as well as recovering replacement demand in mature markets. Emerging markets remain key. But there are some significant risks and uncertainties that could puncture what appears to be a fairly benign overall picture – at least given where we were a couple of years ago.
Global economy not so bad
Thank goodness for the Emerging Markets – especially China – which have taken up the slack as the international financial crisis hit the financial sector and brought with it economic recession in North America and Europe. The emerging markets are hungry for consumption and don't have the debt problems that the advanced economies have. And even for the advanced economies, an economic recovery of sorts is now underway, even if it is not the classic 'V-shaped' recovery (more like an 'L-shaped' recovery here in the UK as one commentator recently observed). It may have been slow so far and it may still be fragile, but the G7 economies are returning to economic growth. Signs of bounce-back have recently become more pronounced in the US, with renewed hope on prospects for the labour market.
And while economic prospects for Japan have worsened as a result of the disaster there, that's not something viewed as having too much direct impact on economies elsewhere. The IMF said that the earthquake and tsunami in Japan had exacted a terrible human toll but that its global macroeconomic impact would be limited (although we are already getting a sense of a Japanese vehicle market facing a big decline in 2011, consumer confidence knocked across the nation, on top of supply difficulties and output disruption).
Indeed, the global economic recovery is gaining strength, with world growth projected at about 4.5% in both 2011 and 2012, according to the International Monetary Fund (IMF) in its April forecast. However, the IMF also acknowledges that unemployment remains high, and risks of overheating are building in emerging market economies. High commodity prices present new policy challenges, while old challenges – fiscal and financial repair and reform and the rebalancing of global demand – remain work in progress.
"Fears have turned to commodity prices," said Olivier Blanchard, Chief Economist at the IMF. "Commodity prices have increased more than expected, reflecting a combination of strong demand growth and a number of supply shocks. These increases conjure the spectre of 1970s-style stagflation, but they appear unlikely to derail the recovery," he told a press conference in Washington.
Real GDP in advanced economies and emerging and developing economies is expected by the IMF to expand by about 2.5% and 6.5%, respectively. It said financial conditions continue to improve after the global crisis, although they remain unusually fragile. In many emerging market economies, demand is robust and overheating is a growing policy concern. Developing economies, particularly in sub-Saharan Africa, have also resumed fast and sustainable growth. But the IMF said new risks have emerged associated with higher commodity and energy prices.
China and others are commodity hungry and China has something of an asset price bubble to deal with. If interest rates creep up in response to overheating concerns, as they already have done, cost-push inflation is an unhelpful addition to the mix. Many emerging market economies are operating at very high levels of capacity utilisation. It won't take much to tip them into higher inflation and then a systemic rise to inflationary expectations that builds more serious problems for policy makers further down the road.
Earlier fears of a double-dip recession have not materialised. As the IMF points out, the main worry was that in advanced economies, after an initial recovery driven by the inventory cycle and fiscal stimulus, growth would fizzle. The inventory cycle is now largely over and fiscal stimulus has turned to fiscal consolidation, but private demand has, for the most part, taken over – even if it is an uneven economic recovery and one that comes with fragility and risks.
Europe – post-scrappage consolidation
The year has got off to a mixed start in Europe. As expected, many markets are seeing post-scrappage hangovers. Germany, however, is off to a better than expected start in spite of the broader macroeconomic worries and risks for the eurozone and the euro currency associated with sovereign debt and unpopular austerity programmes in some countries.
Figures released by Acea have confirmed that new car sales in the EU declined by 5% year-on-year in March. ACEA said that over the first quarter, demand for new cars in the EU decreased by 2.3%, with 3,583,185 units registered. The March results showed divergent sales performances in national markets with France up 6.1%, Germany up 11.4% while the UK market was down 7.9% and Italy off 27.6% on last year's pace as the loss of scrappage schemes was felt. Spain's market was down a whopping 29.1% on last year.
And the car markets in the Baltic region performed strongly during Q1, with Estonia, Latvia and Lithuania up 71.4%, 122.9% and 108.5% respectively. This is in sharp contrast to markets that have faced economic instability during the start of the year: Greece and Spain were down 57.3% and 27.3% respectively while Portugal was down 6.2%. Volkswagen retains and consolidates its position as the leading brand, selling 425,863 units during Q1 2011, according to JATO.
Gareth Hession, Vice President, Research at JATO said: "While there had been some positive signals from the industry during the first three months of this year, economic instability in some of the more mature automotive markets have hit overall sales. Despite this, it is encouraging to see growth in Central and Eastern Europe, where manufacturers will no doubt be looking to expand further. Investment in vehicles tailored for this region will be crucial to their success there."
The German car market is projected by JD Power to grow by 14% this year to around 3.3m units due to the underlying strength of the German economy (unemployment is now at its lowest since 1992). However, the picture is much more mixed across the region, with the UK market heading for a 7% decline to 1.89m units and Spain in a 'desperate situation' (car market projected at under 0.9m units this year versus a 2000-2007 average of 1.54m units a year) due to the plight of the Spanish market. While the French market is 'holding up surprisingly well', the Italian car market looks sluggish.
JD Power forecasts the the West European car market will be virtually flat this year with growth under 1% and 13m unit market size. Looking further ahead, the market is forecast to take eight years to get back to the last peak (2007), only exceeding 14.5m units again in 2015.
IHS Automotive largely concurs with JD Power's assessment. It says that the Western European market appears to be developing along the lines of a two-speed economy, with the likes of Germany managing to generate strong economic growth, while there are other pockets of regional growth such as Scandinavia. However, high levels of public debt and austerity measures that are being employed to combat large deficits are having a negative effect on economic growth and consumer and business confidence in the likes of Italy, Spain, and the UK.
Data source – JATO Dynamics