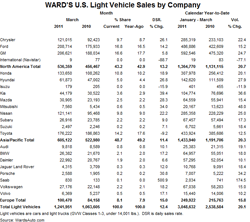 In this month's management briefing Dave Leggett takes a look at developments in major vehicle markets across the world. Here, we look at developments in the light vehicle market in the US.
US economy looking up
The North American economic data has turned up lately. There are signs that the US economy may actually be starting to create jobs. There are plenty of dark clouds out there – not least on the rising oil price – and there is a long way to go to get back to pre-crisis levels of employment again, but more jobs being created in the private sector and that is good news. Talk of a 'double-dip' or more serious economic slump is on the decline, US exports are growing and business optimism in the US is also up lately. It augurs well, subject to all the usual caveats that economic projections come with, for a strengthening economic recovery in the world's biggest economy this year and next – with annual growth of around 3% a year in both years. That would put quite a dent in unemployment.
Following a burst of strong growth driven by inventory restocking in late 2009 and early 2010, US economic growth slowed but then strengthened again in the second half of 2010, according to the IMF. This strengthening was supported by private final demand, and by the fourth quarter consumer spending was rising at its fastest pace in five years. Although overall credit growth remains weak and household deleveraging continues, financial conditions have generally improved – corporate borrowing rates remain very low, and tight bank lending conditions are now starting to ease not just for large firms but for small and medium-size firms. Reflecting the pickup in economic activity and supported by unconventional monetary easing, equity markets have recovered about two-thirds of the capitalisation lost during the crisis. This has helped rebuild consumer confidence, which is still being held down by labour and housing headwinds.
And the light vehicle market recovery is set to continue
Growth of the US light vehicle market is being underpinned by strong momentum in retail sales alongside a strengthening economy, according to JD Power.
JD Power Automotive Forecasting's Director Jeff Schuster told the Global Outlook Conference in London recently that the US light vehicle market is off to a strong start in 2011, underpinned by a reviving economy and strong momentum in retail sales.
JD Power is forecasting that the US light vehicle market will reach 13m units in 2011, 12% up on 2010. While the market is still way down on the 16m-17m levels of the 2003-2007 period, Schuster sees some upside potential ahead – though he acknowledges risks associated with the recent rise in oil prices and ongoing geopolitical turmoil in the Middle East.
"Consumer confidence has been hit lately," he told delegates.
"But going forward beyond this year, economic growth projections [3-4% annual growth of GDP this year and next] look pretty good and there will be growth to demand coming from increased household formation coinciding with higher replacement demand," Schuster maintains.
And more younger people becoming economically active will also be accompanied by older people staying in the job market for longer.
"The baby boomers will not be retiring as the previous generation did and to get to and from work in the US, you need a vehicle – so that will help to support longer-term volume," Schuster said.
Schuster also noted that retail – regular consumer – purchases have been showing increased momentum through the second half of 2010 and into 2011.
"Retail purchases in the first quarter were actually stronger than we had expected and we think that is a good indication that this recovery is a real recovery," Schuster said.
"Fuel prices are a drag on the overall volume right now, but economic drivers are mainly favourable. There has also been a significant increase in credit availability, improved vehicle equity positions and plenty of product action. Higher vehicle prices and lower incentives generally – there's a better balance between supply and demand now – compensate for some of that."
Indeed, Schuster said that without the recent rise in oil prices and the negative impact of the Japan crisis on vehicle production, the US light vehicle forecast for this year would have been raised to 13.2m units by now (it is at 13m units). Nevertheless, retail sales are expected to grow by 16% to 10.6m units this year.
In the longer-term, Schuster expects to see the US light vehicle market to once again exceed 16m units in 2014. The fleet mix is expected to settle at 18% of the market.
Schuster was cautious however on prospects for vehicle downsizing and permanent shifts in market segmentation following recent new product activity and higher sales of sub-compacts.
"Overall, we are certainly seeing a very high level of small vehicle new product activity in the US," he said. "But some of these vehicles, such as the Segment A and Segment B vehicles that are being introduced, then the rise in gas prices is certainly pushing buyers towards looking at those…and coming off of the spike in gas prices a few years ago, the recent recession in the US, that's all helping lift interest, but all in all it's still an unproven area in terms of where true demand will be for small vehicles in the US."
"And large (including pickup trucks) vehicles will suffer continued decline, but will be far from extinct in our forecast," Schuster added.
With respect to the impact of the Japan crisis, Schuster said that he is expecting around 100,000 units of loss production in North America in the second quarter due to parts shortages to be made up in the second half of the year. He also warned that there is a volume risk for the Japanese OEMs and that production shortages for them could benefit Hyundai and the Detroit brands.
"The Detroit brands have been behind in terms of having competitive small cars but that has changing," said Schuster. "Chevrolet has the Cruze, there's the new Ford Focus coming, as well as Fiesta , and it's a much more competitive line-up in B- and C-Segment cars for the Detroit brands in segments where the Japanese OEMs have traditionally been strong in the US. So, we could see some interplay depending on how widespread the Japanese parts shortage becomes and what models are affected."
He also warned that production capacity in North America remains well above demand in spite of a capacity cut of 1.5m since 2006. Light vehicle production capacity is projected to be 29% above North American domestic sales in 2013 compared to a very similar 30% above in 2006.
AutoNation Chief Executive Mike Jackson has said it is not clear whether Detroit automakers would be able to make up for the Japanese OEM shortfall in the US because of their own difficulty in sourcing crucial parts from Japan, but he forecast that General Motors , Ford and Chrysler would gain market share.
"The domestics will get a bigger piece of the pie," Jackson said. "There is a renaissance going on with Detroit product which is the real deal."
Edmunds sees market strength in April
After a March market that surprised some analysts, Edmunds says that a preliminary analysis of April light vehicle sales that points to strong numbers through the first half of the month, even as average prices have increased. The pace in April suggests that the seasonally adjusted annual rate (SAAR) for car sales in 2011 could rise to 14.1m new cars sold, but Edmunds.com projects a slowdown in the latter part of the month that will bring the April SAAR closer to the 13.1m light vehicles projected by Edmunds at the end of March.

"This quickened sales pace will likely settle, as it seems there has been a rush of consumers anticipating a shortage, and most of those sales are likely behind us," said Ray Zhou, PhD, senior analyst at Edmunds.com. "Inventories will soon get leaner, too, as production stoppages in Japan won't allow dealers to restock as quickly, and that may cause some consumers to delay their purchases."

Edmunds.com estimates that the average days to turn – or the number of days that cars sat on dealer lots before they were sold – fell more than 10% since the beginning of April, from 58 days to 52.

Edmunds.com is in line with JD Power in projecting 12.9m new car sales in 2011, based on the belief that any supply constraints will only push summer sales to later in the year when automaker production is expected to return to normal. But as the situation in Japan remains fluid and unpredictable, there are several possible scenarios that could further destabilise the market, Edmunds says.

"Even a moderate impact on production for Japanese automakers that lasts through most of the summer could lower new car sales to 12.6m, and a more severe impact could push sales down to as low as 12.2m," said Edmunds.com Chief Economist Lacey Plache.

Edmunds also says that the rising price of fuel is contributing to overall increase in car prices, especially for smaller, more fuel-efficient cars. The average price of compact cars – which, according to Edmunds.com, have seen a boost in sales and purchase consideration as prices at the pump have shot up in the last few months – rose US$230. Overall, car prices in the first week of April were US$120 higher than in the first week of March, according to Edmunds.
See also: April 2011 management briefing: World markets review (WE)