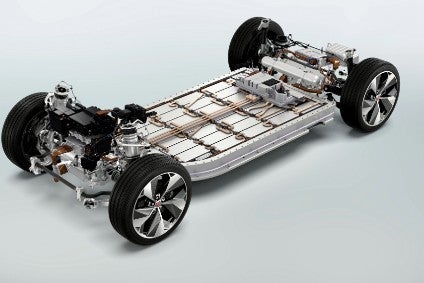 Not too long ago, Jaguar's future looked as though it would be built on direct replacements for existing cars and SUVs, some of which would be low-volume, high-priced sedans. Now, JLR's losses and a collapse of buyer interest in the XE and XF in Europe and North America means Tata Motors is considering radical change: an all-electric future for the brand.
When it comes to image, Jaguar is incredibly well known and well thought of for a brand with such a small sales presence. In the first nine months of this year, retail sales numbered just 135,955 cars and SUVs (down 1.1%). The total was split across seven model lines. Is this sustainable? It would seem not. Already, there are whispers from within JLR that the XE and XF might be merged into one model for the next generation and that the business cases for F-Type and XJ replacements are far from sound. Some or all of these proposed cars could be fully-electric too.
Some say that Tata Motors and JLR are looking at the possibility of turning Jaguar into a marque which – by the mid to late 2020s – sells only electric vehicles. In other words, copying Tesla. Would that work though? The aim has to be to create a brand which makes a lot of money from selling well in excess of several hundred thousand cars and SUVs each year. After a decade of TML ownership, Jaguar is still unable to get to the quarter million mark. As for profits, the brand likewise lacks any equivalents of Land Rover's four high-priced and very successful Range Rover models. Thus, the idea that all options should be considered for Jaguar – an electric-only line-up being a risky but potentially highly profitable one.
Cars
The XE – four years old last month and still no facelift – has had a difficult time of it in European countries as well as in North America. Its segment has contracted, especially in the USA but that isn't the real issue, as others such as Mercedes-Benz and Audi still do well with the C-Class and A4. Aside from the lack of an estate, some believe that the car simply doesn't look distinctive enough and that it can also be hard to tell the XE and XF apart. The answer is surely to give both models their own strong look and that should happen in 2019 as each is facelifted.
The extended wheelbase XEL, a special model for the Chinese market, had its world premiere at the Guangzhou motor show in November 2017 with sales commencing during the following month. That makes things tricky for the timing of a facelift as owners of the original cars won't be pleased to discover an updated XEL being launched when this takes place in 2019.
As part of the updated range for cars built in England and China alike, Jaguar will add the option of electrification for the XE and XEL. This should be in the form of a petrol-electric plug-in hybrid powertrain. That should really make a difference in China especially. The brand is doing well already though, September retail sales of locally built sedans rising by a combined 25 per cent and year-to-date reaching 22,532 (XEL: 8,740, XFL: 13,792). That's better than Infiniti's total too, which is 16,656 but a long way behind Land Rover's 39,593 even though the 4×4 brand was down 47 per cent in September.
Once numbers for the E-Pace which Chery-JLR has begun building at its Changshu factory start to show, Jaguar stands a strong chance of breaking into the top 50 brands. Now, it's in 54th place but a year ago it was 63rd.
Returning to the topic of the XE/XEL itself as a model range, at one time, some had thought a coupe and/or a five-door hatchback might be added. Now it is known that these plans never went beyond the provisional stage, nor did the idea of an estate. That means that the car will remain a sedan-only model, built in two lengths and staying in production until around 2022 or 2023. JLR still hasn't decided how it will replace these cars and there are several options available. More on this topic in the section below: what becomes of the XF/XFL.
Following a series of promotional offers in the UK, XF (and XE) sales rose in September yet this model still disappoints its maker. There is nothing inherently wrong with the XF; in fact it is one of the best vehicles in its class. The war on diesel has hit not only this model but other Jaguars and all Land Rovers sold in Europe especially hard, as JLR's Ingenium 2.0-litre diesel once powered a high percentage of both brands' vehicles. So there will be a period of readjustment as the dust settles and buyer confusion moves to an eventual understanding of what other options are available.
As with the XE, the XF too is in need of a refresh, although it's only three years old. For that reason, a facelift might not happen until the second half of 2019 but JLR may bring this forward at least for the model manufactured in England. China's XFL is only two and a half years old but even so, Chery-JLR will likely produce an updated model next year too. That almost certainly will include the option of an electrified powertrain.
After the facelift, there may be a second, milder series of external tweaks perhaps in 2021. Right now though, JLR will be looking hard at the alternatives it has for replacing the XF and XFL. It seems unlikely that this will consist of direct successors. One option would be making the replacement for the sedan a rival for either the Audi A7 and S7 or else the Mercedes-Benz CLS-Class. An extended wheelbase sedan would probably be needed for China, making the hatchback body a less likely possibility. Europe, meanwhile, would probably still want a Sportbrake wagon too. There would of course be electrification but that would likely consist of a PHEV powertrain rather than a fully electric alternative. However, that is not the end of the story.
Instead, the idea of a sedan aimed at the same buyers who are currently queuing up to buy a Tesla Model 3 could be what JLR instead decides to do. That might also mean the merging of the XE/XEL and XF/XFL replacements into one project, although there could of course be a repeat of the standard and extended wheelbase bodies.
JLR probably has about another 12-24 months before it has to press the go button on what it does about the next XE/XF. Making one basic battery-electric model would mean substantial spending but it could potentially mean far greater sales success than what its D and E segment cars currently have.
There is even a suggestion that folding the successors for the XE, XEL, XF, XFL, E-Pace, F-Pace and I-Pace into one model family of battery electric vehicles could work. More likely would be two ranges which copy the thinking of Tesla and expand upon it: a D segment sedan with an L derivative plus an SUV and an extended wheelbase version of that model too. The timing would be such that the Model 3 will by then be in the last years of its life cycle, the Model Y will be at or just past its mid-point and the same would be the case for the Mercedes EQC and Audi e-tron. The key point in all of this is to get overall production volumes up and the number of models on different platforms powered by internal combustion engines down.
The third Jaguar sedan is the XJ. Production is at a low level and the car needs replacing. It is believed that the successor model will become a hatchback with an electric drivetrain and therefore going after more or less the same buyers as the Porsche Taycan. This should also mean it uses the same basic architecture as the I-Pace.
Some sources believe the new XJ might be shown within the next few months with the best case scenario stating that production begins late in the first quarter of 2019. Magna Steyr's Graz plant would make sense as the place of build, as it already manufactures the I-Pace and has particular expertise with low-volume rates of build. Some insiders hint that the XJ successor could be as far off as late 2019 or even into 2020, however.
Even though it's more than five years old, the F-Type remains a head turner. The problem is, while the car has very many admirers, it doesn't sell too well. In theory, a replacement should be appearing in 2020. In practice, that probably won't happen as JLR will inevitably still be trying to make an economic case for the spending needed to bring any successor to the market. Now and then there are rumours of a mid-engined G-Type but if such a car is being developed, JLR has kept any prototypes well hidden from spy photographers.
Probably, the F-Type will stay in production until 2022 or 2023, the theoretical G-Type likely being a low volume electrified supercar.
There is one other potential model in Jaguar's future. A big two-door car with electrification is being looked at for the 2020s. Such a coupe/convertible model would have strong links to the next XJ. A revival of the XK badge would be one option for the name.
SUVs
One of the best vehicles in its segment, the E-Pace, is now a year old and should soon be greatly helping Jaguar's sales in China thanks to production having been added at the Changshu plant.
This 4,395mm long SUV, the smallest Jaguar yet, is a rival for the Audi Q3, BMW X1, Volvo XC40 and Mercedes-Benz GLA-Class. In Europe, it is manufactured by Magna Steyr at its Graz plant in Austria, and in China by CJLR.
The architecture is D8, which is JLR's name for its evolution of Ford's EUCD platform, while all engines are Ingenium 2.0-litre units. A PHEV is likely to be added in 2019 or 2020. There should then be a facelift in 2021 and a successor model in 2025. It is too early to know for certain how JLR will replace the E-Pace, only that by then it could become a fully electric model.
The F-Pace is Jaguar's best seller, although it has taken a tumble in recent months as buyers in Europe turn away from the diesel engines which had formerly made up the bulk of sales.
Intended to be a rival for the Porsche Macan, this 4.7m long SUV entered series production in April 2016 on the same production line as the XE. There is additional assembly in India. The vehicle architecture is a development of JLR's PLA aluminium platform but modified for smaller vehicles than the Range Rover and Range Rover Sport.
The SVR is the latest additional variant, the world debut having taken place at the New York auto show in March with the US likely to be the best market. It is powered by a 500hp supercharged 5.0-litre V8 and is new for North America's 2019 model year. Next year, there should be a plug-in hybrid F-Pace, the combustion engine being one of JLR's Ingenium 2.0-litre petrols.
Battery Electric
JLR's only electric vehicle is the 4,680mm long Jaguar I-Pace. If this is a preview of the future, then it's taking time to materialise as sales success. Production began in March yet JLR's own figures show that just 558 cars were sold during the first quarter of its fiscal 2018-2019 (April-June 2018). Perhaps that's unfair criticism and once we learn what happened in Q2, it may have been a case of Magna Steyr having been super-careful with quality as it put the emphasis on perfect build over a normal ramp-up speed. Production is on the same line as the E-Pace, Mercedes-Benz G-Class and BMW 5 Series.
While some have compared the I-Pace to the 5,037mm long Tesla Model X, the 4,680mm Jaguar is one size down and also 33cm shorter than the F-Pace.
The US should be the largest market for the I-Pace, taking around half of production. A higher performance variant will be added later in the car's life cycle. The car's platform, D7e, is adapted from JLR's D7a.
In March, JLR announced a deal for the supply of "up to 20,000" units of the I-Pace to Waymo, the Google-owned driverless vehicle firm. After a testing period, the first units of this model should be delivered in 2020.
There will likely be some upgrades to the I-Pace's battery pack during its production life. This will no doubt take the form of higher pricing for variants with better range. That will probably happen a year or so ahead of the arrival of a facelift in 2022. The successor isn't due until 2026.
In just over a year's time, some claim, Jaguar will add one more SUV. Tentatively called J-Pace, this model will be based on MLA, the same platform as the future Range Rover and Range Rover Sport, and likely priced halfway between the two. That would make it a new alternative for those considering a Mercedes-Benz GLS-Class, Audi Q8 or BMW X7.
Recent reports for many other manufacturers' future models are grouped in the OEM product strategy summaries section of just-auto.com.
Future product program intelligence
More detail on the past, current and forthcoming models can be found in PLDB, the future vehicles database which is part of QUBE.