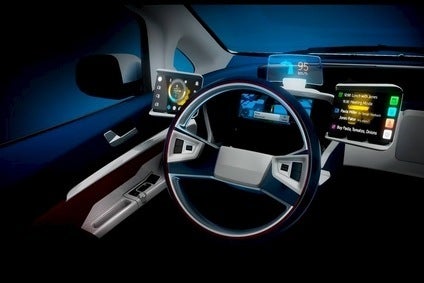 As the auto industry moves towards considering vehicles that require less driver input, profound questions are being raised concerning the space inside the vehicle and how the driver spends his time. Chris Wright talked to Ford of Europe's design director about the potential implications of autonomous drive for future vehicles' interior design.
Ask yourself this, if no one needs to be actually driving a car, will there be a need to be surrounded by the instrumentation, dials, knobs and buttons? Will the concept of the 'cockpit' disappear completely?
If we are to have driverless cars, and the industry seems to be moving unerringly in that direction, certainly in cities, then this opens up many possibilities for designers and they are already looking at this, even though the technology might not be fully on the road for at least another fifteen years or so.
Last year, when Martin Smith stepped down as head of design for Ford of Europe, his work was far from done. He started a six month trans-Atlantic brainstorm with the Blue Oval's design boss Moray Callum. The plan was to pull together ideas that will create Ford's vehicle designs far into the future with Smith based in London and fellow Brit Callum at company HQ near Detroit in the US.
The carmaker has already held a global design conference in Irvine, California to discuss strategy and all the new technologies that will be going into vehicles, including driverless cars. Smith said: "Design is not just about replacing a car every five or six years, we have to look further ahead than that."
Smith and Callum have been crystallising the views and ideas coming out of Ford's 'futuring' teams based in Shanghai, California and London, trying to predict what will be happening in the industry, what customers will want and translating that into what is best for the company.
Will the look of cars radically change over time? "It's an interesting question," said Smith. "If you have an autonomous car that drives itself, to many people it might not matter what it looks like, what's more important is perhaps what the interior is like."
Chris Bird, executive design director, Ford of Europe agreed that the advance of environmental technology such as electric vehicles and hydrogen fuel cells are presenting car designers with new challenges but the advent of the autonomous car could be a real game changer.
He said: "We have been designing in a funnel for many years led by aerodynamics, engineering requirements and digitalisation. While we have been constrained by issues of traditional car design we are now looking at what is the cadence of the future. We can start looking at completely different ways to design.
"We can start to look at something totally exclusive particularly with interiors and we are already working with landscape layouts which make the interior design of a car much more interesting. There are already some innovative ideas with vehicles like the BMW i8 or Tesla but as a company Ford is looking beyond that. New technology is giving us the chance to look at things differently. We can start to use new materials.
"The traditional view of the cockpit surrounding the driver can change, we currently use lots of plastics inside the car but you wouldn't surround yourself in plastic in your home. We are now throwing the door open to young designers coming out of college and they are coming up with some exciting ideas."
It appears that with the driverless car of the future we are less likely to require driving tools at our fingertips, more likely the tablet or laptop.