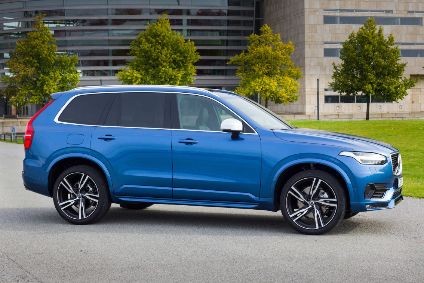 Volvo continues to tweak and expand the XC90 model line-up. The Drive-E diesel can now be upgraded with a PowerPulse package that boosts power to 235hp and raises torque to 480Nm.
Working out Volvo model grades and engine designations can be tricky, especially when it comes to the big SUV. R-Design, which is the sports trim level, is available with the D5 diesel and T6 petrol Drive-E engines, and in T8 Twin Engine petrol-electric hybrid form.
The version I borrowed to test had the D5 biturbo engine, which normally means 225hp and 470Nm. But, this one had the option of what Volvo calls 'PowerPulse' and GBP835 worth of 'Polestar Performance software optimisation'. That adds 10 horsepower and 10 Newton metres of torque. While some versions have a six-speed manual gearbox, the D5 PowerPulse has AW's excellent TG-81SC eight-speed torque converter automatic.
With the upgrade, the 1,969cc diesel pushes the 2,009kg XC90 to 62mph in 7.8 seconds and on to a claimed top speed of 137mph. The CO2 number is 149g/km and the Tax band is F. While the Urban consumption average is quoted as being 45.6mph, in practice, if you don't drive the car fairly gently, you'll be seeing closer to the mid-30s.
The press review vehicle also came with a few other options which took the price to GBP60,170. That included three grand's worth of Bowers & Wilkins sound system (including 19 speakers) plus pneumatic suspension which costs GBP2,150.
As I have remarked in the past, it's a shame that Volvo's Drive-E engines don't sound better. The 2,400cc inline five-cylinder which still exists in the PHEV version of the V60 won't be around for much longer. It's not available in the XC90, which is something of a shame. Don't get me wrong, all engines in the Drive-E series are smooth, torquey and decent sounding but there just isn't much for the enthusiast driver from any of them. More of that soon – I recently also tested the 2017 V60 Polestar which loses the old inline six and gains a Drive-E four-cylinder unit.
Some aural sparkle for Volvo's four-cylinder diesels might be on my wish list, but it's hard to think of anything much which needs attention in the chassis department for the XC90. This tall, 4,950mm long vehicle has far better handling than the first generation model. It's not as wide as a Q7 or a Cayenne and that makes quite a difference on most roads too.
Inside, R-Design means leather and nubuck covering for the sports seats, a 12.3-inch active TFT driver's information display, a perforated leather-trimmed steering wheel, plus gearshift paddles. The front passenger seat also gains electric adjustment with memory function (matching the driver's seat), and the headlining is black.
Other standard features are Drive Mode Settings and Adjustable Steering Force. These let you select different settings for the engine, transmission, steering and air suspension. Sampling the various options, I was happy to discover that it wasn't possible to make the ride too hard and the changes you can dial up to make the steering firmer really can be detected.
Summary
As long as the company continues to keep its biggest SUV up to date by refining existing variants and adding additional ones – and the signs so far are that it will do so – the XC90 should continue to keep lifting the brand's image and its margins.
Production
The XC90 is still selling strongly more than two years since Volvo introduced it in the first markets. Torslanda remains the only production site though Chinese production will eventually be added at Geely-Volvo's Daqing plant in Heilongjiang. That plant will soon be making another SPA model, the S90, so it makes sense to add XC90 build there too. A key difference will be that this won't be a transfer of production from Sweden to China, as is the case with the S90, but additional build.
Sales up so far in 2017
Volvo's own data show that the company is having a good 2017, reporting a 5.7 per cent year-on-year sales increase in February. Total deliveries for the month amounted to 36,515 cars, compared to 34,552 cars a year earlier. The YoY gain over the first two months of 2017 was 5.4 per cent. The S90 and V90 are off to a strong start in Sweden and other major markets, while a new XC60 will soon be entering production. It's already looking as though this year should be a record one for both EBIT and vehicle sales.