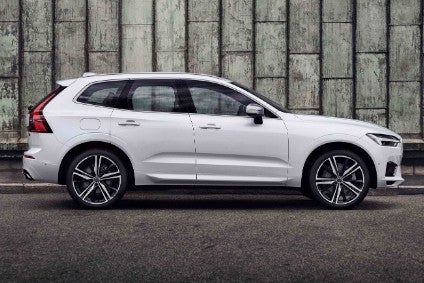 The XC60, coming up for three years old, is still Volvo's global best seller and one of the Premium D-SUV segment's top performers. The latest tweaks for this model include a range of petrol and diesel mild hybrid engines grouped under the new 'B' badge.
One of the most important statements from Volvo in a while was buried in the advance information which heralded the arrival of its B engines last year. Until that point, it had seemed that the company was intent on making all of its vehicles either BEVs or PHEVs by the end of 2025.
Now all is clear, as mild hybrids are also part of what had appeared to be an even more extraordinary development than when the company told us it that it would only fit 1.5-litre three- and 2.0-litre four-cylinder engines to its models. Rivals Mercedes and JLR might still be launching or planning new, low emissions straight-six units but Volvo's 3.2-litre I6 and its various I5s are now long gone.
"In line with our strategy and supported by extremely strong demand, Volvo Cars has upgraded its production capacity so that up to 25 per cent of total production can be Twin Engine plug-in hybrid cars. In addition, it expects its new 'B' badged powertrains to gradually become the new standard, moving it closer to its goal that by the middle of the next decade all of its cars will be electrified", the announcement stated, and in so doing, alerted us to how important the B engines would be.
The 2020 model year XC60 line-up still consists solely of 2.0-litre four-cylinder engines, the most powerful of which is a petrol plug-in hybrid that Volvo calls T8 Twin Engine. Joining the PHEV are less expensive B5 and B6 petrol mild hybrids along with B4 and B5 diesels. Each has a kinetic energy recovery brake-by-wire system and some, though not all, are optionally available with all-wheel drive. The AWF8G55 eight-speed automatic transmission is supplied by Aisin Warner. Volvo claims that reductions in fuel and CO2 emissions of up to 15 per cent are possible.
The B4 and B5 diesels have outputs of 145kW (190hp) and 173kW (235hp), their torque totals being 420Nm and 480Nm. That's not the whole story though, as a 10kW motor adds a further 40Nm, this energy being stored in a 48V lithium-ion battery located in the boot floor. Zero to 100km/h times are respectively 8.3 and 7.1 seconds, with top speeds being 205 (127) and 220km/h (136mph). Both will fall to 180km/h (112mph) for 2021 model year cars as the company is bringing in a blanket limit for all vehicles. Will Germans still buy Volvos?
After living with an XC60 B4 for a week I can attest that Volvo engineers have done a great job on evolving the Drive-E 2.0-litre diesel into a mild hybrid. This is one of those engines that only seems to get better. Maybe it was because the old in-line fives were so characterful but I took a while to warm to the newer engine family. Has there been some tweaking of the way torque is delivered? Now it's properly smooth and somehow the D4, to my ears at least, even sounds better than the original Drive-E diesels.
For those who want to have a bit more fun in their D-SUV, the BMW X3 or Porsche Macan remain the best choice, the XC60 always defaulting to safe and benign handling with the electronic guardian angels arriving early to slow everything down. The steering isn't as direct as in the two class leaders but not everybody wants sporty dynamics. The Volvo majors on comfort but if you also want looks which come close to the low, wide stance of the Macan, then R-Design is the best trim level although Polestar Engineered is another option. The other model grades in Britain are Momentum (base) and Inscription (luxury).
We'll likely see a facelift for the whole range in 2021 yet really, this model's looks remain strong and I can't imagine that the update will be anything more than minor. Volvo also needs to be sure that it doesn't mess too much with what people clearly love, the XC60 being its best seller with almost 205,000 delivered last year compared to 187,339 in 2018. Production is split across two plants: one in Sweden (Torslanda) and the other in China (Chengdu).
This model played a significant role in the company setting a sixth consecutive global sales record in 2019. For the first time, the brand delivered more than 700,000 vehicles, the year-on-year rise being a solid 10 per cent to 705,452 units. What's more, Volvo lifted its market share in not only Europe and the US but in China too.
The XC90, which Volvo has already told us will be replaced in 2021, rose to a six-figure total in 2019, 100,729 being delivered compared to 94,182 in 2018; while the brand's number two model was the XC40 with 139,847 sales (2018: 75,828).
Due to what's going on in China, it's hard to say whether or not Volvo will end up setting yet another worldwide sales record in its 94th year. In Britain at least, the brand is already bucking the trend of a contracting market though, January deliveries rising by 3.0 per cent to 4,107 vehicles against a seven per cent overall decline.