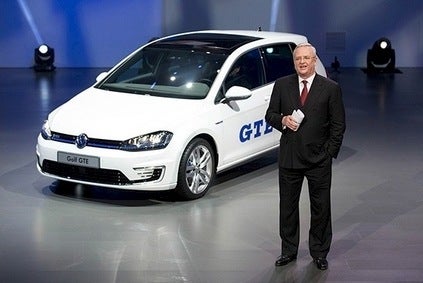 The VW Group that operates eight passenger car brands, three truck brands and one motorcycle brand, reported solid 2Q14 results. Sabine Blümel takes a closer look at the group's passenger car business.
When VW Group reported its second quarter results, a number of headline figures were flagged by the company: Deliveries to customers of vehicles ranging from the VW Up! in the mini/basic segment to heavy trucks (Scania and MAN) increased 3.8% yoy to 2.62m units; group revenue declined 2% yoy to EUR 50.98bn and group operating profit declined 3% to EUR 3.33bn/6.5%. Rising earnings contribution from JVs in China and a positive swing in financial charges resulted in increases of 12% and 14% in pre-tax profit (to EUR 4.42bn) and profit after tax (EUR 3.23bn).
Let's take a closer look at the dominant passenger car business. In the second quarter, the group's eight car brands sold 2.48m passenger cars globally, 6.5% more than a year ago. The car brands reported a 10.9% year-on-year decline in combined operating profit to EUR 2.55bn and a 7.0% margin, down from 7.7% in 2Q13. Headwinds included currency and higher costs for future models, technology and capacity expansion. Positives included a better mix and cost benefits from the MQB platform that has been gradually rolled out since its introduction of the Golf Mk7 at the end of 2012.
However, these revenue and operating profit figures paint too pessimistic/negative a picture as they ignore the profit contribution from the Chinese JVs that are responsible for the production and distribution of most of the 931,230 vehicles sold in China, 20.4% more than a year ago. Indeed, we calculate, that including the pro-rata (i.e. 50%) profit contribution of the Chinese JVs of some EUR 1.38bn, 14% more than a year ago, the decline in operating profit on the car business would have been just 3.5% (to a calculated EUR 3.93bn).
However, the performance of the eight brands has been diverse due to their difference in segmentation and regional footprint. There was an excellent performance at Skoda that, benefiting from strong demand in Europe and new models, generated an 80% increase in operating profit (to EUR 0.24bn) and an 8% margin.
The largest of the group's brands, VW passenger cars, managed to increase sales 3.7% yoy, but incurred a 37% yoy decline in operating profit (to EUR 0.57bn) and a margin decline to 2.3%, down from 3.5% in 2Q13.. This is due to the fact that benefits from a moderate recovery in Western Europe failed to compensate for losses incurred in deteriorating emerging markets and VW's poor performance in the US.
In a large number of emerging markets the customers of a mainstream brand such as VW have been hit by a toxic mix of an economic slowdown at best, economic meltdown at worst, a drastically weaker currency, rising inflation and higher interest rates. Here, a car manufacturer's pricing policy is therefore a difficult and challenging trade-off between volume and value. VW's strategy is to maintain value over volume. The need to adjust capacity adds further costs. We therefore estimate that in South America, VW pc was at break-even at best.
We also estimate that the VW pc brand was also marginally loss-making in the US. Indeed, the VW pc brand, the only European brand operating in the volume/mainstream segments, underperformed in the booming US LV market and incurred a sharp 15.5% decline in sales. One reason is that VW lacks convincing products in the SUV and pick-up truck segments that have been driving the US LV market. In addition, VW's core products are in a negative model cycle: the Golf (compact hatch) is just ahead of its replacement with the Golf Mk 7 and the Jetta and Passat, compact and mid-size saloons, are approaching the end of their life-cycle.
In view of the considerable challenges and daunting 2018 target of achieving an operating profit margin in excess of 6% by 2018, management launched an efficiency programme at VW pc, worth 'some EUR 5bn'. It is not designed as mere cost cutting exercise, but aims at scrutinising all aspects of the group and reducing complexity in terms of product, branding, geographic footprint.
The premium (Audi, Porsche) and luxury (Bentley, Lamborghini & Bugatti) brands that in the previous quarters had driven group earnings, contributed only a stable operating profit at EUR 2.11bn and an 11.4% margin. This is despite the fact that sales were up 11.0% (508,700 units) and demand for premium cars remained strong in emerging markets. This most likely temporary stagnation in earnings growth is attributable to launch costs for the Porsche Macan, and considerable cost increases for new and future product, technology and capacity expansion at all brands.
So, overall, the Q2 numbers for Volkswagen Group are something for VW's management to feel good about, given some of the headwinds that this vast international enterprise is experiencing. But they should not get carried away; there is still an awful lot of work to do to achieve an improvement in group earnings for the full year.
See also: GERMANY: VW Group posts 14.1% growth in net profit for Q2