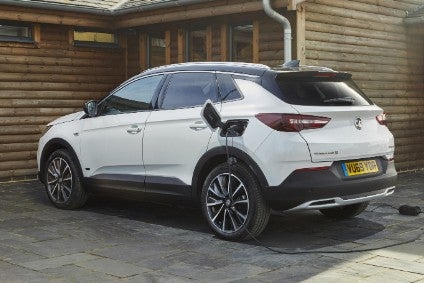 Vauxhall is launching a two-motor, four-wheel drive PHEV version of its Grandland X. It's powerful, fast and economical but can be pricey in top trim level form.
There is a curious vogue for calling all manner of mild-hybrids, simply…hybrids. The Puma is one such model, Ford of Europe labelling its updated three-cylinder mild hybrid engine, an EcoBoost Hybrid. Meanwhile, Toyota and Lexus' series hybrids are declared to be self-charging hybrids.
Now, some, but not all – DS prefers E-Tense – Groupe PSA brands are badging their PHEVs as Hybrids. FCA in fact started this, launching the Chrysler Pacifica Hybrid in 2016, followed by Bentley and others. So no apologies for me using an unofficial suffix in the title of this piece: the new Vauxhall Grandland X Hybrid is a petrol-electric crossover which you can recharge by plugging it in.
One of the many ways in which PSA has been saving money oh so effectively, as its recent results showed, is by standardising platforms, engines, motors, gearboxes and other high-cost items across multiple brands. The potential elimination of brands should its merger with FCA be permitted by anti-trust authorities is a discussion for another day. Nonetheless, it's worth naming them all to illustrate just what a small piece in the global puzzle its UK-only make will become: Peugeot, Citroen, DS, Opel and Vauxhall will be joined with Chrysler, Dodge, Ram, Jeep, Fiat, Abarth, Lancia, Alfa Romeo, Maserati and Ferrari. Let's not confuse things and leave Ram Commercial, SRT and Fiat Professional, and for the same reason, Mopar, to one side.
While Opel is expanding into (or being returned to in some cases) multiple additional markets outside its traditional European base, Vauxhall flies the union flag for Britain way more enthusiastically than the brand ever did under GM ownership. PSA believes this is the way forward and while Volkswagen and Ford might continue their unstated battle for the number one slot in passenger vehicle sales, the griffin brand is about profits first, never mind market share.
Following the loss of several small cars as well as the Mokka X in recent months, and now the Insignia estate too, Vauxhall registrations dropped by 25 per cent in January, the brand ending the month in sixth place behind Audi, BMW, Mercedes, VW and Ford.
Dealers might be missing the Viva and Adam but the new Corsa is now here and there is much in the way of new product arriving this year or on the horizon for 2021 (Astra, Astra PHEV, e-Zafira Life, e-Vivaro Life). Having lost the Mokka X, Vauxhall still has the Crossland X in the B-crossover segment, while one size up, the Grandland X has been gathering a following, 41,000 having been sold since the launch in 2018. Now comes the high-priced, low CO2 plug-in hybrid, the Grandland X Hybrid4, with the Grandland X (also a PHEV but front-wheel drive only) to follow in a few months' time.
The new all-wheel drive PHEV looks like other Grandland X variants apart from a few subtle differences, such as nicer looking wheels and the charging flap on the passenger side. I also noticed the lack of a spare tyre as there appears to be no space for one under a lift-up panel below the luggage bay. Boot capacity is 390 litres or 1,528 with the back seats folded.
Each of the two PHEV versions of this C-crossover/SUV made its public premiere with Opel badges at the Brussels motor show in January. In line with others in the PSA family, these EMP2-based models can be ordered with a 1.6-litre petrol turbo engine and single motor, which means front-wheel drive and a combined output of 165kW (225PS) and 360Nm. More money buys all-wheel drive, which is via a second electric motor positioned on the rear axle. You still get the 1.6-litre petrol engine but it produces a bit more power and overall outputs rise to 300PS and 520Nm.
The capacity of the lithium-ion battery, which is mounted under the back seats, is 13.2kWh and this applies to both front-wheel drive Hybrid and all-wheel drive Hybrid4 variants. According to WLTP, the range is up to 50 kilometres or up to 60km according to NEDC.
The powertrain is quite interesting in that the Hybrid4 will run as a rear-wheel drive vehicle as often as it can, for reasons of efficiency. According to Mathias Reinartz, who is Opel-Vauxhall's Director of Low Emissions Vehicles, the range in EV mode is actually superior (35 miles versus 34) for the all-wheel drive Grandland X. That's because drive goes directly to the back axle via the motor positioned there rather than via a gearbox. In both cases, this transmission is a multi-disc wet-clutch unit with eight speeds, replacing a torque converter automatic.
There are four modes of operation: Electric, Hybrid, All-wheel drive and Sport. Each is selected via a switch to the left of the gear lever, which itself can be pulled back from D to B, which activates braking energy recuperation. After a drive that lasted several hours and during which I tried all the modes, response is never anything other than brisk. Even better, you're more or less unaware when the second motor kicks in, so smooth is the transfer of power and torque.
The 1.6-litre turbo engine can sound decidedly sporty if the driver wants to hustle the Grandland X along and even on teeming wet roads, the default is to composure and I couldn't detect any kickback or torque-tug through the steering wheel. Until you give the throttle pedal a firm shove it's hard to imagine that this family SUV really does have as much as 520Nm available. Those who think plug-in hybrid SUVs tend to be uninvolving and heavy-feeling really need to try this car.
The Vauxhall Grandland X Hybrid4 is available to order now priced from GBP32,790-46,650 and available in four trim levels. Top speed is 146mph (81 in EV mode), 0-62mph takes 5.9 seconds, Combined C02 is 34g/km (NEDC) and kerb weight is 1,800kg. The Grandland X Hybrid (single motor, front-wheel drive) will follow from May. Both are manufactured in Germany on the same line as other variants at Opel's Eisenach plant.