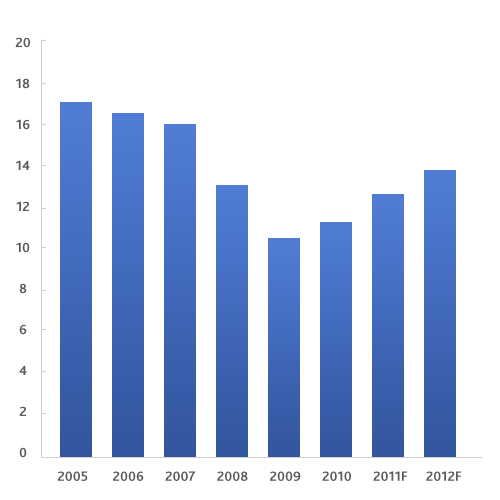 October's US sales figures for light vehicles have posted another respectable looking number despite gathering gloom over the US economy in recent months. Dave Leggett considers the reasons behind the growing US vehicle market and the outlook for 2012.
October US light vehicle sales were up 11.6% compared to the same month in 2010; the seasonally adjusted annualised rate (SAAR) came in at 13.26m on a volume of just over 1m sales. That's not only better than last October's 12.18m rate, it's the highest since February's 13.29m and the second-highest rate since August 2009.
So, what's going on? If this economic recovery is proceeding at a snail's pace and failing to put a dent in an unemployment rate creeping above 9%, why is the US car market posting growth?
Firstly, this has been a strange year. Supply-chain disruption caused by the March 11 earthquake and tsunami in Japan turned out to be worse than expected. Vehicle production for certain manufacturers and certain car lines – especially for the Japanese OEMs – was hit and that took some sales out of the market in the middle months of the year. That was also the time when the news on the recovering US economy was starting to get worse, with stock markets taking a battering, but inventory shortages played a key part in deferring sales.
That inventory issue has now been resolved and buyers are coming back into showrooms now that the models they want are available. They are also being encouraged by higher incentives, especially from the hard-hit Japanese OEMs who now want to recover lost market share.
"Japanese automakers have seen substantial improvement in inventory in October and buyers are responding to the better availability of product as well as higher incentives," said Kristen Andersson, Automotive Analyst at TrueCar.com. TrueCar.com's figures show that incentives spending by Toyota, Nissan and Honda in the US in October was running at US$2,400-US$2,900 per vehicle, 12-18% above the same month last year (industry average up 4.6% on last year, the Detroit 3 even able to reduce them slightly versus September).
Secondly, there's pent-up demand from the recession to consider. Whatever is happening to consumer sentiment, there comes a point at which many people opt, after delaying vehicle replacement for a period, to replace. It's partly a rational decision based on the simple perception that to continue running that old heap could actually lead to higher costs and/or greater inconvenience from repairs or breakdown. And on an emotional level, people start to want to change their vehicle and find justifications to do that. Analysts seem agreed that we are indeed at that point and that the vehicle market is enjoying some support from pent-up demand.
Data from Polk confirms that the age of the US vehicle parc has been increasing. The past 15 years have seen a steady increase in the average age of vehicles. In 2010, the average was 11 years old, up more than 2.5 years from 8.4 years old in 1995, according to Polk. Also, customers have been holding on to their cars longer in recent years. Based on data from the second quarter of 2010, owners kept their vehicle an average of 63.9 months, or more than five years, an increase of 4.5 months from the same time in 2009, Polk says.
The pressures to replace vehicles have therefore been building and are now starting to come through. A look at just how far the US light vehicle market has declined in recent years is also telling. The market went off a cliff in 2009, so it's coming back off a very low base. The 'basic replacement' element can quickly lift sales off such a floor.
"While impulse buying and lifestyle statements are not prevalent in showroom interest, the math for buying as opposed to refurbishing many vehicles is solid," agrees Peter Morici, professor at the Smith School of Business, University of Maryland School, and former Chief Economist at the US International Trade Commission.
So, the apparently buoyant months of September and October reflect pent-up demand from both the impact of the recession and the inventory shortages of the summer.
Outlook for 2012 'uncertain'
Where does that leave the outlook for the US vehicle market in 2012? Industry forecasters broadly see a continuation of recent trends, the market continuing to move up on the back of support from pent-up demand, but with the improving trend tempered by a low-growth economy and persistently high unemployment. In the background, there's a higher degree of uncertainty than normal associated with adverse developments in the global economy – especially in Europe – and the possibility of another international financial crisis spreading. The eurozone crisis has just jumped to a new level of uncertainty with the Greeks deciding on a referendum to approve an EU bailout plan and austerity measures that had already involved painstaking negotiations to 'agree' making new finance available for Greece to avoid disorderly default and promote financial stability. The underlying political fissures may be about to burst open.

Jeff Schuster, analyst at LMC-Automotive, says that there is a high degree of uncertainty over where the US economy will be next year. He picks out high unemployment as a major concern. "While unemployment is up around the 9% level consumer confidence will certainly be held back," he says. "And businesses also feel less confident about investing because of prevailing worries over the weakness of this economic recovery and a general sense of uncertainty over where the economy will track over the next 18 months. In these circumstances decision-makers tend to act with increasing caution," he adds.
Professor Morici sees the US economic uncertainty boiling down to this question: is the glass half full – the economy showing new signs of life as indicated by preliminary data for third quarter US GDP growth at 2.5% – or is it half empty – the economy creating too few jobs and growing too slow to be self sustaining?
Morici is pessimistic on the outlook for unemployment in the US, which will constrain economic growth. "Even if the Europeans manage to avoid disaster, the US unemployment rate will not improve much. It will likely remain steady at 9.1% or edge up next year," he says.
He believes that GDP growth in the range of 4-5% is needed to get unemployment down to 6% over the next several years. He adds that growth is weak (more like 2-2.5% in 2012) and jobs are in jeopardy because temporary tax cuts, stimulus spending, and easy monetary policy are 'not enough to address the chronically weak demand holding back economic recovery'. And large trade deficits – he cites trade with China and oil imports – overwhelm the positive effects of Washington's efforts to jump-start the economy.
The state of the US economy and avoiding further recession or stagnation along with the policy response, will clearly be centre-stage over the next few years.
In the current climate of economic uncertainty, LMC-Automotive has recently decreased its forecast for 2012 to 13.8m units for total light vehicle sales (from 14.1m units in its previous forecast). Although the market forecast has been cut, that's still 13.8m versus 12.6m estimated for 2011 – growth of almost 10%.
"The risk of a double-dip recession has increased to nearly 40%, driving the reduction in the forecast for 2012," says Schuster. "While there have been recent positive signs in the economy and we expect another recession will not materialise, the recovery pace for 2012 is taking another hit, although a complete halt in growth is unlikely."
The outlook therefore is for the US light vehicle market to continue to grow in 2012, off its currently very low base. But don't cheer too loudly. The recovery path – even on current assumptions, never mind some of the more pessimistic ones being looked at – is a shallow one and for the market to get back up to pre-crisis levels a stronger economic recovery is required. There's little sign of that at present.
Companies that have been making money in the auto business – and it's obviously good that they have been able to achieve that with volumes as low as they have been in North America – may well have to work on lower market assumptions for next year and 2013 than they had expected just a few months ago.
See also: US OCTOBER SALES: SAAR of 13.26m highest since February
Still below 'normal': US light vehicle market (millions)