ANALYSIS - the electrified future of BMW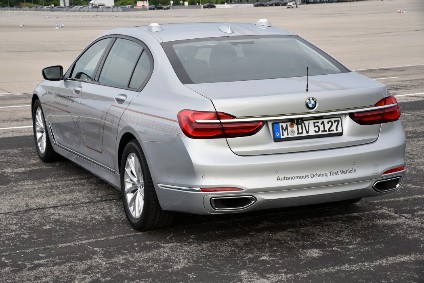 BMW continues to test autonomous drive tech in a range of models, including the 7 Series
By 2025, BMW believes that as many as one in four of the vehicles it produces will be electric in one form or another. That means hybrid, EV, PHEV or hydrogen fuel cell. This, the final feature in a series concerning BMW Group's models, looks at the BMW brand's existing and future electrified cars and SUVs.
Hybrid
Production of the E89 Z4 roadster ceased in August 2016 after some 115,000 cars had been built. A new Z4 is on the way but due to the costs involved, and the shrinkage of the car's segment, BMW AG has partnered with TMC for the replacement. The resultant platform will also be used for a Toyota sports car above the 86/GT86 which will potentially revive the Supra name.
Prototypes of the BMW have been seen testing since January 2016 and in contrast to the previous Z4, these have a fabric roof. A concept is expected to be revealed at the 2017 Pebble Beach Concours d'Elegance.
At one time, there were suggestions that the name would be Z5 so as to distance this roadster from the slow selling Z4. These plans have reportedly now changed.
Magna Steyr will manufacture the Z4 and Supra on the same line at its Graz plant in Austria.
It is believed that Magna Steyr will manufacture the Z4 and Supra on the same line at its Graz plant in Austria, at a combined volume of up to 60,000 vehicles per annum. Both will reportedly be all-wheel drive hybrids, with a BMW petrol engine and electric motors. Energy should be stored in supercapacitors. A seven-year lifecycle is expected, with the cars due for release during 2018.
EVs and PHEVs
A plug-in hybrid version of the long-wheelbase X1 had its global debut at the Chengdu motor show in September 2016. The X1 xDrive25Le iPerformance is built only in China as part of the BMW Brilliance Automotive (BBA) joint venture. This SUV is powered by the combination of 1.5-litre turbocharged petrol engine and one electric motor. Together, they produce 231hp of power and 385Nm of torque. BMW says the EV range is up to 60km.
The car's so-called eAxle system is supplied from GKN's facility in Bruneck. Even though it is made in Italy, GKN says the application and development work for the technology was conducted by its operations in Shanghai.
The single-speed design has a transmission ratio of 12.5:1, reducing the electric motor speed in two stages. The system generates up to 2,000Nm and 70kW of additional torque and power – enough for a vehicle in electric mode to achieve speeds of up to 125km/h and for an all-wheel drive (AWD) mode that accelerates faster than conventional mechanical AWD systems.
The electric axle weighs 20.2kg and its compact dimensions facilitate packaging and installation in smaller vehicles. The unit has a length of 457mm, a width of 229mm and a height of 259mm.
When hybrid operation is not required, an electro-mechanically actuated dog clutch disconnects the e-machine from the driveline, minimising losses at higher vehicle speeds. GKN says it has also optimised gear and bearing arrangements for optimum efficiency, NVH, and durability.
BBA's Tiexi plant west of Shenyang has built this model since December 2016. The other BBA factory, Da Dong, is in the same city. At the moment, the xDrive 25Le is available solely in China.
A plug-in hybrid version of the 2 Series Active Tourer had its world premiere at the Frankfurt IAA in September 2015. This is the 225xe and it is distinguished not only by the recharging flap on one of the front wings, but also by eDrive badges on the C pillars.
This 225xe compact minivan uses the same powertrain as the i8 supercar.
BMW claims a range of up to 25 miles on electricity. This compact minivan uses the same powertrain as the i8 supercar, though it is mounted in a different way, with the three-cylinder petrol engine under the bonnet and drive going to front axle, though there is also electric all-wheel drive thanks to the motor which delivers torque to the back axle.
The 225xe is due for a facelift in late 2017 or early 2018, with a second generation model to follow in 2021.
A prototype of a plug-in hybrid (PHEV) version of the 3 Series sedan was revealed by BMW at an event in Germany in November 2014. It went into production in late 2015. The 330e also replaced the ActiveHybrid 3. The latter was a series hybrid, not a plug-in hybrid.
The PHEV test vehicle was claimed to have combined outputs of 180kW (245hp) and 400Nm from its four-cylinder petrol turbo engine and single electric motor. This compares to the 203kW of the unique-to-China 530 Le, a long-wheelbase PHEV version of the 5 Series, which debuted at November 2014's Guangzhou motor show. This was just a few days before the 3 Series PHEV was shown at BMW's Innovation Days event. The prototype was claimed to have a range of up to 35km or 22 miles in electric mode.
BMW announced a few details of the 330e's powertrain in May 2015. Fuel consumption of 2.1 l/100 km is claimed, with 49g CO2 and a stated 185 kW/249 bhp of power.
German market sales of the 330e commenced in early 2016, with cars for the UK and other RHD countries following by mid-year. The 330e is now in the final part of its production cycle and no further updates are expected.
An electric 3 Series is under development but won't become available until late 2019.
An electric 3 Series is under development but won't become available until late 2019. BMW sees the danger of not challenging the Tesla Model 3, thus this additional model. Like that car, the EV version of the next 3er will have an intended range of up to 500km or 310 miles. Despite this car being a replacement for the PHEV 3 Series, the model name is expected to remain as 330e. However, it could instead change to 335e or 340e.
A plug-in version of the next X3 is under development, BMW Group CEO Harald Krüger stated in an interview in September 2016. It will be available in relevant countries in 2020, he added. No reason for why the car's development would take so long was given. This vehicle is being designed to compete with the future Tesla Model Y.
The 530e iPerformance is a plug-in hybrid version of the 5 Series sedan. It went on sale in relevant countries from April. The powertrain consists of a 135kW (184hp) and 320Nm 2.0-litre turbocharged four-cylinder petrol engine and an 83kW (113hp) motor which generates 250Nm of torque. System power is 185kW (252hp) with peak torque of 420Nm. The CO2 emissions are 44g/km.
BMW says the 530e iPerformance will accelerate from 0 to 100 km/h (62 mph) in 6.2 seconds and reach a top speed of 235 km/h (146 mph). The car is claimed to have a range of up to 650 kilometres (404 miles) in real-world driving and is capable of covering distances of up to 50 kilometres (31 miles) purely on electric power at a maximum speed of 140 km/h (87 mph).
Drive is to the rear axle via a standard eight-speed Steptronic transmission. Positioning the electric motor ahead of the transmission allows the transmission's ratios to be used in all-electric mode too. This dispenses with the need for a torque converter, thus also saving weight.
A 9.2kWh lithium-ion battery pack is positioned under the rear seat and includes refrigerant cooling with a highly integrated low-temperature circuit. The boot's capacity is 410 litres. The battery can be fully charged in under five hours from a standard domestic power socket and in under three hours when hooked up to a BMW i Wallbox (3.7kW charging capacity).
Wireless Charging will be made available as an option for the 530e iPerformance from 2018.
In addition, wireless charging for the high-voltage battery will be made available as an option for the 530e iPerformance from 2018. This system consists of a base pad with integrated primary coil – which can be installed in a garage, for example, but also in the open – and a secondary coil integrated in the underside of the vehicle. An alternating magnetic field is generated between the two coils, through which electricity is transmitted without cables or contacts at a charge rate of up to 3.2kW. BMW claims the charging time to be "around three-and-a-half hours".
The 530e has blue grille slats, blue wheel hub covers, the charging socket located between the front wheel arch and the A-pillar on the driver's side, eDrive emblems on the C-pillars and, of course, the 530e badge on the boot lid.
The car is due to have its LCI (Life Cycle Impulse), which is what BMW calls a mid-life facelift, in 2021, ahead of a replacement model in 2024. That car will likely be an EV.
The X5 xDrive40e is a PHEV (plug-in hybrid electric vehicle) version of the X5. It was previewed by the Concept X5 eDrive which premiered at September 2013's Frankfurt motor show. A revised version was exhibited at April 2014's New York auto show with the production model having its debut at the 2015 New York auto show.
BMW claimed the prototype could reach speeds of up to 120 km/h (75 mph), had a maximum range of 30 kilometres (19 miles) on electric power alone and average fuel consumption in the EU test cycle of 3.8 litres per 100 kilometres (74.3 mpg imp).
Both concepts were powered by a TwinPower four-cylinder petrol engine and a 75kW (90hp) electric motor. The lithium-ion battery was mounted under the loadbay so boot capacity would not be reduced.
The X5 xDrive40e entered production in June 2015. Power comes from a 245hp TwinPower four-cylinder petrol engine and a 113hp electric motor. System output is 313hp, combined torque is 450Nm and the standard transmission is an eight-speed automatic. Official CO2 is 77g/km.
The PHEV X5's replacement will shift to the 35up architecture.
This SUV is due to receive a facelift later in 2017 and to remain in production until 2020. The PHEV X5's replacement will shift to the 35up architecture.
There are three PHEV versions of the BMW 7 Series:
740e
740Le (long wheelbase)
740Le xDrive (LWB with all-wheel drive)
All are powered by BMW's B48 four-cylinder petrol engine and an electric motor, which together generate total system output of 240kW (326hp). The 740e has a Combined fuel consumption average of 2.1 litres per 100 kilometres (134.5 mpg imp) as calculated in the EU test cycle for hybrid vehicles. Its Combined electric power consumption is 12.5 kWh per 100 kilometres. CO2 emissions are 49 grams per kilometre.
BMW's so-called eDrive technology enables all-electric and therefore locally emission-free driving at speeds of up to 120km/h (75mph) and with a range of up to 40 kilometres (25 miles).
The three plug-in hybrid versions of the 7 Series went on sale in relevant markets during 2016. These were also the first cars for the iPerformance sub brand. Expect facelifts in 2019 and a next generation in 2022, likely based on a second generation of the 35up architecture. It may well be the case that at least one of these cars is replaced by an EV variant or else a fully electric model might be added to the PHEV line-up.
i models
Following the release of an electric Mini in 2008/2009 and the 1 Series ActiveE, the third vehicle in BMW Group's Project i was the i3 electric car. BMW revealed the i3 Concept at the Frankfurt motor show in September 2011.
There was a second preview of this model in the form of the i3 Concept Coupe at the LA auto show in November 2012. Unlike the first i3 concept, this one had three doors, not five.
In July 2009, BMW Group signed a supplier agreement for batteries for the project with SB LiMotive. The latter was originally a 50-50 joint venture between Robert Bosch and Samsung SDI, but Bosch later pulled out.
In February 2010, BMW then stated that the firm had selected its Leipzig plant as the production location for the Megacity project vehicle(s), with the first car, the i3, due off the line in mid-2013. Production was delayed slightly but the vehicle was unveiled in July 2013.
There are no conveyors or welding, as use of carbon fibre eliminates the press shop and the paint shop.
A joint venture was set up with carbon fibre producer SGL to make carbon fibre-reinforced plastics for the i3's panels. This takes place at a plant in Landshut. These panels are impregnated with colour, thus eliminating the need for a painting stage on the assembly line. The panels are then sent to BMW's Leipzig plant for assembly. There, 160 robots mount the panels on a rolling aluminium chassis using polyurethane glue. There are therefore no conveyors or welding, as use of carbon fibre eliminates the press shop and the paint shop.
A second plant, specifically built for the manufacture of carbon components, would be erected at Moses Lake in the US state of Washington, SGL and BMW revealed in April 2010.
BMW says 25 per cent of the materials used in the i3 interior and 25 per cent of the thermoplastics are recycled or made from renewable resources. And 80 per cent of aluminium parts are produced using clean energy or are made from recycled aluminium.
The main reason for using carbon fibre, which is 50 per cent lighter than steel, is to reduce the size and cost of the car's batteries. The vehicle has a body-on-frame structure and an aluminium chassis.
The experimental Mini-E ran on a bank of 5,088 cells. The high-voltage battery in the BMW i3, however, consists of eight modules (each with 12 individual cells), which together produce a rated voltage of 360 volts and generate approximately 22kW/h of energy. The battery pack is mounted flat and weighs approximately 230kg.
BMW offers a 25kW (34hp) two-cylinder petrol engine as a range extending extra cost option. It is mounted adjacent to the electric motor, above the rear axle. The range extender increases the car's maximum range in day-to-day driving to around 300km. Taiwanese scooter firm Kymco supplies this engine.
The i3 went on sale across Europe from November 2013. Launches in the US, Canada, China, Japan, South Korea and certain other markets followed. BMW has the capacity to build 40,000 units per annum at Leipzig. As at the fourth quarter of 2016, production reached a cumulative 60,000 cars.
From mid-2016, BMW began to offer an i3 with an improved range on batteries alone. The i3 (94 Ah) has a capacity of 33 kWh thanks to the higher storage density of the lithium ion cells.
The battery dimensions were not changed with over 50 per cent range increase in the standard NEDC cycle which equals 300 kilometres instead of 190 kilometres. Even in everyday use, in bad weather conditions and with the air conditioning or heating turned on, 200 kilometres of range can be achieved on one full battery charge, BMW claimed. The i3 with 60 Ah battery remains part of the model range. In addition, the model variant with Range Extender remains available for both battery versions.
A high performance i3 is due for release in late 2017, following a mid-life facelift.
A higher performance variant is said to be planned for release in late 2017, following the i3's mid-life facelift. Unconfirmed reports claim the additional car might be called i3S iPerformance. The facelift and the i3S should have their world premieres at September's Frankfurt IAA. Production is due to continue at Leipzig until 2020.
The second generation i3 should be released in mid-2020. It will use an updated LifeDrive architecture and should be both lighter and faster, thanks to an even more advanced battery pack.
In January 2014, BMW Group's then board member for Manufacturing, Harald Krueger, said the firm would not add a third model to its i range until it had "a better idea of demand". BMW has trademarked i1 to i9, and there had been speculation that an i5 model was on its way. An additional i model would not be launched until 2020 or later, BMW stated in March 2015.
In 2021, BMW should add the speculatively named i5 to its model range. It will use the LifeDrive architecture and be manufactured in Leipzig.
The third model in the i series (after the i3 and i8) will be a plug-in five-door hatchback.
The third model in the i series (after the i3 and i8) will be a plug-in five-door hatchback. This was revealed by leaked patent sketches which appeared on the internet in October 2016.
This car should also be the first autonomous model from BMW Group: the vehicle will alert the driver if they need to take back control. As for fully AD vehicles, this technology is said to be some years away for BMW, as the company is especially cautious of potential safety problems in urban driving.
The i8 went into production three years ago, and is due for an LCI in early 2018. This plug-in hybrid 2+2 seater supercar, the effective successor to the long discontinued Z8, is a showcase for the brand's EfficientDynamics ('ED') fuel-saving technology. Series production began in April 2014 with the first customer deliveries following two months later.
There were several previews of the production model: the i8 Concept debuted at the Frankfurt motor show in September 2011, with the i8 Spyder following at the Beijing show in April 2012. The i8 Concept Roadster then premiered at the LA auto show in November 2012.
The production version of the i8 had its world premiere at the Frankfurt motor show in September 2013. The car has a petrol-electric hybrid powertrain, with the transmission a six-speed auto.
BMW Group's Hams Hall plant in England supplies the car's 1.5-litre turbocharged three-cylinder engine. The power output is 170kW (231hp) and drive from this petrol engine is sent to the rear wheels. The front wheels are driven by a 96kW (131hp) electric motor. The claimed EV mode range is up to 35km (22 miles). The car's combined maximum power output is 266kW (362hp) plus 570Nm of torque.
As part of the i8's mid-life upgrade, the combined power is expected to rise to 315kW.
As part of the car's mid-life upgrade, the combined power is expected to rise to around 315kW and there will be a new battery pack offering more range. An open-top model will also appear in 2018, BMW confirmed in October 2016.
The i8 shares electric motors, power electronics, and high-voltage lithium-ion batteries with the i3. The car has an unladen weight of "less than 1,490kg", a media release issued by BMW in July 2013 claimed. The battery pack is mounted low and in the middle of the car.
This was the world's first volume production car to be fitted with chemically hardened Gorilla Glass. This is supplied by Corning. The partition between the passenger compartment and the boot consists of two layers of GG, each of which is just 0.7mm thick with acoustic sheeting sandwiched between. A weight saving of 50 per cent is claimed, compared to conventional glass.
The i8 was also the first production car to have laser headlights. BMW says these lights are around 30 per cent more energy-efficient than the i8's standard LED units. The optional laser lights are supplied by Osram.
A replacement for the i8 should be on sale in 2021.
Hydrogen
BMW's first series production hydrogen car should share much with the next Toyota Mirai.
In January 2013, BMW and Toyota agreed to share their technologies and to jointly develop a fuel cell vehicle system. This, the companies stated, would include not only a fuel cell stack and system, but also a hydrogen tank, motor and battery, aiming for completion in 2020.
A small run of BMW Hydrogen 7 sedans were built between 2007 and 2008 but until the January 2013 announcement, the company had been quiet on fuel cell technology. News is awaited of the next BMW model to be powered by hydrogen. There have been suggestions that an i7 or i9 powered by hydrogen is under development. This would reportedly share much with the next generation Toyota Mirai.
Future model plan reports for other manufacturers can be viewed in the OEM product strategy summaries section of just-auto.com.
Future product program intelligence
Additional data on vehicle lifetime and future product plans, such as model code names, are available in PLDB from QUBE.
The next manufacturer to be featured in this ongoing series will be General Motors.
Most popular news
---
Most popular insights
---
Oops! This article is copy protected.
Why can't I copy the text on this page?
The ability to copy articles is specially reserved for people who are part of a group membership.
How do I become a group member?
To find out how you and your team can copy and share articles and save money as part of a group membership call Shivani Hayer on
+44 (0)1527 573 732 or complete this form..