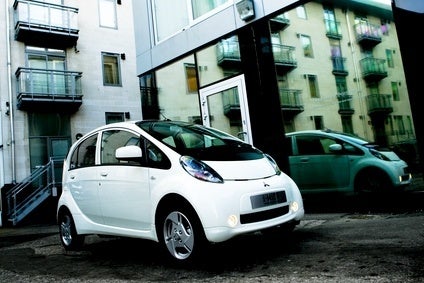 The Thai government has identified electric vehicles (EVs) as the next growth segment for its automotive industry and looks to be in the process of developing a comprehensive strategy to attract investment in this sector.
Successive Thai governments' close collaboration with its predominantly Japanese automotive industry and their pro-active approaches to developing new growth markets have served the country well so far.
Early on in the development of its automotive industry, Thailand incentivised local sales of pickups trucks and these quickly became the country's "national vehicle". Today, pickups are still the backbone of the automotive industry here.
At its peak in 2012, pickup truck production in Thailand exceeded 1.45m units – close to 60% of the 2.46m vehicles produced in the country that year. Almost half of these, or some 729,000 units, were exported – placing Thailand firmly as the global production hub for these vehicles outside the USA.
The country's eco-car programme, first launched in 2007, has also been very successful in attracting investment. The government offered generous investment incentives to encourage exports and a discounted excise tax rate to help attract local customers.
Eco-car output volumes have been somewhat disappointing so far, however, having peaked at 355,000 units in 2013 – and even that was thanks mainly to a strong surge in domestic demand driven by the previous government's first-time buyer incentive scheme. Exports amounted to just 143,442 units that year. Some of the countries originally targeted by Thai exporters, such as Indonesia and Malaysia, have launched similar small-car programmes of their own in recent years. Meanwhile India has also become a major export hub for small cars to Europe, providing stiff competition to Thailand.
Thai eco-car production fell by 32% to 243,000 units in 2014, as domestic demand collapsed due to the widely reported domestic political unrest and also due to the discontinuation of the first-time buyer incentive scheme at the end of 2012. While exports have held up reasonably well, with volumes rising by over 5% to 151,000 units, domestic sales fell by 56% to 92,000 units – making it the worst-performing segment in the Thai vehicle market last year.
There is no doubt that Thai vehicle production will bounce back from the 2014 low of 1.88m units, with additional brands joining the second phase of the government's eco-car programme and existing players pledging additional investments.
The previous government's annual production target of 3m vehicles by 2015 is unlikely to be achieved for many years with existing vehicle programmes, however, and new growth segments are being targeted.
The government's Board of Investment wants to build on the limited success of its electric-hybrid programme and is looking to attract investment for the production of EVs and plug-in hybrids and their main components such including batteries, with a generous package of incentives.
Excise tax for EVs has been set at 10%, even lower than the rate applied to eco-cars but still higher than pickup trucks. Thailand hopes a strong domestic strategy early on will help it steal a lead on other Asian countries in establishing a successful export-oriented electric vehicle industry. The Bangkok Mass Transit Authority recently announced it is building an EV recharging network ahead of its planned switch to electric buses next year.
National oil and gas firm PTT Plc and the Bangkok Metropolitan Electricity Authority (MEA), have developed several EV charging systems in the last four years and are beginning to roll these out in regular petrol stations in the country's main cities.
Some Japanese manufacturers have expressed an interest in sharing some of their eco-car production capacity to produce EVs. Mitsubishi and Suzuki have taken the lead locally, by agreeing to begin local tests of their Mirage, MiEV and Swift electric vehicles.
The government is coordinating with universities and local companies to help develop local expertise and is helping to provide R&D facilities to develop of EV parts, including storage batteries. It also plans to designate an industrial estate, or a "special innovation zone", dedicated to EV parts production.
Regional demand for EVs is still very limited, however, with potential overseas markets such as the Philippines and Indonesia so far showing little interest in these vehicles.
Greater potential for EV demand growth in Asia is seen in South Korea, Japan and ultimately China. Their EV markets are in their infancy, however, as are potential EV markets further afield – such as in markets in Europe. Demand ultimately will be driven by emissions regulations.
Vehicle manufacturers in China such as BAIC, Geely and Chang'an in recent months have outlined plans to move into the EV segment in a big way over the next ten years.