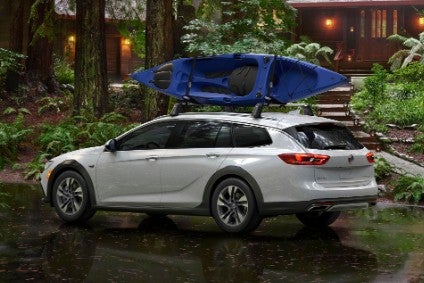 Buick cars and light trucks are the focus of the second feature in the series concerning the current and future vehicles of General Motors.
The reinvention of Buick has been a fascinating thing to watch. Once the favourite make of many American retirees, the division was in danger of going the same way as its typical, elderly buyers.
As recently as the 2000s, Buick seemed stuck in a time warp, selling mostly big sedans to an ever diminishing pool of people who were mainly in certain parts of the USA. Like the Oldsmobiles of the same era, the cars seemed to be designed with nostalgia in mind, being fitted out with thin-rimmed 1960s-style steering wheels, large instruments, wide-opening doors and no-nonsense interiors with everything colour-coded, and often with a bench front seat.
With the LeSabre, Century and other creaky sedans swept away, General Motors brought down the average age of the typical buyer by many decades. In China, the demographic is younger still, even though the US, Buick's only other major market, has a more youthful population.
Brand positioning
To GM China, Buick sits somewhere between VW and Audi. That might seem fanciful but remember that Volkswagen sells multiple old and cheap cars in China. Buick too has some low cost models which in human terms would now be wearing elastic waist trousers: the Excelle sedan starts at CNY109,900 (USD16,093/EUR14,459).
By the end of May, 458,237 Buicks had been sold in the PRC, putting the division on course for a seven-figure total by year end.
Meanwhile, in North America, GM would also like to see pricing and image steadily moving towards a position above Chevrolet but below Cadillac. Even though the PR spin insists that this is a 'luxury' make, that's not the reality. At least not yet.
The introduction of the Avenir sub-brand, which is equivalent to GMC's upscale Denali line, shows that buyers are receptive to paying more for Buicks, but not too much more. For that reason, we're unlikely to see full-sized SUVs though some additional niche models might well be added in the coming years, as hinted at by concepts such as the Avista. This two-door design study was Buick's bosses wondering in public whether the Chevy Camaro could be rebodied and turned into something along the lines of the Mercedes-Benz E-Class Coupe.
Even though the media and public reaction to the Avista was positive, GM's experience with the Cascada shows that it needs to be very careful before creating any more models which, once initial demand dies down, need heavy discounting to push out of showrooms.
The Cascada isn't a bad car. But it's too big and doesn't belong in either the Opel or Vauxhall ranges, most of Australia is too hot for open cars, and China would never have worked either as many of its cities have air pollution issues. Buick should instead stick to SUVs and sedans, perhaps experiment with the odd hatchback and wagon, but forget about two-door models as supposedly brand boosters.
For the moment, General Motors will likely keep trying to gently-gently lift margins on Buick models in China, even though competition is especially savage in the segments where the brand competes. Can a make which wants to be aspirational also be one which sells as many as a million vehicles in one country? Why not? By the end of May, 458,237 Buicks had been sold in the PRC, putting the division on course for a seven-figure total by year end.
Buick is the number four brand in the world's largest market, 80,000 units ahead of Nissan.
Could Buick really outsell Toyota?
Last month, this brand remained strong at number four in the world's largest market for passenger vehicles, a position it achieved for CY2016. Toyota is the big winner in recent quarters, thanks in part to the ongoing crash of Hyundai. And while Nissan is also gaining, it remains in fifth place, more than 80,000 vehicles adrift of Buick. The Excelle is the best selling model series (163,945 YtD), followed by the Envision (104,365).
Even with Toyota's comeback, Buick has the better future model portfolio – crossovers and SUVs feature prominently. Year to date, the American brand is on 458,237 sales, and Toyota has 466,380. Buick has far fewer models so its achievement is more impressive. Could it even overtake Japan's largest company in the world's number one market? Honda having already done that, there is no reason why it can't happen, possibly in 2018. Volkswagen, which delivered 1,218,831 vehicles between 1 January and 31 May, is the unassailable number one, Honda's total being 532,142.
In the USA, GM's number two luxury make is in 18th position, on 91,017 deliveries. That's a year-on-year rise of four per cent but in May, the gain was 28.5 per cent thanks to various new vehicles. This also kept Audi at bay, its May sales numbering 19,197 versus 20,077 for Buick. The Encore, a small SUV, is easily the best performer, accounting for 35,768 units of that 91,017 year-to-date brand total. The Envision (17,613) is the number two model, followed by the Enclave, LaCrosse, Regal, Verano and Cascada.
Sedans, hatchbacks, wagon
The Excelle XT had its world premiere at the Guangzhou motor show in November 2009 and went on sale in China two months later. Apart from the grille, the car is almost identical to the Opel Astra five-door hatchback which was built until late 2015.
While the Excelle (sedan) is made in Shanghai, the newer Excelle XT is built in Shenyang.
The XT is technically the replacement for the Excelle HRV but it is positioned as a pricier, more modern car than the older shape Excelle.
North America's Verano, which was more or less identically styled to China's Excelle GT, debuted at the Detroit auto show in January 2011. It went on sale in December 2011 with a standard 2.4-litre four-cylinder engine. This was the 2012 model year Verano, while a 2.0-litre turbo was added for North America's 2013 model year. For 2014, Forward Collision Alert and Lane Departure Warning safety features became new options but the car was otherwise carried over. Apart from new colours, the 2015 Verano, announced in June 2014, was carried over. It was a similar story for North America's 2016 model year Verano.
China remains the Verano's sole main market and place of build.
Slow sales in North American markets saw GM take the decision to discontinue the Verano. The final cars were built in October 2016 after a short production run for the 2017 model year. Therefore, China remains the sole main market and place of build.
In a reversal of the way GM once worked, by the time US build of the car began, the Chinese-made model was approaching mid-life and due for a styling update.
Europe and Turkey's Opel Astra Sedan, launched at the Moscow motor show in August 2012, is more or less the same car as the Excelle/Verano.
China's Excelle and Excelle GT supplement the newer Verano. These cars might be big sellers but they will likely be phased out in about a year to eighteen months' time.
The Verano GS, another C segment/Compact model, had its world premiere at April 2015's Shanghai motor show. It went on sale in China two months later. This was the first time that a car called Verano had been sold in China. It sits in the brand's line-up above the Excelle and Excelle GT but at 58,158 for the year to the end of May, sales are less than a third of the combined tally for the cheaper, older cars.
Apart from the headlights, grille and badges, the Verano Hatchback is identical to the Opel Astra.
A five-door car had its world premiere at November 2015's Guangzhou motor show. Apart from the headlights, grille and badges, the Verano Hatchback is identical to the Opel Astra. The standard engine is a 124kW turbocharged 1.5-litre four-cylinder petrol unit, with a seven-speed DCT gearbox also standard.
A new Verano had been expected to be launched in North America for the 2017 model year but with these plans cancelled, China remains the car's only main market and place of build. An older shape model sold well for a time in the USA but the halving of gasoline prices and the mania for crossovers and SUVs saw interest fade away.
SAIC GM should facelift the Verano GS and Hatchback in 2019 and launch replacements in 2023.
Once stocks of the Verano compact are exhausted, Buick's entry level car in the USA will be the midsize Regal. The latest model was announced by GM on the eve of the New York auto show back in April. For the first time, there are two bodystyles: a five-door hatchback ('Sportback') which replaces the sedan, and a crossover-wagon (TourX).
The decision to go with a hatchback to replace the former Regal, which was a sedan, is a risky move. However, Audi of America is also now experimenting with such a bodystyle by offering an A5 Sportback for the first time. Moreover, imports of the Arteon will get underway in 2018, so Volkswagen of America also believes there could be a new generation who prefer hatchbacks to sedans.
Opel manufactures both Regal variants in Germany. The Sportback isn't too different to the Insignia Grand Sport, though front and rear styling are unique, and the TourX is closely linked to Opel's Insignia Country Tourer.
The standard engine for North America is a 2.0-litre turbo in combination with a nine-speed automatic gearbox. All-wheel drive variants have an eight-speed transmission. The TourX comes only with AWD.
North America's 2018 Regal will be available from the fourth quarter. A 3.6-litre V6 should be added in CY2018.
Chinese market variants will again be manufactured by SAIC GM. The Regal for China had its world premiere at the Shanghai motor show in April.
Dealers in both North America and the PRC are still selling GMX350, the old-shape Regal sedan, and will continue to do so for some months yet. This rebadged version of the first generation four-door Opel Insignia was built in China by the Shanghai GM joint venture and from March 2011, at GM Canada's Oshawa #1 plant. There was also some build at Opel's Rüsselsheim plant but cars made in Ontario replaced the models formerly manufactured in Germany for Canada, Mexico and the USA.
North America's Regal sedan is sourced from Canada but the new hatchback and wagon will be made by Opel at Rüsselsheim.
China was the first market for this generation of the Buick Regal (December 2008). The engine choice there was originally between a 2.4-litre four-cylinder or a 2.0-litre turbocharged four-cylinder. A 1.6-litre turbo was added in September 2009.
North America's Regal, announced in November 2009, was released there in April 2010 with a standard 182hp 2.4-litre engine. A 220hp 2.0-litre turbo became available in October 2010. General Motors of Canada (GMCL) started building the Regal at Oshawa in March 2011.
North America's 2014MY Regal, which had a styling update, premiered at the New York auto show in March 2013. The 2015MY Regal was carried over, the only novelty being the addition of OnStar with 4G LTE and standard built-in Wi-Fi hotspot. The Regal and Regal GS had only minor changes for North America's 2016 model year. The same applied for 2017, which is and was, the sedan's last model year.
A larger sedan, the current LaCrosse, had its world premiere at the LA auto show in November 2015. Codenamed E2LB, it shares some styling touches with the Avenir concept from the 2015 Detroit show. The car was new for North America's 2017 model year, production having commenced in July 2016. The standard engine is a 227kW (305hp) 3,649cc V6 with 363Nm (268 lb.ft) of torque, and the sole transmission is an an eight-speed automatic. This is soon to be replaced by a nine-speed gearbox as part of a series of updates for the 2018 model year. Both front-wheel drive and all-wheel drive variants are available.
The next major news for the LaCrosse should come in 2020, which is when a facelift is due. The next generation model seems like to arrive in 2023, based on a new architecture which will replace GM's E2xx.
The LaCrosse will gain a standard eAssist mild hybrid powertrain in North America later this year.
There are also 2.4-litre mild hybrid ('eAssist') and 1.8-litre series hybrid versions of the LaCrosse. The first will become the standard powertrain in North America from later this year, while the Hybrid continues to be just for China. Details of these cars are noted in the final section below.
Convertible
The Cascada was revealed at the Detroit auto show in January 2015. US dealers had been shown a prototype in August 2014 but no on-sale date was given to them. The car became available from early 2016 for North America's 2016 model year. It has a standard 200hp 1.6-litre turbo engine and a six-speed automatic gearbox.
A Buick marketing executive, speaking to the media during the launch in January 2016, said he believed that half of the Cascada's expected annual volume would come from five states: California, Texas, Florida, New York and New Jersey.
As the Cascada has not been a strong seller as an Opel, Vauxhall, Buick or Holden, no replacement is expected.
The car has been available as an Opel since early 2013 so it is now coming to the end of its life cycle. As the Cascada has not been a strong seller as an Opel, Vauxhall, Buick or Holden, no replacement is expected.
Production will probably cease at the Gliwice plant in Poland during 2018. In CY2017, US sales of the Buick Cascada have averaged fewer than 550 cars a month.
MPVs
There is uncertainty over the fate of a compact people carrier for China which had been expected to be called GL6. Should it still be in the future models pipeline, it will be built by the SAIC GM joint venture. The GL6 would likely have three rows of seats in a 2-3-2 format and be Opel-based and aimed at the VW Touran L. Possibly it may be a rebodying of the former Zafira.
At one time, the GL6 was said to be on track for release during 2017. Some sources now believe that this model has been delayed or possibly cancelled as GM China assesses the potential in the face of the continuing decline of minivans and boom in SUVs.
Buick has been especially strong in China's large MPV segment for almost two decades. The first of two MPVs to be called GL8 has been built locally since 1999. It is based on the Pontiac SV6, a long-forgotten minivan which went out of production in the US during the Great Recession.
Until September 2004, the GL8 was manufactured in Shanghai but production then shifted to the former Jinbei GM plant (now SAIC GM) in Shenyang. A facelifted version went on sale in July 2005.
The first GL8 was also exported from China to the Philippines for some years. There, it was sold as the Chevrolet Venture.
A second generation GL8 was previewed by the Buick Business concept at the Shanghai motor show in April 2009. This big minivan design study was claimed to have a hybrid powertrain. GM China launched a production version of the Business concept in January 2011. Production of this model, the GL8 Luxury MPV, ended in September 2016.
The GL8 was also the first model for the brand's Avenir high-end trim level.
The third generation model, the new GL8 Luxury MPV, was announced by GM China in October 2016. It too uses the CSV platform which can trace its origins to the 1990s. The first GL8 remains on sale as a cheaper model. Both vehicles are manufactured by the SAIC GM joint venture. The newest GL8 went on sale in China in November 2016. This was also the first model for the brand's Avenir high-end trim level. A facelift is due in 2019 and a replacement, which will use a fresh architecture, should appear in 2022.
Crossovers & SUVs
The model name 'Envision' was announced by GM in August 2009 as being for a future small crossover. It would be sold mainly in China and North America, the company added.
Sketches that GM issued to the media in September 2009 identified the vehicle as the Buick Avant, but the small crossover concept which debuted at the Shanghai motor show in April 2011 was badged 'Envision'. Adding even more confusion, the production model which was revealed at the Detroit auto show in January 2012 had neither of those names. Instead, it is the Buick Encore.
The sub-compact (B segment) Encore is codenamed G1UB.
The sub-compact (B segment) Encore was developed with the project code of G1UB. It went on sale in North America in early 2013 for that region's 2013 model year. It is said by GM to be a rival for the Audi Q3 and the BMW X1. The Chevrolet Trax is part of the same family of small SUVs, as is the Holden Trax.
The Encore is built at two locations: alongside the closely related Opel Mokka X at GM Korea's Bupyeong factory (for North America), and since September 2012 at SAIC GM's Dongyue plant in the Chinese coastal province of Shandong.
A facelifted Encore had its world debut at the New York auto show in March 2016. The update was for North America's 2017 model year.
The next Encore should again use an update of GM's Gamma 2 architecture. The little Buick is expected in early 2019.
The Envision is another crossover. Sized between the Encore and Enclave, it would be revealed in China later in the year, the then Shanghai GM announced in July 2014. The model name was announced as long ago as 2009.
Intended to be a rival for the Audi Q5, the Envision is 4,667mm long, 1,839mm wide and 1,696mm tall, according to GM China. Its local name is Ang Ke Wei. The model was launched with a 191kW turbocharged 2.0-litre four-cylinder petrol engine as standard but the Envision 20T was added in April 2015. This is powered by a 1.5-litre Spark Ignition Direct Injection (SIDI) engine that is matched with a seven-speed DCG transmission. Like the 2.0-litre Envision 28T, it is available with front-wheel drive and all-wheel drive.
The Envision is exported from China to the USA.
The car was revealed at the Chengdu motor show in August 2014 and went on sale in China two months later. The Envision became available in North American markets in mid-2016 for the region's 2017 model year. It is an import from China and is powered by a 252hp 2.0-litre turbo engine.
Production of GMT967, the decade-old Enclave, is about to end at Lansing Delta Township, and the new generation Enclave goes on sale from October. Its world premiere was at April's New York auto show.
The new model will have a standard 302hp 3.6-litre V6 and a nine-speed automatic gearbox. The 2018 model year Enclave is to be available with the Avenir model grade.
GM confirmed in March 2017 that the second generation Enclave (development code: C1YB) would be manufactured alongside the related Chevrolet Traverse at Lansing in Michigan. Unlike the Chevy, which lost its third row of seats when it was replaced, the Buick again has room for up to seven passengers. The life cycle should be eight years, with a facelift soon after the half way point, i.e. during the fourth quarter of 2021 or the first quarter of 2022.
C1YB, the next Enclave, will be manufactured alongside the Chevrolet Traverse at Lansing in Michigan.
Hybrid, EV and PHEV powertrains
The LaCrosse Hybrid, which is sold mainly in China, had its public debut at an event in Shanghai in April 2016. The public premiere followed a week later at the Beijing motor show. The car's powertrain consists of a 1.8-litre SIDI engine, an electric variable transmission, and a 1.5 kilowatt hour lithium-ion battery.
The next news for the Hybrid should be a facelift in 2023. Depending on what the Communist Party decides to do with incentives for what it terms New Energy Vehicles, the future generation model might be a PHEV or possibly even a BEV.
GM does not sell a series hybrid LaCrosse in North America but it will soon make a mild hybrid powertrain standard for the 2018 model year LaCrosse. That also means the existing gasoline V6 becomes optional. The soon to be available 2.5-litre four-cylinder engine and electric motor is termed 'eAssist' or 'light electrification'.
It seems initially strange that GM China would offer buyers a Buick extended range EV when such a car is not available to customers in the US, Canada or Mexico. However, this is a branding decision: buyers can be expected to pay a higher price for a plug-in Buick than they might do for a Chevrolet.
The Velite 5 is a Chevrolet Volt with different front and rear styling.
The SAIC GM joint venture has been assembling the Buick Velite 5 since March. The car was revealed in concept form at November 2016's Guangzhou motor show and followed up by a production model at Auto Shanghai just a few days before build commenced. One fact is vital to understanding what might at first sight seem like a bespoke extended range EV for China: the Velite 5 is a Chevrolet Volt with different front and rear styling.
Velite 5 sales are off to a slow start, with only 119 units sold in May, and this was the best month yet. By way of comparison, US market Chevrolet dealers delivered 1,817 Volts last month and 9,187 between the start of the year and the end of May.
If the Velite 5 starts to sell well, might SAIC GM either import or assemble a modified Chevy Bolt? That's a possibility, and GM is well positioned to turn the B segment electric crossover into a Buick relatively quickly. And with no sign of Bolt imports to China for the Chevrolet brand, a plan to turn the car into a Buick EV might even be already planned. Watch this space, especially as GM China stated in March that there are battery-electric vehicles in Buick's future.
Future model plan reports for other manufacturers can be viewed in the OEM product strategy summaries section of just-auto.com.
Future product program intelligence
Additional data on vehicle lifetime and future product plans, such as code names, production plants and expected annual build, are available in PLDB from QUBE.