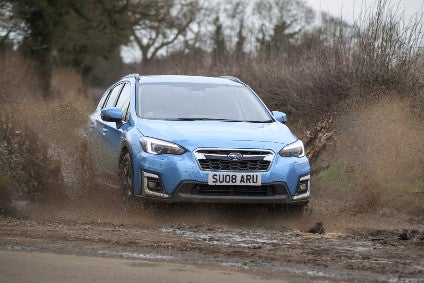 With the majority of its worldwide sales in the USA, electrification hasn't been at the top of Subaru's list of priorities. To survive in European markets though, the brand had had to evolve its famous flat-four engines into hybrids. First came the Forester e-Boxer, which has now been joined by the same engine in the XV crossover.
Subaru being a niche brand in Britain is a curious thing. Every time I drive one, the immediate impression is disbelief that they aren't more popular here.
There have been attempts to win a mainstream following, such as a special boxer diesel which sadly came and went without making much of an impression in the UK and other countries where the fuel was once popular. Will the e-Boxer change things? This is definitely the most challenging of years to be attempting a new start with any marque but still, the only way is up.
The SMMT's data show that in September, Subaru suffered a 49% plunge to 272 cars. Year to date its total is yet to hit four figures. The fall last month is at least an improvement on what had been happening only a few months back, as 672 registrations and a tumble of 67% year-on-year attests.
The range in Britain extends to six models but expect that to be rationalised soon, the BRZ now being out of production and a second generation Levorg having just been introduced in Japan. Along with the XV, that leaves the Outback, Impreza and Forester with only the last of those also available as a hybrid.
The powertrain in both models is Subaru's 2.0-litre engine supported by a single motor, drive going to both axles via a Lineartronic-branded CVT. Outputs are a combined 150 PS and 194 Nm. We get used to most engines being turbocharged so it's almost a shock to find one which isn't. Power and torque are perfectly adequate though, and the standard four-wheel drive system is a boon for Britain's often unpredictable weather.
One of the especially appealing things about Subarus is how they never seem to look like anything else – the BRZ having been the exception to that rule. Even the model names are unusual. Some might define the XV as an SUV but to me it's a crossover. Yes, there's four-wheel drive but it looks and handles like a car and it's not that tall. The first generation model (2011-2017) was also based on the Impreza, a car. The same applies to generation two.
A facelift announced by the US importer in June has yet to reach us and we won't be getting the additional engine. This, a 2.5-litre flat four, supplements the 2.0-litre but North America isn't offered the e-Boxer. Instead, buyers in California and certain other states can have what is confusingly called a Hybrid. Confusing because it's a plug-in hybrid. Might the PHEV eventually come to Britain? International Motors, the importer, isn't saying but there seems no reason why it couldn't happen.
Subaru is set for a relaunch in the UK thanks to a new boss. John Hurtig has recently stated that he believes the dealer network is capable of selling 3,500 cars a year, a figure that has been achieved in the past. A fresh marketing push is promised, the emphasis being on promoting the idea that this is an SUV and crossover brand.
People tend to associate Subaru with rugged 4x4s and to a lesser extent, rallying, but family models are surely what IM Group will focus on. For that reason, the XV might begin to find more favour. It deserves to in fact, as like other models from this brand, there is an all-too-rare dose of individuality about the vehicle. The Qashqai might be king of the segment but the XV has its own appeal too.
Open the door and there's a familiar Subaru interior only this time, perhaps a touch more of the premium feel than had the been the case not too long ago. The whole interior is typically sensible yet now with luxury touches here and there, such as the unusual and attractive pieces of copper-toned trim on the dashboard and doors. You also get matching double stitching for the steering wheel and transmission selector, with diagonal stitched lines breaking up the grey plastic ahead of the front passenger.
The dashboard has a good blend of analogue and digital controls, although the second generation Levorg points to where Subaru is headed: pretty much everything shifts to a large screen in that car, which won't be universally liked. For that reason, the XV's grouping of three dials and four buttons should be appreciated as it's not likely to endure for the replacement that's due in 2023. Similarly, if you want the seat heating on or off, that's done easily and safely without taking eyes off the road as there are switches to the left of the electric parking brake.
You can't put the e-Boxer into EV mode although it will shut the engine off automatically fairly readily, and that helps to lower what would otherwise be far from exceptional fuel economy. I only got into the mid-thirties though had there been a lot less high speed driving and more in-town short trips, the XV would likely have shown a better average.
Driving dynamics default to the safe side of the ledger and with relatively low power on hand and that first-rate four-wheel drive system, the overall sensation is one of security: something else which will have great appeal to the family buyers which IM Group needs and wants to be finding more of.
There are two trim levels for the XV e-Boxer: a GBP36,335 XE or a Premium package which costs an extra GBP3,000. In each case, that's an extra GBP3,330 over the non-hybrid XV XE and XV XE Premium. Top speed is 120 mph, 0-62 mph takes 10.7 seconds and the CO2 average is 180g/km.
When will we see an EV from Subaru?
What the company calls a 'global electric vehicle' is expected to appear in 2022. Subaru first mentioned its intention to launch such a model as part of the STEP mid-term management vision which it announced in July 2018.
This EV is part of a joint venture with Toyota which was announced in June 2019. The architecture being co-developed will be for C-, D- and E-segment models. Although there are as yet no firm details about possible models in the Mid-size and Large segments for either brand, both companies have stated that Toyota and Subaru C segment electric SUVs are being developed.