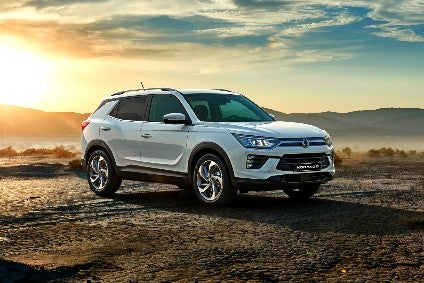 SUVs
The Korando is a compact crossover SUV that, as of March 2019, is now in its fourth generation. While early versions looked like Jeep Wrangler knock-offs, later models have developed their own styling language to appeal more to crossover buyers. This generation could be the first car SsangYong launches in the US market.
All engines are turbocharged and in Europe, where the Korando goes on sale in the summer, power will come from 1.5-litre gasoline and 1.5-litre four-cylinder units. A 2.0-litre gasoline engine should be offered in some markets too. Production is due to commence at Pyeongktaek, SsangYong's main factory, in June and will continue until 2027 with a facelift in 2023.
Moving up from the Korando is the mid-size G4 Rexton that began production in 2017. This model is scheduled to continue until 2027 with facelifts due in 2021 and 2024. In addition to production at Pyeongtaek, the Rexton is also assembled at Mahindra & Mahindra's factory in Chakan, India and at UAZ's factory in Ulyanovsk, Russia.
The Rexton was the first model based on SsangYong's Quad Frame ladder frame platform, giving it superior robustness for off-road driving. Engine choices come in the form of turbocharged 2.2-litre diesel or 2.0-litre gasoline units mated to a seven-speed Mercedes auto or a six-speed Aisin auto respectively.
The smallest SUV in the range is the Tivoli compact crossover. It launched in 2014 to tackle the growing segment dominated by models such as the Chevrolet Trax, Peugeot 2008 and Renault Captur. Following the Korando, this might be the second model SsangYong is expected to launch in the US although its specifications could be modified for that market.
European and Korean engine options include 1.6-litre turbodiesel and gasoline units, while US versions are expected to get 1.5 and 2.0-litre turbocharged gasoline versions. At some point in 2019, SsangYong is likely to launch a plug-in hybrid version following 2015's Tivoli EVR concept. Production takes place in Pyeongtaek and will continue until 2022.
MPVs
The second-generation Rodius is something of an oddity – it's a vast MPV that can be specified with up to 11 seats and can trace its platform back to the W124-generation Mercedes E-Class that launched in 1985. Many Mercedes engines and transmissions have found their way into the Rodius over the years including the OM612 inline-five-cylinder diesel in the first generation and the 7G-Tronic transmission in the second generation.
Launched in 2004 and built in Pyeongtaek, the Rodius was heavily revised in 2013, although it kept the same platform. With the growth of SUV sales, it's unlikely the Rodius will be directly replaced when it goes off sale in 2020. In 2013, SsangYong stated that, of its targeted 20,000 sales, it expected half to be in its domestic market. Numbers have fallen dramatically since then but the Rodius remains available in a handful of countries where it does modestly well.
Pickup trucks
The Rexton Sports pickup is the second vehicle based on SsangYong's latest Quad Frame ladder frame platform, following the G4 Rexton. It carries various names across global markets including Musso, Rhino and, in extended form, Rexton Sports Khan (Grand Musso in Europe). It's available in two pickup bed lengths – one with a 3,100mm wheelbase and a stretched 3,210mm version – with the latter able to carry a payload of 700kg.
Production began in Pyeongtaek at the end of 2017 and will continue for a decade with a facelift in 2022. Complete knock-down (CKD) kit assembly also takes place at the Ssangyong-SNAM factory in Plaschen Park, Saudi Arabia. The previous model – called the Actyon Sports – is still offered in some markets as a cheaper option below the Rexton Sports.
Concept vehicles
In August 2017, SsangYong's CEO Jong Sik Choi revealed that the company would launch a new SUV in 2021 or 2022. The name is unconfirmed but it's been attached to the project code D200. It's expected to be a large model positioned above the G4 Rexton to effectively replace the Rodius and is likely to be based on the Quad Frame ladder frame platform.
While the D200 will use a ladder frame platform, the D300 concept is thought to be based on the firm's X100 monocoque platform, making it more of a crossover than a rugged off-roader. It's likely to begin construction in Pyeongtaek from 2021 and will sit between the Korando and G4 Rexton in terms of size.
Due in 2020, SsangYong is expected to reveal a battery-electric version of the Korando, currently using the codename E100. It was previewed by the e-SIV concept at 2018's Geneva Motor Show – that model featured a 140kW motor, a 61.5kWh battery pack and a claimed range of up to 280 miles.
In 2015, SsangYong suggested that it had spare capacity on the Tivoli line which could be used to build a Jeep Wrangler rival. QUBE's analysts have speculated that the model could be called the Luvu and, in addition to the Korando and Tivoli, will potentially be part of SsangYong's US offering. It's possible that it could be revealed in late 2019.
Future model plan reports for other manufacturers can be viewed in the OEM product strategy summaries section of just-auto.com.
Future product program intelligence
More detail on the past, current and forthcoming models for FCA's car brands can be found in PLDB, the future vehicles database which is part of QUBE.
A focus on the Mahindra brand was the first part of a series looking into the future model plans of Mahindra & Mahindra's automotive division. Pininfarina Automobili followed, with this third chapter the final one in the M&M series. The next OEM to be looked at will be HMG and its three passenger car brands: Hyundai, Kia and Genesis.