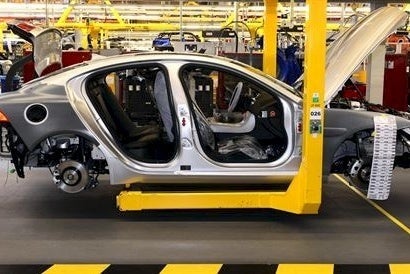 Jaguar Land Rover's announcement that it is planning a production plant at Nitra in Slovakia potentially raises its capacity by as much as 300,000 units a year. Calum MacRae considers the announcement in the context of the company's plant-model mix, its future growth strategy and outlines what the first model to be built in Slovakia could be.
It seems in the wider media that there's agreement that JLR's announcement this week concerning a feasibility study for a new 300,000 pa plant in Nitra is calculated to take the company toward its 800,000 goal. Personally, I think the announcement positions JLR "above and beyond" that target. A quick analysis shows that Nitra signals JLR's ambitions to manufacture more than one million units a year by the start of the decade, propelling the company well out of its premium niche and into direct competition with the premium brands with the muscle that scale brings. Additionally, I think it's clear that by doing some quick calculations that the first vehicle scheduled to be built in Nitra from 2018 can be ascertained.
Below is what is understood to be the rough straight-time capacity of JLR's plants at the moment:
Solihull, UK 350k
Halewood, UK 180-200k
Castle Bromwich, UK 130k
Changshu, China 140k
Itatiaia, Brazil 25k
Pune, India 5k
TOTAL 830-850k without the 300k of Nitra
On the question of which of the plants are pushing their capacity limits at the moment it's going to be either Solihull or Castle Bromwich, as JLR said that it will build aluminium bodied vehicles at Nitra and both plants are the only sources of the D7 aluminium platform vehicles.
Presently, I believe that you can estimate average annual production volumes (and future volumes) to be as follows for the two plants:
Solihull XE @65k
Solihull F-Pace @70k
Solihulle Evoque XL @60k
Solihull Range Rover @50k
Solihull RR Sport @70k
Solihull current and next Discovery @60k
Total 375k
Castle Bromwich XF @55k
Castle Bromwich XJ @35k (what JLR will probably plan for, though I doubt they'll achieve much over 25k for the life cycle)
Castle Bromwich F-Type @15k
Total 105k
So, the current and known future portfolio takes the aluminium platform plants right up to their limits and beyond if all market forces positively align. There's also no room for the potential of the F-Pace to be a smash hit, which is a distinct possibility given the previews, nor for its sister vehicle the Evoque XL (L560) to perform beyond initial expectations. The one model missing from the listing above is the next generation Defender (L663). L663 could see volumes anywhere between 30k and 100k a year depending on market positioning, bodystyle availability and powertrains. As we can see above, given current estimated infrastructure in the Midlands there's no room for it, while speculation concerning the aluminium intensive vehicle assembly plant in Saudi Arabia seems to have receded of late; so Nitra has to be the logical location for Defender production. One consideration for Defender not being first at Nitra is JLR's liking for the BMW playbook; the Bavarians have never been keen to take the double risk of a new plant and a new vehicle starting simulataneously (e.g. initial products at its Spartanburg and Leipzig plants were mid-cycle 3 Series).
What of the other 200k or so units of capacity at Nitra? At the moment, we know Nitra's capacity is going to be "up to 300,000" which allows for the plant to be initially crewed with limited shifts.
The Nitra announcement, combined with the recent signing of an assembly contract with Magna Steyr, shows that JLR's growth is not showing any signs of abating. In the past five years JLR has doubled sales to more than 462,000 vehicles and there is good reason to believe it can double its sales again within the next five years (assuming that China's market does not catch a bad cold).
See also:
UK: JLR announces plan for Slovakia plant