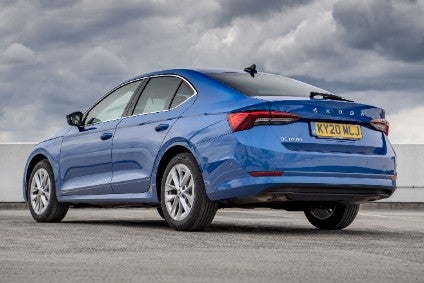 Twenty years ago this month, a new era began for Škoda as production of the first modern era Octavia began at Mladá Boleslav. Since then, the company's lead plant and several others have produced more than seven million examples over three generations. No pressure then to get the new model exactly right.
The company's slogan, Simply Clever, is meant to sum up multiple handy features such as slots in doors to stow umbrellas, an ice scraper inside the fuel or charging flap, a filler for the AdBlue shaped to take the nozzle of an HGV pump, and so on. It applies even more so to something which remains a sometimes overlooked reason for the brand's phenomenal success over the last two decades. Let's call it the Goldilocks factor.
Applicable to not only to the Octavia but also to the Superb, Fabia and others, making the cars not too small, not too big but just right, has been the brand's USP. At 4,689 mm, both Combi/estate (by 22 mm) and hatchback (19 mm) are slightly longer than the previous generation cars. They have the same 2,686 mm wheelbase dimension as the previous cars though, while boot volumes are up to respectively 640 (+30) and 600 litres (+10).
Even though Škoda pricing has risen to the point where the cars are no longer cheap, people seeking a vehicle that says "I got more than I paid for" are drawn to this brand. The new Octavia continues that subtle message, which has to be another clever move that the company hasn't messed with.
This is the most upscale looking and feeling Octavia yet. Things such as the shaping of the chrome-look interior door handles – somebody passionate about design excellence clearly came up with these – along with ambient lighting, a multi-level dashboard and soft-touch plastics lift the interior to levels above certain Volkswagens. There are also quite a few new options, including head-up display, something not even the Superb has had.
Aside from the umbellas, ice scraper and so on, other things which show the attention to detail in the new model include extremely generous storage space throughout the cabin. That includes the door pockets, an unusually big glovebox, a hinged cubby box below the headlights button, a good sized compartment under the central armrest and an open-top space ahead of the gear selector buttons.
It should go without saying that this being an Octavia, leg and shoulder room must surely be best in class and on the press tester, there was a full sized spare tyre below the floor of that enormous boot. It's equally good to see a wiper for the back window when so many cars – Tesla's Model 3 is but one example – fail to have one.
There are a couple of things which could do with improvement, and that includes the software for the DSG as the car can be jerky when parking on an incline even with the softest touch on the throttle pedal. Better to choose the manual option. Also, for those who don't like lane keeping assist, you must deactivate it every time the ignition is started. Thankfully, that's easy enough: press two buttons on the steering wheel.
The Volkswagen Group's latest 2.0-litre diesel is better than ever, and in the new Octavia, now compliant with next year's Euro 6d emissions norms. The entry-level version has an output of 85 kW (115 PS), or buyers can instead have a unit of the same capacity which puts out 110 kW (150 PS) or 147 kW (200 PS). For those who prefer petrol, the choices are 80 kW (110 PS) 1.0-litre, 110 kW (150 PS) 1.5-litre or 140 kW (190 PS) 2.0-litre. The most powerful diesel and petrol engines are linked to a seven-speed DSG and all-wheel drive is also standard fit.
Škoda has also now announced a 96 kW (130 PS) 1.5 TSI CNG option for relevant countries (three tanks offering a combined capacity of 17.7 kg plus nine-litre petrol reservoir), and there are also e-Tec (mild hybrid 48V belt-driven starter motor and lithium-ion battery,) versions of the 1.0- and 1.5-litre petrol engines, plus a 1.4-litre plug-in hybrid (150 kW/204 PS).
The Octavia has always been the D segment model that I recommend when anyone asks what family car they should choose, particularly as an estate. Diesel might be out of fashion but in the new edition of Škoda's best seller, it's still a great choice. The press tester returned 49 mpg and even with a boot full of buggy and groceries and full complement of passengers, most owners could expect better than 45mpg.
Pricing for the new Škoda Octavia starts at GBP22,160. In GBP28,460 SE L First Edition form with 150 PS 2.0-litre diesel engine and DSG transmission, CO2 is 120-141g/km and fuel consumption is 61.4-52.3mpg Combined, 0-62 mph takes 8.7 seconds and top speed is 141 mph.