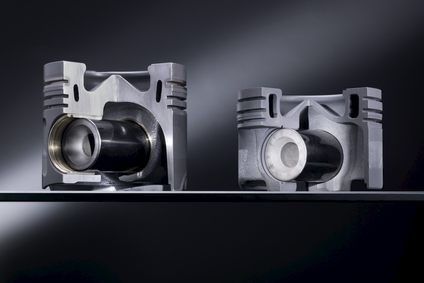 In an automotive era when vehicle lightweighting is all the rage and vehicle manufacturers such as JLR and Ford launch all-aluminium versions of mainstays of their product ranges it seems incongruous that diesel engine pistons are bucking this trend by increasingly moving to steel from aluminium.
For years, steel pistons have been the preserve of heavy truck engines and light vehicles have opted for the seemingly more cutting edge aluminium piston. Now, modern diesel engines are eschewing the aluminium piston for the steel piston in what would seem a retrograde step. Not so.
With OEMs driven to comply with ever tighter global fuel economy or CO2 regulations many of the easier and more cost-effective efficiency savings have already been made (think EPAS, start-stop, downsizing and turbocharging) leading the OEMs to look further afield for the next savings.
As Prof. Dr. Ulrich Hackenberg, head of technical development at Audi, recently attested there are "no more easy 10% savings in CO2, savings can just be 0.2g/km these days". Steel pistons for diesel engines are one such area where further fuel economy savings can be made.
Late last year Renault confirmed that it would be introducing steel pistons for its long-standing K9K diesel engine, while in July Audi confirmed it was looking closely at the technology. Now, Daimler has announced that – in a world first and presumably beating Renault into production – its Mercedes-Benz E350 BlueTEC would be moving to steel pistons from this September. While Renault's pistons will be applied to a cast iron engine block, Daimler will be applying the technology to its OM642 3.0L V6 aluminium block diesel engine.
Daimler's steel piston application, combined with its twin-wire arc spraying cylinder bore coating (called NANOSLIDE by Daimler), exploits the different thermodynamic properties of aluminium and steel to reduce friction in the piston's reciprocating motion. Initially the steel piston, as it expands at about a quarter of the extent of an aluminium equivalent, allows for a tighter fit within the block but during operation, as the two materials heat up, the aluminium block expands more than the steel piston thus resulting in a 40-50% reduction in mechanical friction. The net effect is a 3% fuel economy improvement.
Furthermore, while the use of steel may on the surface run counter to the lightweighting movement the fact that steel is more rigid than aluminium allows for a piston with shorter skirts, and in Daimler's case resulting in a piston that's 13mm shorter than its aluminium predecessor, giving a steel piston mass the same as aluminium.