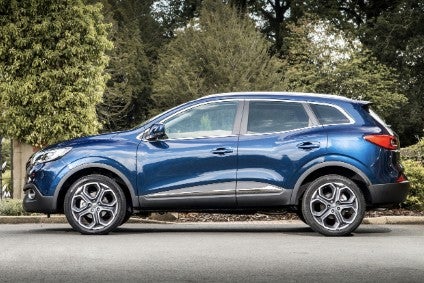 The Kadjar, a big seller across Europe, has always had one major weakness in its powertrain choices. The 1.2-litre petrol engine has a great CO2 number but lacks the torque that people switching from diesel are used to. So, supporting the TCe 130, in comes a new 1.6-litre unit, the TCe 165.
Renault is positioning the Kadjar to exploit the current anti-diesel sentiment.
Unlike in China, where the DRAC-built Kadjar is available with a 2.0-litre engine, CO2-based tax regimes in EU and EFTA markets have instead pushed people towards the diesel options. Although for some, the 1,197cc turbo petrol has an alternative appeal. Recognising that there is now a sweet spot for a relatively low emissions petrol engine above the 1.2, Renault is positioning the Kadjar to exploit the current anti-diesel sentiment.
Sales and manufacturing
Renault was once a major force in the British market but last year wasn't a happy one in terms of volume, with sales falling to 69,110 from 85,102 in 2016. December was especially ugly, with deliveries down by 47 per cent to only 3,194 vehicles. That put it at a deficit to Kia, Peugeot and SEAT, to name three other affordable brands.
The French firm's experience shows just how tough the European market has become for makes which are trying to move away from low-margin business. The shift into SUVs has been a great idea and Renault saw the trend earlier than most. The Captur is still selling well across the region and the Kadjar is finding ever more favour.
The brand continues to be the second most popular make behind Volkswagen, according to JATO Dynamics' definition of Europe. Data for the full 12 months wasn't available at the time of writing but a total of 103,400 Kadjars sold in the eleven months to the end of November is a good result.
China, which is the other main market for the Kadjar, saw Dongfeng Renault turn in a 2017 sales report of 72,188 locally-built SUVs.
China, which is the other main market for the Kadjar, saw Dongfeng Renault turn in a sales report of 72,188 locally produced SUVs, a 140 per cent gain year on year. By model, Koleos deliveries numbered 46,456 units and Kadjar sales were 25,732 units in 2017. The Sino-French JV will be pleased by that, with the larger SUV obviously being the more expensive of the two available vehicles.
More SUVs are planned to be added at the Wuhan factory which makes the Kadjar and Koleos. A slide in Renault's 2017 Drive The Future presentation displayed an outline of what was called a 'new body type C-SUV' for Russia, China, Brazil and South Korea. This model is linked to the Duster. No release date or any other details were given but 2019 seems to be a fair bet on when production should start.
China's Kadjar went on sale in March 2016 with the choice of 1.2- and 2.0-litre turbocharged petrol engines. Compared to Europe's model, it also comes with a panoramic roof and a different rear suspension system. The 2.0-litre engine is locally manufactured.
The DRAC facility includes a vehicle assembly plant, a powertrain plant and an R&D Centre. It has an initial production capacity of 150,000 vehicles per year which has the potential to be doubled.
Groupe Renault is also thought to have plans for the Kadjar to take on rivals in the South Korean market. It might be exported from either Madrid or Wuhan, although build at RSM's Busan plant shouldn't be ruled out. It would theoretically be sold as the Samsung QM5, supplementing the QM3 (Captur) and QM6 (Koleos).
Some believe that Samsung is to be replaced by the Renault brand later this year or in 2019. The reason? To give the division some 'European' allure: last year was another strong one for imported vehicles and RSM (100,536) was overtaken by SsangYong (106,677).
Meanwhile, back in Europe, the Kadjar has been in production at Palencia for almost three years now. As there are so many of them on British roads, it's hard to imagine that Renault wasn't in this segment until relatively recently – UK deliveries didn't commence until October 2015, although LHD build started in April of that year.
I've written about this model before and since then, yet more rivals have appeared, while others have been replaced. Still, the Renault remains a deservedly popular choice for many in this segment.
Interior – better than a T-Roc
Even if the perception of interior quality isn't up to say, Kia, it's perfectly fine, let down really only by minor faults. People do notice such things, so the small circumference, not deep enough cup holders which are shaped like a sideways 8 (positioned between the front seats) are worthy of note.
The plastics are as good as what you'll see inside a 3008, Kuga, Grandland X, CR-V or Qashqai.
The black plastics are as good as what you'll see inside a 3008, Kuga, Grandland X, CR-V or Qashqai. Just don't expect the style of a Mazda CX-5. There is no faulting the instrument cluster though, with this being customisable to a variety of colours and layouts.
I have a love-hate relationship with CarPlay, and even though Renault's infotainment was initially quick to link to Apple's system, it often took a long time and many presses to find it. If you're happy to listen to the radio rather than your wired or Bluetoothed music then ignore my comments.
Something I rarely need to use is a car's horn. One trip saw a car almost change lanes into me on a motorway and that's when I discovered a too-quiet toot. Not all things about French cars have changed in recent decades, it would seem. This one needs to.
Other than making sure you are fluent in how Renault's decades old sound system remote controls work before setting off on your first journey in a Kadjar, there are no other safety issues with this vehicle. I seem to have mastered all the various push/pull/press/twirl ways over the years. It can take time to do so. Looking down to read what's what should never to be attempted whilst driving due to these buttons' positioning behind and below the steering wheel.
It took me many presses to find and then dim the overly bright centre console and digital instrumentation screens so again, this should never be done on the move. Against that, Renault grabs some bonus points for placing the hazard lights button high up in the middle of the dashboard where either driver or passenger can quickly locate it.
Driving dynamics
Take offs from traffic lights were as smooth as a Macron-Trudeau summit photo shoot.
The six-speed manual shift never once baulked, even when I stalled the car a couple of times at traffic lights. Until I got used to giving the electronic parking brake a moment to disengage, easing the clutch in was being done too quickly, and the Kadjar coughed and died. To its immense credit, the car immediately fired itself up again. So (almost) no need for a "sorry" flash of the hazards. Soon enough, take offs were as smooth as a Macron-Trudeau summit photo shoot.
There was a decent dump of snow during my time with the Kadjar and here, I expected it to be all but useless. Not so. The traction control system somehow convinced the non-winter tyres driving what is only the front axle to grip. A diesel would have been better, not to mention AWD, and yet even the turbo petrol engine has enough torque for a second-gear take off, thus avoiding mad spinning and sliding.
Unlike the T-Roc, this isn't an SUV which makes you want to jump in and drive it. Balancing that out, the Renault has a nicer interior and it also looks more premium from the outside. The big diamond on the grille works well at marking out the front end, there are svelte curves along the bottoms of the doors and the tailgate is a model of minimalist design. K A D J A R is picked out in large letters which are not too big and the body-coloured/black bumpers create just the right mix of urban and rugged style.
Engine choice
The 163hp engine joins that one other petrol unit and two diesels.
The 163hp engine joins that one other petrol unit and two diesels, one of which can be ordered with all-wheel drive. Renault has the curious habit of never naming its engines' capacities, instead using three letters and three numbers. After a bit of research, I can now translate:
DCi 110 (110hp and 260Nm 1,461cc diesel)
DCi 130 (130hp and 320Nm 1,598cc diesel)
TCe 130 (130hp and 205Nm 1,197cc petrol)
TCe 165 (163hp and 240Nm 1,618cc petrol)
Summary
I would probably recommend the DCi 130 as the best Kadjar for anyone who wants their torque to be maximised and also to have AWD. Renault is likely going to do well with the new engine though, as its various figures make it especially competitive for buyers seeking petrol power. The CO2 average is 139g/km, BIK is 26 per cent, the insurance rating is 19, and VED pricing for year one is GBP200.00.
The NEDC Combined economy is 45.6mpg and yet I saw 34.9 which could be explained by a lot of in-town traffic miles. The maximum speed is 127mph and 0-62mph takes 9.2 seconds. Pricing starts from GBP26,415 for the as-tested Signature S Nav model grade.