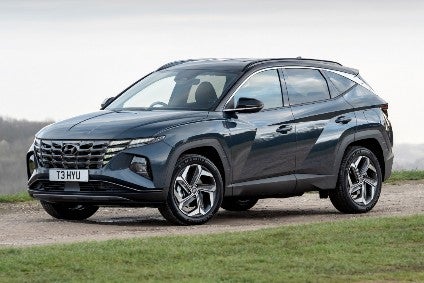 The fourth generation Tuscon is rapidly becoming one of Hyundai's most important global models. It isn't just the arresting looks either, with powertrain preferences stretching from diesel and petrol engines to mild hybrid, hybrid and plug-in hybrid. What's more, there is now an extended wheelbase model for China and for the first time, US production. 
That's the global picture and here in the UK, the NX4 series model is big news too. In a segment that was once defined by the Qashqai, the new Tucson stands out. You only need one glance to see why.
Design
The front has Hyundai's increasingly familiar big grille and multiple lighting elements (you can count at least ten), the side panels are a riot of contrasting angles and blisters, and then at the back end it's just as striking with some fang-like tail lights and the H badge positioned not on the bodywork but at the base of the tailgate glass. The days of anonymous Hyundais are a distant memory.
In some ways, Hyundai has followed Peugeot with this focus on cars that have a lot of drama in their appearance. That ends as soon as you open either front door, the dashboard being a more conventional affair, with the steering wheel an elegant design which is neither small nor flat at its top or bottom. And maybe the company is on to something here as the cosy cockpit approach can turn some people off. There's a lot of people who just want a round steering wheel and if you can also give them a decent sized touchscreen which isn't overloaded with menus plus a pair of big digital dials for speed and engine revs, well, all the better.
The overall ambience of the Tucson is exactly what the brand has been steadily building towards: a kind of Korean Volkswagen. Call it aspirational rather than mass-premium like Mercedes, and anyway, HMG has plans to expand the global reach of Genesis for that (into China and Europe soon).
It's hard to find much in the way of cheap trim pieces, with most of the plastics being of the soft variety, the carpet far superior to the shiny stuff we used to see in Hyundais and the interior door handles having a pleasingly firm weighting to them. The dashboard itself has a wrap-around top not unlike that of the Jaguar XJ's, adding to the ambience of this being something a lot more stylish than we once would have expected from the brand.
Hyundai – chasing Kia in Europe
The Tucson might still be new and the regional market volatile in terms of a recovery, yet Hyundai is suddenly doing really well. In fact, so well that it took back the lead from Kia in March, ACEA data showing their registrations as 50,131 (+73%) and 48,468 (+27%).
Hyundai ended March with a 3.6% share of the European market versus 3.4% a year ago and for the first quarter, the total was 3.5%. Sales for Q1 were down by 0.9% (108,048) and Kia remained ahead (+0.7% to 113,812). Regardless of the pecking order, it's good news for HMG to have two such powerful brands.
The number of new or refreshed Hyundais arriving in Britain during recent times has given the brand a boost, March sales showing a year-on-year gain of 25% to 9,065 units. Market share was 3.2% last month. The Tucson will likely play an ever stronger role as new derivatives arrive, such as the recently announced N Line and N Line S model grades. Priced from GBP31,110, the new trims are available for T-GDi and 48V Mild Hybrid engines, with Hybrid and Plug-in Hybrids to come.
The least expensive Tucson costs GBP28,710 and for that you get a 150 PS petrol engine in SE Connect form. There are other powertrain choices for what is quite a well equipped base level. These can be the same engine but as a Mild Hybrid with manual/e-clutch or dual clutch transmissions, and a Hybrid automatic (GBP32,235). Above these four variants come the N Line and N Line S variants as well as more expensive Premium and Ultimate alternatives. The most you can pay is GBP41,975 (Ultimate PHEV).
Here's all the options:
1.6 TGDi 150 PS manual
1.6 TGDi 150 PS 48 Volt MHEV manual + eClutch(iMT)
1.6 TGDi 150 PS 48 Volt MHEV DCT
1.6 TGDi 180 PS 48 Volt MHEV 4WD DCT
1.6 TGDi 230 PS Hybrid automatic
1.6 T-GDi 265 PS Plug in Hybrid automatic
There's also a 1.6-litre diesel (it comes with 115 PS or 136 PS as a Mild Hybrid) but that's not available in the UK.
The 150 PS mild hybrid offers a good compromise between decent performance and low fuel consumption (mid-40s to 50 mpg is possible), although I'd probably recommend the 180 PS alternative as it comes with all-wheel drive and doesn't use that much more petrol. The seven-speed dual clutch transmission is another good choice and it's far better than most of the DCTs found in Volkswagen Group vehicles, particularly at the lowest speeds. In short, it works just about as well as the best torque converter automatics.
Production
The Tucson for Europe is manufactured in the Czech Republic, accounting for some 70% of all production at the Nošovice factory. China looks as though it will be another strong market for the new model: the extended wheelbase L is built by the Beijing-Hyundai JV.
US production commenced in February and that's at Montgomery in Alabama, while the lead plant – one of HMC's Asan factories – started manufacturing the NX4 series model for the South Korean market last September. Facilities in Brazil (Anápolis) and India (Chennai) are expected to also make the new shape, replacing the generation three Tucson that is still assembled in both countries.
Summary
From having produced three generations of high quality if none-too-distinct Tucsons, suddenly Hyundai has taken a leap towards the top of the class when it comes to the appeal of the new model's design. And while it's still early days in terms of global sales, generation four looks as though it's going to have a rising profile in the worldwide C-SUV segment.