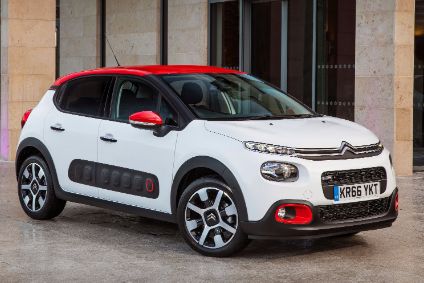 Groupe PSA's sales fightback continues, with Citroën starting to gain the new vehicles it has needed for some time to arrest falling sales across Europe. A new C3 is the latest fresh model to join the brand's line-up, with the first of several SUVs to come later in 2017.
A vital new model
It's been a better start to 2017 for Citroën than the final months of 2016, as the ramp up of the new C3 lifts the brand's sales across most European markets. ACEA's registrations data for February showed earlier this week that numbers were up by 1.7 per cent to 45,335 vehicles. Registrations for the first quarter will be a far better indicator of the brand's performance, given how the second and third months of every year are greatly impacted by the British market's registration plate change.
For the two months to 28 February, Europe-wide registrations reached 90,212 versus 86,781. In Britain, the equivalent totals were 5,370 for 1 January-28 February, which was a worrying drop of 30 per cent compared to the same period in 2016. Thus why the new C3 is such an important arrival for Citroën.
In France, where the car has been on sale since late last year, the C3 climbed to the number seven spot in January, Citroën selling 4,629 units of the new B segment hatchback. At the time of writing, data by vehicle for February was not available.
Architecture
The current Citroën C3 was shown to the media in June 2016 at a special event ahead of its public debut at the Paris motor show show. Developed on PSA's elderly PF1 platform – CMP, the successor architecture isn't yet ready – the new model sports an evolution of the larger C4 Cactus' Airbumps. These are there for the looks and also supposedly to protect against runaway supermarket trolleys. When I gently tried wheeling one of Sainsbury's metal chariots close to a door, the plastic appendage was clearly positioned too low to offer any protection.
"The new C3 has all the Citroën brand markers and all the qualities to give the brand new impetus. A major challenge for our best-seller, which accounts for almost one sale in five in Europe for Citroën. A comfortable car with real personality, it is set to appeal to new customers looking for a modern car of character," Linda Jackson, Citroën's CEO, declared when announcing the model last year.
The car has an especially distinctive front end, as Citroën attempts to turn back the clock to the days when its cars looked like nothing else on the road. The exterior comes with a standard two-tone effect and the buyer may select one of three colours for the roof, plus other choices for the foglamps, mirror surrounds, C pillar and those Airbumps.
Though it uses PF1, the C3 had been expected to be the first car to be based on the 'upgraded low CO2 small car platform for Europe and other regions' which GM and PSA announced they were developing in October 2012. The next Peugeot 208, DS 3 and Opel/Vauxhall Adam should also have used this architecture. However, in October 2013, PSA said the "B-common platform project is under review" but provided no other details. Perhaps that was the first sign of the eventual deal that will see Opel-Vauxhall sold to Groupe PSA (it doesn't close until late 2017).
PF1 was in fact re-engineered and renamed during the development programme for the C3, Citroën telling the media that the car uses 'Platform A'. This will not be the case for the Peugeot 208 and DS 3 successors, though. They should be based upon the more modern CMP architecture which is being co-developed with Dongfeng Motor. CMP will also offer electrification potential, something which Platform A/PF1 doesn't have.
Aside from the stacked lights, two-tone paint and Airbumps, another novelty on the car is the availability of what Citroën calls ConnectedCam. This integrated HD camera system films the road ahead (alas, no selfies unless you're in front of the car), the idea being to appeal to a group of owners who might want to post stills from a road trip to their preferred social network. After the novelty of that wears off, there's a far more useful function which is automatic activation of ConnectedCam if emergency braking takes place. So you should have some evidence in the event of a collision.
Powertrains, Manufacturing
As for driver assistance systems, you can specify 3D connected navigation with speech recognition, a reversing camera, lane departure alert, and blind spot monitoring.
Engines at launch are from PSA's PureTech and BlueHDi ranges, while the EAT6 latest-generation transmission also features. There's a choice of three PureTech three-cylinder petrol engines, with manual transmission: PureTech 68, 82 and 110 (Stop & Start). And there are two manual diesel powertrains: BlueHDi 75 (Stop & Start) and 100 (Stop & Start).
The majority of European production of the new C3 takes place in Slovakia (Trnava), though there is also some build at Poissy in France. The Porto Real plant in Brazil should be one other manufacturing location, though this is yet to be confirmed. China? So far, so quiet on that front. PSA seems more likely to instead make the similarly sized C3 Picasso successor there instead. That model won't be a people carrier this time around but a crossover-SUV. We'll most likely see that vehicle for the first time at the Frankfurt IAA in September.
What, no six-speed manual transmission?
If you like being noticed, this is the car for you. It's also well priced. The press test vehicle came with the 81kW (110hp) turbocharged 1,199cc three-cylinder PureTech petrol engine and was in Flair trim. ConnectedCam is part of that model grade. At GBP16,285, pricing is keen and the CO2 average is 103g/km. That means a Band B road fund licence and a 17 per cent BIK rating.
Initially, I thought I was seeing things when the gear lever had only five ratios on its top but in practice you don't miss a sixth gear. Torque, at 205Nm, is better than I had imagined it could be from such a small rev-happy unit. As a city car, even in manual form, the C3 takes some beating. At 3,996mm long, it's dead easy to park, the steering is light but not lifeless and the turning circle is 10.9 metres. Unlike a lot of cars in the B-hatchback class, there are great views out of the rear side windows too.
Lightweight construction
One of the best things about the C3 is how cheap it will be to run. Much of that comes down to weight. For such a light car – just 1,050kg in Flair form – it doesn't have a flimsy feel and acceleration also benefits from the lack of mass. Zero to 62mph takes 9.3 seconds and top speed is 117mph. PSA being one of the few OEMs to quote real world MPG figures, it's good to see its numbers (worst-best of 51.4-70.6mpg) showing the same sort of average which I saw: 59mpg.
Summary
PSA has done well to get this car onto the market ahead of the big hitters which are coming later in 2017: a new Fiesta, followed by the next Polo. Even after those models arrive at mid- and year-end respectively, neither will have the unmistakeable silhouette of what a Citroën now looks like. After too many years of unremarkable looking cars from the brand, that's got to be a good thing.