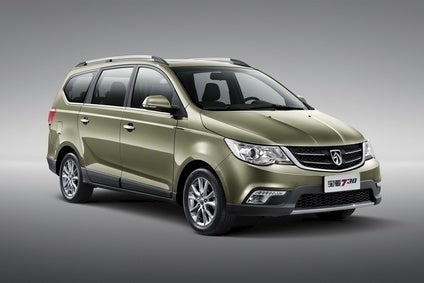 Just as in Europe, India or the USA, looking at China as one market doesn't give you the full picture. Differences across geographical areas are one reason why some models are suddenly hugely popular, while others are fading rapidly.
Let's look at what's hot and what's not in the Chinese market for new passenger vehicles. As we know, SUVs and crossovers are what people want, and demand is soaring. Prices have been slashed by a number of local OEMs, which is one of the major forces behind the sales surges for vehicles such as the Haval H2. This small SUV from Great Wall did not exist a year ago, so its performance at becoming the sixth best selling SUV in H1 is extraordinary. It also shows how the Chinese market is still nowhere near mature, despite the siren calls of some who believe a major decline might have begun.
Here is the top 10 of a passenger vehicle market that rose by 5% YoY:
SGMW Wuling Hongguang minivan: 331,336 (-16%)
Volkswagen Lavida sedan: 233,211 (-11%)
Great Wall Haval H6 SUV: 172,006 (+20%)
SGMW Baojun 730 crossover: 158,036 (new)
Volkswagen Santana sedan: 152,636 (-6%)
Volkswagen Jetta sedan: 150,052 (-2%)
Nissan Sylphy sedan: 142,785 (-2%)
Ford Focus sedan: 136,705 (-32%)
Volkswagen Sagitar sedan: 134,505 (-13%)
Hyundai Elantra Langdong sedan: 132,796 (+16%)
Looking at these ten best selling vehicles, the trend away from micro-minivans and minivans is as clear as the decline in demand for D, C and even B segment sedans. Ford appears to be in particular trouble. That is until you examine what's been happening with the special long-wheelbase C segment sedan that it created for China. Registrations of this model, the Escort, came in at 106,686, good enough to place the car in 18th position overall. Another model which once sold very well is also missing from the top ten but the VW Tiguan is soon to be replaced and right at the end of its lifecycle is still selling very well indeed. Here are the models which ended up in places 11-20 during the first half of CY2015:
Volkswagen Tiguan L SUV: 131,563 (+3%)
Volkswagen Passat sedan: 120,058 (-12%)
Chevrolet Cruze sedan: 119,242 (-6%)
Toyota Corolla sedan: 113,579 (+156%)
Hyundai Verna sedan: 111,214 (-3%)
Buick Excelle GT sedan: 108,981 (-16%)
Chevrolet Sail sedan: 108,950 (-13%)
Ford Escort sedan: 106,686 (new)
Geely EC7/Emgrand7 sedan: 100,920 (+56%)
Changan Eado sedan: 100,614 (+35%)
It's clear to see the power of affordability in the sample of these ten vehicles. Prices for most have either fallen in the last year, or in the case of new models, these have been launched at highly competitive levels. Toyota's new generation Corolla is a big hit for the FAW Toyota joint venture, while its near twin, the Levin, with only 59,010 registrations, has made less of an impact. Guangqi Toyota will certainly not be pleased about seeing the FAW car in 14th position while its equivalent could only make position 45.
Volvo's owner Geely Auto is having a terrific 2015, with its six year old EC7 model way ahead of the similarly sized Volkswagen Magotan. Sales of what is more or less Europe's previous Passat sedan (China's VW Passat is a larger car, and looks the same as the model sold in North America) fell by 29% in H1 to 78,050 units. Sales of the Geely Vision small car have surged by 358% to 56,329, while the GX7 is up 21% to 34,774.
Before moving on to some other models which didn't make the top 20 in the first half of the year but which nonetheless need to be singled out, let's look at Changan. This quiet achiever has really flourished in 2015 thanks to a couple of SUVs. That's not to underplay the success of the Eado, which as can be seen, rose by 35% to become the twentieth most popular vehicle in the world's largest market.
Changan registrations at home were up 40% to just under 590,000. Aside from the Eado, the brand saw sales of its Honor small minivan rising by 21% to 89,026 (25th place), followed by 88,754 units of the CS35 SUV registered (26th place and up 65%), and right behind it in 27th place came the CS75 (up by a spectacular 1,356%). All of these models also outsold a former big earner for GM, the Buick Excelle, sales of which dropped by 42% to 85,704.
Several factors are behind these mammoth shifts in the Chinese market. As ever, the rise of so-called third and fourth tier cities are one reason. Many buyers in such places have virtually no brand loyalty and look simply to finding a car which best serves their needs at an affordable price. That's why sales of models such as the Zotye T600 are up by 199% to 55,667 units. As owners of vehicles such as the Wuling line-up of small minivans become more successful, these vehicles are being swapped for SUVs or foreign brand sedans.
One of the biggest challenges for GM and its partner SAIC in the years ahead will be retaining those millions of buyers who currently drive a Wuling minivan or microvan. The Baojun brand has taken off to such an extent that the 730, a compact minivan-crossover, sold an astonishing 158,036 units in H1, and this time last year this model did not even exist.
So already, SGMW is showing that it can see where the next wave of buyers is coming from: what Baojun needs now though, is a range of SUVs to join the brand's next additional model, the 330 small sedan that will be launched in Q4. The first of these, the 560, has just gone on sale and it should soon start showing up in the best sellers' list.
What has happened in China during the first half of 2015 is by no means guaranteed to continue into 2016. OEMs must hedge their bets, as can be seen by the strategies of GM, Volkswagen , HMG, Ford, Nissan, Honda and other leading foreign players, as ever more small sedans and SUVs are starting to emerge from their product pipelines. A sudden major problem, however, is going to be pricing these vehicles at levels far below where the planners would have wished them to be even three months ago.
The dip in the market in June, which caused such a shock, might well be temporary. The biggest danger in that context is to do nothing. Remember that in 2014, some 24 million vehicles were sold in China. Taking the example of GM, which had a four-million vehicle slice of that, and assuming a 7% YoY average rate of expansion, that's equivalent to one additional factory (300,000 units per annum) being needed every 12 months just to maintain that percentage level of sales. Even using 3% – what many now believe will be this year's annual rate of YoY expansion – a lot of new capacity is still needed.
Perhaps for the market leaders then, it isn't a case of trying to find where the next big segment will be, but rather, making sure the big spending on multiple additional products, and plants, continues. Stop doing that, and it's already obvious what happens: a competitor with cheaper products and good marketing – Changan, Haval, Geely and Beijing Auto come to mind – will soon be eating your new older and pricier cars alive, and causing your careful plans to push the supposed cachet of a foreign brand name to unravel. Clearly, for every OEM with even a modest presence in the PRC, big change is here now, and there will be more to come, soon.