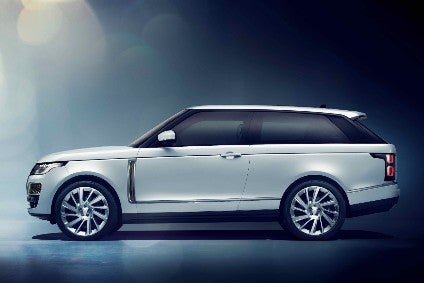 September was an uncharacteristically poor month for Land Rover, with deliveries down 19 per cent. That's being blamed on tariff rises in China. Europe and North America are still strong though, and new models should help get Land Rover back into growth mode in all major markets.
In contrast to what Jaguar Land Rover and its parent could well be planning for Jaguar's future, Land Rover seems set to remain mostly a maker of petrol, diesel and plug-in hybrid SUVs. Nonetheless, one or more EVs could be added to the marque's line-up depending on how strong demand becomes for such vehicles.
At the moment, there may be more production capacity and planned capacity for battery-electric SUVs than demand but overall, no-one really knows when and if buyers will fall for these kinds of vehicles in big numbers. JLR at least has a toe in the water with the Jaguar I-Pace.
B segment
Project L851, the so-called 'Discovery Junior', would have been a rival for the Jeep Renegade and due to hit showrooms in 2020. However, the project was reportedly shelved or axed in 2017.
L860, a small SUV which will wear Defender badges (it might be called Urban Defender or Defender Sport) is said to have replaced the L851. A firm launch date is not known, although 2021 is said to be pencilled in.
As for the vehicle's attributes, the look would not be dissimilar to that of the Nissan X-Trail/Rogue, only smaller and more premium. Petrol, petrol-electric and fully electric powertrains should feature, although diesel is not guaranteed.
It is not yet known what architecture this model will use or where it would be built. There have been assumptions that it will be based on the low-cost Tata-JLR D10 platform but some sources have hinted that it might instead be part of the project to eventually move all JLR vehicles to MLA, a new platform. Theoretically, production or assembly could take place in Brazil, India, China and/or Slovakia.
C segment
At the moment, the only model in the C segment is the Range Rover Evoque. That could well change, and relatively soon, if rumours of a battery-electric model are to be believed. The model code is L590 and Magna Steyr will supposedly manufacture this model on the same line as the larger Jaguar I-Pace.
L551, the next Evoque, will be in dealerships next year. As the existing three-door was never popular, Land Rover stopped manufacturing it in June and will not replace it, so L551 will be a five-door only, at least at first.
The platform is an evolution of what started life as Ford's EUCD architecture but with JLR's multiple modifications it is called D8. For the second generation Evoque, it will change names to 'PTA'. With Ingenium being a modular design, and CO2 legislation tightening globally, it is conceivable that a three-cylinder petrol version could become available in this model.
JLR stated in September 2017 that it will offer every one of its vehicles with some form of electrified powertrain from 2020 onwards. This could mean mild hybrid, hybrid, plug-in hybrid or electric. In the case of the Evoque 2, a plug-in hybrid, the provisionally named Evoque_e, is expected.
As regards a second generation Evoque Cabrio, this could well appear in 2020 even though it seems unnecessary: Land Rover dealers will have multiple other fresh models arriving at regular intervals throughout the 2020s.
D segment
The 4,590mm long Discovery Sport, which was evolved from the Freelander, will soon be given a major update after almost four years of production.
Aluminium is used for the Discovery Sport's roof, tailgate, bonnet and front wings. As for the platform, this is an evolution of the one from the LR2/Freelander and Range Rover Evoque but the rear suspension was new: so as to maximise interior space and allow the 5+2 seating layout, there are no strut towers. The 'D8' vehicle architecture has its origins in Ford's EUCD platform.
Next year, a plug-in hybrid powertrain will become available as part of a package of engineering changes. In order to accommodate the battery pack, JLR engineers have made major modifications to the basic platform, which also means that it is effectively new. To reflect that, D8 becomes PTA. This stands for Premium Transverse Architecture. After this facelift, which should be a major one, production should continue until 2023, which is when the successor is due.
At just over 4.8m long, the Velar is lengthy enough to almost be considered an E segment model. Closely related to the similarly sized Jaguar F-Pace, it was revealed to the media on 1 March 2017 and had its public debut later that month at the Geneva motor show. Production commenced in August 2017.
The rear- and all-wheel drive platform is the same as that of the Jaguar F-Pace, XE and second generation XF. This is based upon the PLA aluminium architecture as used by the Range Rover and RR Sport. Despite the supposed lightweight construction, the least hefty variant tips the scales at 1,804kg, while the V6 diesel weighs from 1,959kg. Unlike the RR and RRS, the standard 4WD system does not have a low-range transfer case or central differential.
The car's body is said to have 81 per cent aluminium content. The tailgate is composite but the boot floor is steel.
With the addition of the Velar, the Range Rover family became as follows:
4,390mm Range Rover Evoque
4,803mm Range Rover Velar
4,850mm Range Rover Sport
4,899mm Range Rover
5,199mm Range Rover LWB
The engine line-up for the introductory range, each variant of which is all-wheel drive, was:
D180: 180PS (132kW) & 430Nm turbocharged 1,999cc I4 diesel, ZF 8HP45 eight-speed automatic
D240: 240PS (177kW) & 500Nm sequential bi-turbocharged 1,999cc I4 diesel, ZF 8HP45 auto
P250: 250PS (184kW) & 365Nm turboocharged 1,997cc I4 Ingenium petrol, ZF 8HP45 auto
D300: 300PS (221kW) & 700Nm turbocharged 2,993cc V6 diesel, ZF 8HP70 eight-speed automatic
P300: 300PS (221kW) & 400Nm turbocharged 1,997cc I4 Ingenium petrol, ZF 8HP45 auto
P380: 380PS (280kW) & 450Nm supercharged 2,995cc V6 petrol, ZF 8HP70 auto
A D275 was then announced in May. This 275PS version of the 3.0-litre diesel has 625Nm. Another addition for the 2019 model year is optional air suspension. Also, particulate filters were added to the range of petrol engines and Adaptive Cruise Control With Steering Assist was a new safety aid.
As yet there is no word on an electrified variant but a PHEV powertrain will likely be added in 2019. A Velar SVR, powered by a supercharged V8, should be another additional powertrain coming in 2019.
Unusually, the Velar went on sale in North American markets almost as soon as it became available in European ones: US sales commenced in September 2017 for the 2018 model year. There should be a facelift in 2021 and a successor model in 2024/2025.
E segment
Such has been the number of PR stunts involving the supposedly out of production Defender over the last year or two, it's almost as if build is still going on, rather than having ceased almost three years ago. The latest, announced earlier this week, involves displaying a Defender with a special Selfridges livery inside the Oxford Street department store in London's West End. The idea of course, is to keep the model name alive while at the same time, associate it with premium, high priced brands.
It still remains unclear why JLR will have taken perhaps as many as four years to introduce a successor model, by the time one eventually appears. A rethink of the entire project is rumoured to be the cause, as JLR crunched the potential production numbers over and over, also looking at where the model could be manufactured at the lowest cost.
The next generation Defender (project L663) is expected to be based on MLA, a new aluminium-based platform. This will also form the basis of the L405 Range Rover and L494 Range Rover Sport and potentially, one or more Jaguars. Production of around 100,000 units a year is believed to be needed to make the Defender handsomely profitable. The former model averaged fewer than 20,000 units/annum in its final years.
To achieve the target there should be multiple variants, including a standard wheelbase three-door (with seating for five) and pick-up, plus a long-wheelbase pick-up and a five-door with seating for up to eight. Above these four should sit a far more expensive derivative which would logically be aimed directly at the Mercedes-Benz G-Class.
Production may well be in Slovakia. The Nitra plant has just opened, with the site's initial declared capacity set at 150,000 vehicles a year. There should also be some SKD assembly at a Tata-JLR plant in India.
The other large non-Range Rover model is of course the Discovery. Build of the current model commenced in the first quarter of 2017 but has subsequently been shifted out of Solihull and into Nitra.
Engines at the market launch in March 2017 were as follows:
2.0-litre four-cylinder Ingenium diesel biturbo
3.0-litre V6 diesel biturbo supplied by Ford
3.0-litre V6 supercharged petrol supplied by Ford
JLR's 2.0-litre Ingenium petrol engine is the obvious omission from the list of engines. Despite the weight loss, the Discovery is likely too heavy for the four-cylinder petrol engine's power and torque outputs in non-PHEV form. A petrol-electric plug-in variant will probably be added to the range in 2019.
A facelift for the Discovery is scheduled for 2021. There will probably be another update in 2024 ahead of a replacement in 2026. However, the fourth generation model might instead be launched in 2024 or 2025 if JLR chooses to switch it to MLA so that it is in sync with the architecture used by the then current Range Rover Sport and Range Rover.
Luxury segment
Land Rover has been manufacturing L494, the second generation Range Rover Sport, since May 2013. There has been one facelift, which was announced in October 2017. At the same time, the SVR's supercharged V8 gained 25PS, bringing its output into alignment with the 575PS produced by this supercharged 5.0-litre V8 in the Jaguar XJR575. A plug-in hybrid was also new, with the range consisting of:
240hp 2.0-litre SD4 (four-cylinder) Ingenium turbo diesel
306hp 3.0-litre SDV6 (six-cylinder) Ford-supplied turbo diesel
339hp 4.4-litre SDV8 (eight-cylinder) Ford turbo diesel
300hp 2.0-litre Si4 (four-cylinder) Ingenium turbo petrol
404hp 2.0-litre+one motor (four-cylinder) Ingenium turbo petrol plug-in hybrid
340hp 3.0-litre (six-cylinder) Ford supercharged petrol
525hp 5.0-litre (eight-cylinder) Ford supercharged petrol
575ps 5.0-litre SVR (eight-cylinder) Ford supercharged petrol
No further styling changes are expected, however, JLR's six-cylinder engines could become available in 2019.
L461, the third generation Range Rover Sport, is due to enter production in England in late 2021 or early 2022. It will use MLA, the same modified version of JLR's PLA/D7u architecture as the fifth generation Range Rover.
The fourth generation Range Rover had its global debut at the Paris motor show in September 2012 and is therefore now in the final period of what should end up being a nine-year life cycle. That certainly doesn't mean that JLR won't continue applying tweaks or indeed making some potentially major engineering changes.
The '2019 model year' range was announced in July. A 275PS 3.0-litre, twin-turbo SDV6 for European markets is the main novelty. It delivers a 17PS rise in power over the TDV6. The new diesel develops 625Nm of torque, fuel consumption is 36.7mpg (7.7 l/100km) and CO2 emissions are 202g/km.
JLR's own forthcoming inline six-cylinder engines are said to also be on the way for the Range Rover, as well as a biturbo BMW-sourced petrol V8. These might be added to the model as soon as 2019. The supercharged V8 engine will probably be phased out at the same time.
One change as part of the mid-life facelift in 2017 was the end of the Range Rover Hybrid and its replacement by the Range Rover P400e. This plug-in hybrid has a 300PS four-cylinder petrol engine whereas the Hybrid was powered by a V6 diesel. The PHEV is in fact the only four-cylinder Range Rover.
As per what is said to be ahead for the Range Rover Sport, JLR will likely fit its family of inline six-cylinder engines to the Range Rover next year as well as the BMW V8.
The fifth generation Range Rover is expected to enter production in England in mid-2021, based on the Modular Longitudinal Architecture (MLA), which is a fresh architecture again manufactured mainly from aluminium. The vehicle's project code is L460.
The Range Rover SV Coupé was revealed at the Geneva motor show. According to Land Rover, this is "the world's first full-size luxury SUV coupé". Only 999 cars will be made, each powered by a 565PS supercharged V8 with 700Nm of torque. The top speed is claimed to be 165mph with 0-100km/h said to take 5.3 seconds. Pricing starts at GBP240,000. An SV Convertible may well be announced once all units of the coupé have been sold.
A next generation Range Rover SV Coupé is likely to be released in late 2021, with that model using MLA, the same architecture as the next Range Rover. This will be the first series production Land Rover to be priced at a level in excess of GBP250,000. There will probably also be a convertible body to follow in 2022 or 2023.
Recent reports for many other manufacturers' future models are grouped in the OEM product strategy summaries section of just-auto.com.
Future product program intelligence
More detail on the past, current and forthcoming models can be found in PLDB, the future vehicles database which is part of QUBE.
This was the third of three features which examined the passenger vehicle brands of TML, the others being Tata and Jaguar. The next manufacturer to be featured in the future models reports series will be Ford Motor Company.