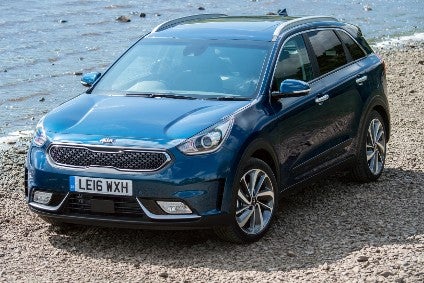 For its first attempt at a bespoke hybrid car, Kia came up with a crossover. Even if sales are nowhere near the level of the Prius, the Niro does seem to have found itself an ever expanding pool of keen buyers.
In contrast to every generation of the famous petrol-electric Toyota, with the Niro, there is no weird styling inside or out.
In contrast to every generation of the famous petrol-electric Toyota, with the Niro, there is no weird styling inside or out. Instead, it's just a good looking vehicle which delivers on its promise of great economy and low emissions.
There must surely have been a clear strategy when HMG's design teams were given their instructions for what became the Ioniq and Niro: don't make them look strange and therefore risk alienating potential buyers.
The Prius is hugely successful, albeit a lot less so in its current generation so again, perhaps HMG is on to something: make hybrid models less Marmite and more Marks & Spencer.
Where the Ioniq is typically Hyundai in its curves, the Niro instead looks quite sporty too, especially on 18-inch wheels which the test car was fitted with. There are no crazy-angular lines and inside it's a successful mash up of existing Kias plus some strong Volt influences. That means glossy white plastic on the doors, steering wheel and around the automatic transmission selector, yet the instrument pack is fairly conventional and could be from an Optima or a Sportage. The white trim, incidentally, is for the range topping First Edition version.
Joy of joys, there are no electronic bongs assailing you as you enter this car – please take note Hyundai and fix that in the new i30 – so it's all silence, which is what anyone buying a hybrid surely seeks. I know that my door is open and I haven't yet put my seat belt on. Thank you. And be quiet. Certain OEMs really should learn that loud, insistent, electronic nagging is not just unnecessary but a bad first impression for a test drive. So full marks to the silent Kia.
The instruments are large without being over-styled, all controls are logically positioned, with a foot operated parking brake the only slightly unusual feature. You soon get used to that.
Elsewhere inside it's also typical Kia, and somehow lots of hard-surfaced grey plastic looks good. Headroom is especially generous, and in the rear too, plus, at 421 litres (VDA), the boot is a decent size and that figure includes an underfloor tray. Fold the seats and this rises to 1,425 litres.
Perhaps HMG is on to something: make hybrid models like M&S rather than Marmite.
Sales performance
Kia Motors UK has had a good 2017 so far. May sales dipped by three per cent, which was in effect a rise given the larger percentage fall in the overall market. Note also in the SMMT's data how Kia, which pulled ahead of Hyundai UK earlier in the year, remains so. Even if Hyundai had a better May.
Worldwide, it was a tough month for Kia, due mainly to problems with Korean brands in China. Hyundai Motor's global sales dropped 14.2 per cent to 367,969 units last month. Things weren't quite so bad for Kia, its global tally down by 9.8 per cent to 219,128, company data show. What of the Niro specifically though? Kia has sold 87,992 of the model during the year to the end of May. The USA remains the number one market, sales for the five months to the end of May totalling 10,488 cars. Even though hybrids are selling at depressed levels in what is still the world's largest market for such vehicles, the Niro is even outpacing the Rio and catching the Sedona in Kia Motors America's line-up.
Powertrain
This additional model for Kia is sold mainly in North America, Europe and South Korea. It was launched with a 1.6-litre petrol-electric powertrain, with a plug-in hybrid (PHEV) version premiering at the 2017 Geneva motor show. Both are front-wheel drive only.
The Niro Hybrid Utility Vehicle (HUV) is powered by a 103hp four-cylinder direction injection engine from HMG's Kappa series. It was engineered specifically for hybrid applications and features the Atkinson Cycle, cooled exhaust gas recirculation (EGR), and a long-stroke-narrow-bore specification to maximise efficiency.
Something usual for a hybrid is a six-speed dual-clutch gearbox rather than a CVT.
An exhaust heat recovery system speeds engine warm-up by routing coolant to a heat exchanger in the exhaust. A 43hp tractive motor, known as the transmission-mounted electric device (TMED), works in tandem with the engine to produce a combined 146hp and 195 lb.-ft. of torque. Something usual for a hybrid is a six-speed dual-clutch gearbox rather than a CVT. And as for the 1.56-kWh lithium ion Polymer battery, this is located underneath the rear seat.
The Niro had its public debut at the Chicago auto show in February 2016. Production commenced three months later with sales in the Korean market beginning soon after.
The HUV is a parallel hybrid, meaning that the engine and motor work in tandem most of the time. You can also use EV model for short distances such as when setting off, descending hills and/or braking.
You couldn't call acceleration brisk – the 0-60mph time is 11.0 seconds. You know a manufacturer doesn't want to highlight a pretty ordinary time when it quotes 60 rather than 62mph as Kia UK does. So let's call it adequate to good and underline that no-one who wants a sports car is going to be looking at a Niro. I saw 47mpg overall and wasn't trying to drive economically either.
Top speed is just 101mph and the CO2 number is a superb 88g/km for the '1' and '2' model grades but 101g/km for the better equipped and therefore heavier '3' and First Edition cars.
Niro prices range from GBP21,295 to GBP26,995. Including the PHEV to come, Kia UK sees overall annual sales in the low thousands, which, given pricing, overall ability and the business users' move away from diesel, might yet prove to be a little too conservative.
Manufacturing
All Niros are manufactured in South Korea, alongside European market versions of the Optima at Kia's Hwasung plant in Asan Bay. This is KMC's largest factory, having an annual capacity of 600,000 vehicles per annum.
What's next?
An electric variant which can travel up to 300km is under development.
As for its Hyundai Ioniq brother, the Niro will be joined by an EV derivative. This will likely have the same battery pack as an updated Hyundai Ioniq EV. The existing EV has a maximum range of just 180km. A version which can travel up to 300km is under development and will be released in 2018, Hyundai announced in November 2016.
There will also be a PHEV Niro equivalent to the plug-in hybrid Ioniq. The Hyundai will be on sale in the USA, expected to be its biggest market, from September. The Kia should follow soon after. But there won't ever be a combustion engine-only Niro, Kia insists, the car's platform being specifically engineered for electrified vehicles.
Should HMG decide to bring autonomous cars to market within the next few years, the Ioniq and Niro will likely be among such models. While an experimental Kia is yet to be announced, an Ioniq AD concept was revealed at the LA auto show in November 2016. This prototype was memorable for having its LiDAR mounted in the front bumper rather than as lumps, bulges or equally unsightly oversized rails on the roof.
Kia is likely to build the first generation 'DE' Niro for a total of seven years, with a mid-cycle refresh in 2019. The replacement model should to arrive in 2022.