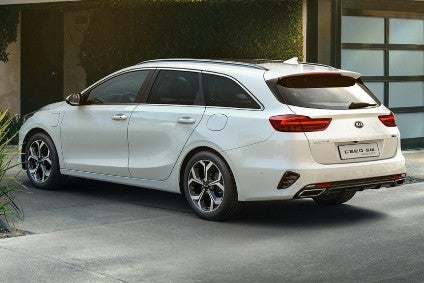 A good spread of petrol, diesel, hybrid, electric and plug-in hybrid vehicles has greatly helped Kia Motors Europe to thrive this year, as rivals faltered. One of its strategies has been to see where the demand for each alternative might be. In the C segment, the chosen low-CO2 option is PHEV but interestingly, the petrol-electric Ceed comes only in estate form.
Are manufacturers making or losing money on plug-in hybrids? It's tricky to know, especially when none will disclose the data. There are clues though, such as what Kia does with the Ceed Sportswagon PHEV in the British market: it's available in one high-spec '3' model grade, priced from a not inexpensive GBP29,995.
This is not a car to set your heart racing, but with the exception of the Focus ST and potentially a new Golf R Variant (we'll know one way or the other when the next R is revealed on 4 November) few family estates are. The Ceed SW PHEV could be the definitive generic wagon, especially when the car I recently tested was painted – you guessed it – white.
Vanilla or not, there's no getting away from how sensible this car is, and therefore a model which has a good deal of appeal to a great many people. We already know that the Ceed family is KME's best selling car, although the Sportage is the number one model. If you combine the registrations of the XCeed and Ceed that range becomes the leader, but also know that the Niro has become incredibly strong, followed by the Stonic. All in all then, the brand now has a healthy balance of models and is far from reliant on one or two as it once was.
The picture changes by country, with the Niro becoming Kia UK's best performer in September, even beating the Sportage which is often inside the national top ten. That recent performance has been heavily swayed by the availability of electric, hybrid and plug-in hybrid Niros. In fact, during Q3, 32 per cent of Kia vehicle sales were either HEV (16 percent), EV (12 per cent) or PHEV (four per cent). It's easy to see why next year's new Sportage will, it's said, offer hybrid and plug-in hybrid powertrains.
Even as the European market fell by 29% year on year between 1 January and 30 September, not all brands suffered too badly. One such is Kia, which has even managed to outsell its major shareholder's brand. The numbers are 311,325 (-20%) and 308,747 Hyundais (-27.9% YoY). September itself saw the trend continuing, Kia selling 51,883 passenger vehicles (+3.2% in EFTA/UK/EU and 4.0% market share) compared to Hyundai's 49,439 (-4.6%, 3.8% share).
The in-house competition no doubt keeps both marques on their toes and does seem to work in the favour of HMG, particularly in Europe where the brands are in a combined fourth place behind Volkswagen AG, Groupe PSA and Groupe Renault, BMW AG in fifth lagging Hyundai-Kia by around 18,000 units. Kia's achievement is especially impressive as Hyundai has always been well ahead of it in Germany, something which contrasts to their rankings in most other regional markets.
As we know, Britain is Kia Motor Europe's number one country and the desire for business users in particular to have electrified vehicles is boosting volumes of higher-priced models. Which is where the Ceed PHEV comes in. Plug-in hybrids tend to have a lot more appeal than EVs for many of us due to them being fine as a household's only car. The estate body is especially handy in that way and the boot will take a lot of gear (437/1,506 litres VDA) even with a big battery below it. Unfortunately that does mean this vehicle has to make do without any form of spare tyre.
Performance is good, 0-62 mph taking 10.5 seconds and the top speed is 106 mph. The 8.9 kWh lithium-ion polymer battery accounts for 117 kg of the overall 1,614 kg kerb weight. The turbocharged 1,580 cc engine is linked to a six-speed DCT and drive goes to the front axle only. Combined power and torque are 104 kW (141 PS) and 265 Nm, the motor alone producing 44.5 kW. It takes two and a quarter hours to replenish an empty battery from a 3.3 kW socket.
The recharging infrastructure in Britain continues to be expanded so life with any car which needs to be or can be plugged in gets easier. Well, that's the theory and sometimes the reality. Tesco's partnership with Pod-Point and Volkswagen has seen the creation of special spaces at many supermarkets. At my always busy local one, a couple of the four bays are usually free and bonus, there's a proper amount of space either side so the usual risk of damaged doors is prevented. It all seems great, particularly as the 7 kW charge costs nothing.
Here's what happened to me one recent day when the rain was atypically heavy. Get out of car, put on waterproof jacket, open boot, grab umbrella, take cord out of bag, realise you need both hands so leave umbrella in boot (making mental note to appreciate petrol station's roof next time you buy fuel), open flap on front wing, plug-in one end, plug-in other end to charging post, get back in car, tell app car's details, collect trolley, shop, return, un-plug. Too easy. Except for the un-plug in downpour part: the cord was locked solid onto the Kia.
A long wait later (don't you love hearing "your call is important to us") a helpful man at Pod-Point told me to rapidly unlock and lock with the key fob a few times. Boom, the plug was released from the Ceed and then also from the pod. Maybe it was an issue with a rogue charging post, maybe it was the Ceed's cable?
The cord not wanting to detach from the car wasn't the end of the world. I was safe and dry in the car and total time 'lost' was about 45 minutes. Found myself wondering though, how many people would have yelled at the luckless man working the rainy Saturday afternoon call centre shift when they eventually got through. Nothing to help them via a Google or YouTube search or indeed on Pod-Point's website. Nobody died, I munched down a large so-called 'share' bag of crisps whilst on hold plus I had what in years to come will seem like an early days of PHEVs experience. But the thing is, it did make me wary of those chargers. Perhaps an alleged 'Influencer' would have blamed the Kia?
In the interests of balance I must record here that the next time all went well. Hurrah. I did use a different charger, mind. And a different car (read all about the DS7 E-Tense soon). So what did I learn? That 'Free' electricity can sometimes come with slight inconvenience. And that some charging pods love your Kia so much that they can't bear to let it go.
The Ceed Sportswagon PHEV, the first plug-in model built by the brand in Europe, is manufactured at Kia's Žilina factory alongside the petrol and diesel versions. The Ceed five-door hatchback, ProCeed five-door shooting brake and XCeed CUV come from the same plant.
UK sales for the built-in-Slovakia models as at 30 September are: 2,556 Ceeds (628 diesel, 1,928 petrol), 1,999 Ceed SWs (387 diesel, 657 petrol, 74 PHEV), 945 ProCeeds (302 petrol, 643 diesel) and 6,122 XCeeds (966 diesel, 4,927 petrol, 229 PHEV).