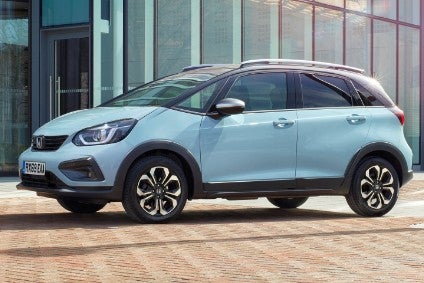 Suddenly, new models and electrification are the name of the game for Honda Motor Europe. Now, following on from the updated Civic and the e mini-EV comes a new Jazz range which includes an elevated body style called Crosstar.
In other parts of the world, the latest generation Jazz comes with a 1.3-litre petrol engine but that's not going to be available in the European region. Instead, we get Honda's new generation 1.5-litre plus two motors hybrid powertrain, drive going to the front axle only via an eCVT. It's remarkably economical, the official Combined number varying between 58.9 and 62.8 mpg.
Even with a lot of motorway driving, the Crosstar will still return in excess of 56 mpg I discovered and there was a surprise too: this tall hatchback can be engaging to drive, something you don't always associate with any Honda called Jazz.
Faultlessly reliable, terrifically economical, possessed of a strong resale value, long-lasting and with a fantastically roomy and flexible interior, yes. But a car you look forward to driving? Not so much. Now, even with the higher centre of gravity which comes with the Crosstar, it's a Jazz that keen drivers have no reason to sneer at.
Announced at last year's Tokyo motor show, this new model went on sale first in Japan, back in February. It's built there too, production being based at the Yorii plant in Saitama prefecture. RHD and LHD European market deliveries commenced from late in the second quarter, with China's locally built Fit and Fit Crosstar added earlier this month. Due to how buyer preferences have changed – witness Toyota also having just dropped the Yaris – neither Fit nor Crosstar will be available in the US.
All versions of the car have three drive modes called variously EV (the lithium-ion battery supplies power to the electric propulsion motor directly), Hybrid (engine supplies power to the generator, which in turn supplies it to the electric propulsion motor, and Engine (petrol engine is connected directly to the wheels via a lock-up clutch).
You tend to drive the Crosstar as if it's a car with a combustion engine, especially as there is an abundance of torque. While some might be tempted to pull the shift lever down into B when descending long or steep slopes, most of us would rather do that via paddles so it's a shame there are none.
Other than the obvious silence of electric-only propulsion, it isn't always obvious what mode the car is in, albeit with one important exception. That occurs when you give the Crosstar a good prod of the throttle pedal, and what suddenly seems like an old-style CVT sounds as if it's come into play. It isn't as noisy as something like a Lexus CT 200 h yet it does seem incongruous with what is at all other times an admirably quiet car.
The sole other fault is suspension which can get a case of the jiggles at low speeds if the road isn't too smoothly surfaced. It's not bad enough to annoy or make anyone uncomfortable, just likely part and parcel of the longer travel springs (ride height is up 37 mm compared to the Jazz) and dampers and what is admittedly a short-ish (2,517 mm) wheelbase in a 4,090 mm long car.
If the car's nose wasn't so long, this would be quite a short vehicle and yet passenger space is excellent, the only compromise being a boot that's on the small side with the seats up (298 litres) but much better with them folded (1,199 l). Honda has really made the most of the rear passenger compartment though, with oodles of room in all directions.
Performance is comparable to others in this class such as the Ford Fiesta Active and Dacia Sandero Stepway but the Honda has the advantage when it comes to economy, CO2 (from 110 g/km) and of course, novelty. Combined power and torque outputs are also strong, Honda quoting these as 109 PS and 253 Nm of which the engine contributes 97 PS and 131 Nm. You could also make a case to include the A1 Citycarver as a competitor although you need to spend a fair bit more to get the Audi to a similar spec.
With Honda on the comeback trail in all European markets, the Crosstar should be a handy new offering for a dealer network which had been holding out for fresh products. Volume won't be high yet that likely won't worry the brand as it continues to edge ever more slightly upwards when it comes to pricing for its newer models.
The new Honda Jazz Crosstar comes in two high-spec model grades – EX and EX Two Tone – and costs from GBP22,635 or GBP23,585 respectively.