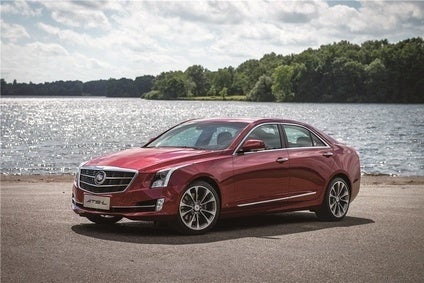 Despite Cadillac being a serial underachiever outside North America, GM is investing heavily in its one would-be global luxury vehicle division.
Post-bankruptcy, General Motors has spent heavily on product renewals and additional vehicles for Cadillac division. Until this month, very little of that was for products targeted at regions outside NAFTA. The unique to China ATS-L, a long-wheelbase version of the brand's smallest model, is about to go on sale there, but this is GM playing catch-up with Audi, BMW and others.
For Cadillac to really succeed, it must be given extra models, and these must be marketed worldwide. As Lexus and Infiniti have found, true luxury brands have to resonate with buyers in North America, Europe, Russia and China today, plus India in the years to come. Volvo too is working hard to join the properly premium inner circle where Audi, BMW and Mercedes-Benz rule, but this will take some years yet. Acura dabbles in some countries, but like Cadillac and Lincoln, it's too US-centric.
To GM's credit, the necessary investments in creating a global luxury brand are being made but these are certainly not cheap. Will the spending ever be recouped? As of now, it's hard to say, especially when the brand's sales remain so much lower than Lexus and its German rivals. In common with Volvo and Acura, US market sales have dipped by two percent so far in 2014, whereas registrations for Lexus are up 17 percent, Audi's numbers have risen by 13 percent, BMW by 12 percent and Mercedes-Benz by eight percent.
Looking first at where the problems lie in North America, it doesn't all come down to products. The division's vehicle range is relatively fresh, with the ATS and XTS sedans launched in 2012, the ELR coupe and CTS sedan only last year, followed by the ATS Coupe and a new Escalade this summer.
The extended range ELR has been something of a disappointment, its high price and limited range in EV mode have sent many potential owners to rivals' showrooms. Rivals that of course include Tesla Motors, which ironically doesn't offer a car with the ELR's in-built ability to prevent range anxiety.
What can GM do to catch its competitors? Well, the signs are promising. Models which failed or disappointed, such as the CTS Coupe and wagon, are not being replaced. The ATS is a very good car, is sized correctly for its segment as an alternative to the BMW 3 Series sedan, and also offers the option of all-wheel drive. The new coupe is a useful addition and next year's convertible will help too. A wagon is not so important in the US, even though BMW offers one, but in Europe, it's essential. GM is wise to wait until it has a new diesel engine before it has another attempt at relaunching Cadillac in EU markets.
What would really make sense for many countries is something like the Mercedes-Benz CLA-Class, and GM is said to be working on such a model. Unlike the CLA, Cadillac's small sedan will be rear-wheel drive (with AWD also available), so that it can be built on the same Alpha architecture as the ATS and CTS sedans. Expect it to be made at Lansing Grand River in Michigan as well as at Pudong in Shanghai, from 2017.
Another model which is much needed is a replacement for the SRX Crossover. GM has a great opportunity here, if rumours of what Toyota will do with the rival Lexus RX are true. Instead of a new RX in 2015, the word is, the car will have another facelift, and with a properly new SRX due to be revealed next year, this will be a perfect chance to properly take on the segment leader. The third generation SRX will probably shift build locations, moving from Ramos Arizpe in Mexico to the former Saturn plant at Spring Hill, Tennessee.
The SRX is not the only new crossover in Cadillac's future. There will be another, tentatively called 'ARX', sized to challenge the new Lexus NX and the next Audi Q5. Only a few details are known at this stage, as it's still three years from production. The ARX should share a FWD/AWD architecture with the Buick Anthem as well as the next Opel & Vauxhall Antara and Chevrolet Captiva.
Sitting above the ATS and CTS is the XTS. This big sedan replaced the DTS and STS three years ago. A mid-life facelift is about 18 months away, and an E2XX architecture replacement should then follow in 2019. The XTS is one of Cadillac's problem models. Designed to compete with the Audi A6 and A6L, it ended up being almost too big for the intended segment, being of a similar size to the A8. This stems from the fact that GM was not exactly flush with funds when the XTS was in the development stages, and – echos of the supersized Saab 9-5 – the thinking became one car for both China and North America. In practice, it doesn't quite work in either market, as its sales performance shows. For the next generation, expect its length to shrink, and an additional XTS-L to become available.
Sitting nicely just above a future extended wheelbase XTS will be the so-called LTS, a new sedan which GM hopes buyers of the Mercedes-Benz S-Class and Lexus LS will consider. It was recently confirmed by Cadillac chief engineer Dave Leone as being in the product pipeline and due to enter production in the final quarter of 2015. That suggests a debut at next August's Pebble Beach Concours d'Elegance, the Californian event having been the venue for two full sized concepts, the Ciel and Elmiraj, in 2011 and 2013 respectively.
The logical place to manufacture this big sedan would be Detroit-Hamtramck. The architecture is said to be Alpha-based, but bespoke, and known internally as 'Omega'. Engines? There should be an evolution of GM's 3.6-litre V6 and possibly a production version of the 4.5-litre V8 from the Elmiraj, meaning a choice of two-biturbo petrol units. A diesel might come later, but likely only if GM decides to launch the car in Europe.
Might the LTS find favour? A few years ago, it seemed that Mercedes-Benz, BMW and Lexus had the full size luxury sedan market sewn up. The Audi A8 and S8 broke into this exclusive club, as did the Maserati Quattroporte, and with an average and impressive 20,000 worldwide sales a year, Porsche has proved that there was also a ready market for a five metre long (or more in LWB Executive form) hatchback powered by V6, V8, diesel and even PHEV powertrains.
Come 2017, the global model line for Cadillac should look like this:
small sedan (CLA-Class rival)
ATS & ATS-L sedans
ARX crossover
CTS sedan
SRX crossover
XTS sedan
ELR (no replacement expected)
LTS
Escalade & Escalade ESV
There would still be gaps in the product range, but these would be mainly niche models. Such as? Well, something like the Audi A5 and A7 Sportbacks would work, as might a supercar such as the Acura NSX, though GM should be mindful of the sales disaster that the Corvette-based XLR turned out to be. Cadillac is also crying out for a model to take on the Range Rover Sport – something smaller and less blingy than the 'slade.
As a brand, Cadillac has a lot of work to do in some parts of the world, Europe being the obvious one. There's just no getting around the fact that Germany is the largest regional market for luxury cars and Germans see no reason to switch from BMW, Mercedes-Benz, Audi and Porsche. As Lexus, Jaguar and Infiniti sales there show. Elsewhere – the UK, for example – challenger premium brands such as Jaguar and Volvo, or increasingly Tesla in certain Scandinavian markets and The Netherlands, can find their own modestly sized level of acceptance.
You would hope that for GM's shareholders' sake, its bet on expanding Cadillac's model range will pay off. That would mean new top-end and lower-end sedans doing what is needed, namely getting the brand into people's minds as a serious alternative to the premium establishment. None of us will know if the experiment has worked until around 2017 or 2018. That GM is at least nowadays thinking medium to long term is in itself a positive sign, though.