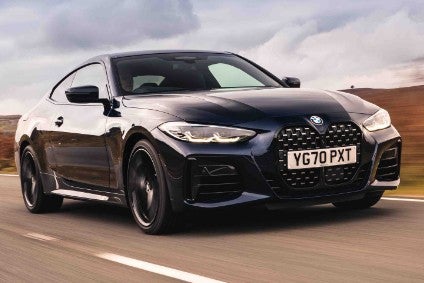 The fact that 'correction' kits are already available from the after-market for those seeking a less arresting front end for their G22 4 Series might not be a bad thing. After all, the publicity generated by the controversial looks of the E65 7 Series likely helped to make it the brisk seller that it became. BMW might even be on to something if the new Coupé reinvigorates a segment in steep decline.
The first thought I had when the press images of the second generation model were issued was to wonder how the car would look in US spec. Devoid of a front registration plate, there's no doubt in my mind that the G22 is transformed – I don't think it's the grille that's the problem. See for yourself. I would extend that to the Federalised G82 M4.
In time we'll forget all about what presently seems 'wrong' to many people, in the same way that no-one even thinks about things such as offset front plates on Alfa Romeos, or the once strange name of Dacia's SUV, or the Hyundai Veloster (and the new Fiat 500 3+1) having three doors. Remember also that two other BMWs which some people continue to profess dislike for perform well in the biggest market of all: sales of the '7 have doubled in China compared to 2019 and even with dealerships closed for months earlier in 2020, more than 6,000 X7s have been delivered year-to-date.
The new '4 is based on the same platform as the G20 3 Series. While BMW has made multiple modifications, they share a 2,851 mm wheelbase. Compared to the previous F32 Coupé, G32 is 128 mm longer (4,768 mm) and 6 mm taller but has a lower windowline and a centre of gravity which is 21 mm closer to the road.
The trend towards ever wider cars is seen with this one too, the rear track having expanded by 23 mm. That might be great for roadholding but in Britain, land of narrow garages and parking spaces, that could be a turn off for some potential buyers.
The UK market range consists of five variants: 420i (135 kW/184 PS, 300 Nm, 1,998 cc, four cylinders), 420d (140 kW/190 PS, 400 Nm, 1,995 cc, four cylinders), 430i (190 kW/258 PS, 400 Nm, 1998 cc, four cylinders), and 430d xDrive (210 kW/286 PS & 650 Nm, yet to be announced capacity, six-cylinders, available from March) plus the top-spec M440i xDrive. The interesting thing about the 430d is how much power and torque it produces: these compare to 195 kW/265 PS and 580 Nm for the 2,993 cc 330d and 330d xDrive. Will we see the new engine in the still only fairly recently launched 330 diesel too?
With one exception, all 4 Series Coupés are rear-wheel drive. All-wheel drive is optional for the 420d, and the M440i xDrive (275 kW/374 PS, 500 Nm, 2,998 cc, six cylinders) has it as standard, something which next year's 430d and M440d will also have. The torquier of those two forthcoming diesels will have the 250 kW (340 hp) and 700 Nm 3.0-litre straight six from the M340d xDrive saloon and Touring under its bonnet.
The most powerful petrol engine as well as all the diesels are 48 V mild hybrids, and every variant has a ZF eight-speed torque converter automatic transmission.
BMW has made LED headlights standard, with extra money buying Adaptive LED Headlights with Laserlight. Other options include an M Carbon exterior package for the M440 petrol and M440 diesel, comprising front-wing air intake finishers, mirror covers, a diffuser in the rear apron and a specially moulded rear spoiler all made from the material.
Stepping into the car it's a similar feel to the 3 Series and you notice certain changes over the F32. Things such as knee-pads on the sides of the transmission tunnel, the start/stop button now on the centre console, a different transmission selector lever, digital instrumentation with the model variant's name displayed and a larger touchscreen on the dashboard. Happily, BMW's iDrive Controller still exists and the company's insistence on not shifting HVAC functions to a screen continues here too.
There's of a lot of leather in the 4 Series but perhaps BMW believes customers in this segment still expect or want that material. It has become unusual for any new model launch not to contain statements and facts about the use of sustainable and cruelty-free alternatives so BMW is going against the norm here.
The extra length helps yet this is a genuinely roomy car for a Coupé, practicality also helped by there being a 40:20:40 split for the back seat and a boot capacity that's risen to 440 litres.
You don't buy a two-door BMW for its sensibility though do you? The M440i xDrive at least lets you think that in some other ways, helping to justify the decision. The mild hybrid system for example is there in the background, unnoticed, consisting of a 48 V starter-generator and second battery where energy from braking is stored. Up to 11 horsepower is said to be available so in theory, the driver doesn't need to push the throttle pedal too enthusiastically away from stop signs.
Something which is new to the 4 Series is a Sprint function for the transmission. Designed to maximise acceleration, especially when overtaking, this gives the driver an extra burst of speed. It's standard for the M440i and will be too for next year's M440d xDrive Coupé, while being available for other variants in combination with an option called M Sport package Pro.
Zero to 62 mph takes 4.5 seconds and the top speed is limited to 155 mph in the M440i, with official economy of 39.8-41.5 mpg and the CO2 average being 163-155 g/km. Pricing starts at GBP53,875 before options.
There are of course all manner of driver assistance systems, the great news being that none takes anything away from the enjoyment of the car. Front collision warning comes as standard, helping to prevent collisions with other vehicles, pedestrians and cyclists. All 4 Series Coupés also have Speed Limit Info (including no-overtaking indicator and Lane Departure Warning system with lane return by steering assistance). Cruise control with braking function is also a standard fit, while Active Cruise Control with Stop&Go function is part of the optional Driving Assistant Professional package.
Whatever anyone's opinion of the new 4 Series Coupé's looks may be – it's already grown on me – what matters more is how it drives and the answer is even better than the F32 did. I have a feeling that the 700 Nm of the forthcoming M440d xDrive will make it my favourite version but for now, the M440i xDrive with its beautiful balance and fantastic acceleration has to be the pick of the range.
The new G22 4 Series Coupé is on sale worldwide from this month, production for all markets taking place at the Dingolfing plant in Germany. G23, the Convertible, becomes available in March, followed potentially by G24, a four-door which could be called 4 Series Gran Turismo or Gran Coupé.