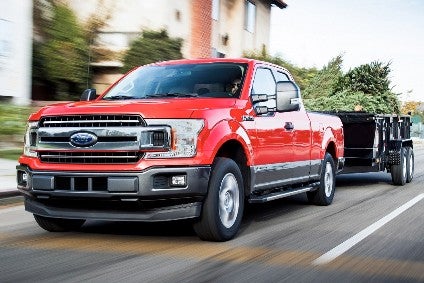 After taking a look at Ford's worldwide plans for cars into the second half of the 2020s, this second feature investigates what the brand is likely to be doing in crossovers, SUVs and pick-ups, and that includes certain battery-powered vehicles as well as JVs with VW, Mahindra and Zotye.
Crossovers & SUVs
The EcoSport is Ford's smallest SUV. The second generation of this Fiesta-based model had its global debut in pre-production form at the New Delhi auto expo in January 2012. The production model premiered two months later at the Beijing motor show. The vehicle is built in Brazil, China, India, Thailand, Romania and Russia. It was developed in Brazil at Ford's Camaçari Engineering Center in Bahia.
It took a long time for this model to reach the US and Canada, sales finally commencing in January (2018). The 1.0-litre EcoBoost engine is fitted to front-wheel drive variants, while customers wanting all-wheel drive must have the 2.0-litre engine. Both have a six-speed automatic gearbox as standard. This was the first Ford built in India to be exported to North America.
The EcoSport Storm has raised suspension and some additional plastic around its wheelarches. Also, the word STORM appears on its grille in large letters. It went on sale in Brazil and other South American markets in January.
The third generation EcoSport is expected to be launched in the second half of 2019. The main production locations should again be Brazil, China, India, Romania and Thailand, with assembly in Russia too. It might also be manufactured in the USA or Mexico.
Ford is said to be exploring a collaboration with India's Mahindra and Mahindra to produce a compact crossover for India. The internal project code is said to be B763. The vehicle in question, should it go ahead, would probably be positioned above the next generation EcoSport so around 4.3m long. A market release in 2021 or 2022 has been suggested.
One size up, Escape (mainly North America) and Kuga (China and Europe) are two names for the same basic model. The Escape went on sale in the US in June 2012, while the Kuga began to reach dealers across Europe from November 2012. There has been a facelift and several rounds of engine updates in recent years but no more major engineering changes are scheduled to take place.
The third generation Escape/Kuga should go on sale worldwide from mid-2019. Its architecture will be C2, the platform which premiered with the fourth generation Focus. Ford is expected to offer an Escape Energi/Kuga Energi too. Each will be a plug-in hybrid.
The new model should become larger and may also be available in seven-seat form. This will be for two reasons: to take on the seven-seat Honda CR-V in North America, and to give Ford of Europe direct rivals for the Nissan X-Trail and Qashqai. Currently, it has only the Kuga but with this model becoming bigger and more rugged looking, an additional vehicle will take on the Qashqai.
CX430, the extra model in the C/Compact SUV class, will complement the Escape and Kuga in North America and Europe from the fourth quarter of 2019. The model name for CX430 might be Escape Sport/Kuga Sport, Maverick or Timberland. The architecture will be C2.
Ford used to build a model called Territory in Australia but the new generation SUV to use that name is a completely different vehicle and about 20cm shorter. It will be manufactured in China by Jiangling Motors Corporation at its Xiao Lan plant starting in December. This is the same factory which has built the larger Ford Everest since August 2015.
Back in August, Ford told the media that it had co-developed the Territory with JMC. The model is clearly based on JMC's Land Wind Yusheng S330. This 4.6m long SUV has been around since June 2016.
The Territory offers three powertrain choices: gasoline, 48V mild hybrid with Miller-Cycle technology, and plug-in hybrid. The first vehicles are due to be in Chinese dealerships during early 2019.
Mahindra Group and Ford Motor Company told the media in March 2018 that they would jointly develop SUVs and a small electric vehicle. The 'midsize SUV' mentioned in the press release could be the replacement for the Mahindra XUV500. A Ford SUV might either complement or replace Ford of India's Endeavour. The small EV would replace an electric version of the Ford Aspire which the company will soon launch in the Indian market, having had some assistance with the project from M&M engineers.
There are no firm plans for any other SUV(s) or indeed, the 'small electric vehicle' to replace the Aspire EV, as Ford's statement makes clear:
"Mahindra and Ford also agreed to evaluate co-development of a compact SUV and electric vehicle, along with sharing powertrain portfolios, including the supply of Mahindra powertrains to extend Ford's product range."
CD539, the second generation Edge, is similar in size to the Jeep Grand Cherokee. It went into production in Ontario during the second quarter of 2015 for North America's 2015 model year. It has the same CD4 platform as the Fusion. Other rivals in North America and/or other regions are the Nissan Murano, Toyota Highlander/Kluger, Hyundai Santa Fe, VW Tiguan Allspace and Renault Koleos.
In November 2014, it was announced that a special seven-seat Edge would be manufactured in China by CFA and sold through Changan Ford dealerships. The car premiered at a special event in Guangzhou on the eve of the city's motor show's media preview day. Ford's 2.7-litre V6 EcoBoost engine is available in China's Edge. The car is made at the Hangzhou plant which Changan Ford opened in March 2015. Sales commenced in August 2015. The seven-seat format is not available in North America as the Canadian plant makes only five-seat variants.
The standard length Edge went on sale first in North America. This was followed by Europe, South America and Asia Pacific. There is right-hand drive too, for the UK and Ireland. Ford of Europe originally sold the Edge with two versions of the 2.0-litre Duratorq TDCi diesel: 180PS and 400Nm or 210PS and 450Nm. With the arrival of a facelifted model in 2018 (March, Geneva motor show), outputs changed to 150PS and 190PS, and there was a new engine called EcoBlue which produces 238PS.
Despite its size, Ford of Europe's Edge has just five seats, unlike some rivals such as the Hyundai Santa Fe, VW Tiguan Allspace and the 5+2-seater Land Rover Discovery Sport.
The diesels are not available in North America. Instead, there are three petrol engines. A 2.0 four-cylinder EcoBoost is standard for the Edge in the US, and the SUV is also offered with Ford's 2.7- and 3.5-litre V6 gasoline engines.
Ford Australia will begin selling the Edge in December. As Toyota owns the rights to the Edge name, it will be sold as the Ford Endura. It will be sourced from Canada. Only a five-seat format and a diesel engine will be available. Ford Australia decided to wait for the arrival of the mid-life facelift before launching the vehicle.
The Edge ST was a world premiere at the Detroit auto show in January. New for the local market's 2019 model year, it features tuned suspension, a modified eight-speed automatic gearbox and a biturbo 2.7-litre V6 producing 335hp and 380 lb.-ft. of torque. The rest of the Edge range was facelifted for the 2019 model year. No more major updates are expected between now and when the replacement arrives in 2021.
According to the agreement which Ford of Canada made with Unifor (the union which represents the workers at its Ontario vehicle and engine plants) in November 2016, Oakville will remain the main export plant for the Edge. A third generation of this large SUV is due to be built from September 2021 but the agreement only lasts until 2020. Nonetheless, Ford will have to decide on what if any investments it will make at the Oakville and Essex sites before 2020 if it intends to continue making vehicles and engines in Canada.
The next Edge will use the C2 architecture as introduced by the fourth generation Focus. Production should also again be in China. The development codename for the next Edge is said to be CDX706, whereas it was previously said to be CD539. There should also be an Edge Hybrid. Expect a life cycle of seven years, which means 2021-2028 with a facelift in 2024 or 2025.
The Everest (Endeavour in some markets) was developed by Ford Australia as a ladder-frame chassis SUV for mainly lower income countries. It was revealed to the media as a prototype at a special event in Sydney in August 2013. The production model then premiered at an event in China in November 2013. It is based upon the T6-series Ford Ranger/Mazda BT-50 pick-ups and is 4,892mm long.
A unique (restyled) version for North American markets will be manufactured at Ford's Dearborn/Michigan Assembly (Wayne) plant from 2020 on the same line as the Ranger pick-up. It will revive the Bronco model name, Ford confirmed in January 2017. There will be a Bronco Hybrid too.
A facelifted Endeavour/Everest should be launched in relevant countries from mid-2019. These vehicles and the Bronco will then be replaced in 2023. As Ford spent heavily refitting Michigan Assembly to manufacture the Ranger and Bronco, it seems likely that the replacements will use the same basic platform.
The next Explorer is expected to debut for the 2020 model year and switch back to being a RWD/AWD design (the current model is FWD/RWD). The Aviator is Lincoln's equivalent of this large SUV. There should be four engine options, each linked to a ten-speed automatic gearbox: 2.3-litre four-cylinder turbo, 3.3-litre V6 turbo, 400hp 3.3-litre V6 biturbo and 3.3-litre hybrid.
There might be a return to RHD production for Australia and certain other countries.
Ford announced at the Beijing motor show in April that the future Explorer would also be manufactured in China by its JV with Changan Auto.
The basic outline of the next Police Interceptor was revealed online in June. The new generation of this Explorer-based SUV will have a hybrid powertrain, be built at Ford Chicago Assembly plant and up-fitted at Ford's Chicago Modification Center. It goes on sale "next summer" the company says.
The Expedition and extended length Expedition MAX are the largest Ford SUVs, the XXL-sized Excursion having been discontinued many years ago. The current models had their world premieres at the Chicago auto show in February 2017. There is seating for up to eight, a biturbo 3.5-litre EcoBoost V6 plus Ford and General Motors' ten-speed automatic transmission.
The latest model is four inches longer, while the MAX has been stretched by an inch compared to the Expedition EL. Both are lower, but wider and use the T3 platform. This is steel but the body panels are aluminium.
Production commenced at Louisville Truck in Kentucky during October 2017. The next news should be the announcement of an Expedition Hybrid for the 2020 model year. This should use the same gasoline-electric powertrain as the future F-150 Hybrid. Following this there should be a facelift for the range in 2022 and replacements in 2028 for the 2029 model year.
Electric crossovers & SUVs
An EcoSport EV, although not yet confirmed, is likely to be the small electric SUV which Ford announced in January 2017. According to the company's statement, production would commence at Flat Rock in Michigan during 2020. The third generation EcoSport is due for release from 2019 so this would make sense. The battery variant should have a range of up to 300 miles according to the US system of measurement, and the vehicle will also be available in Europe and Asia.
Since Ford's announcement almost two years ago, insiders have claimed that the company has quietly decided to switch this model out of Flat Rock and into its Cuautitlan plant in Mexico. In place of the EV, Ford will manufacture an autonomous vehicle.
The Evos or Model E is understood to have evolved from an original project to create rivals for the Toyota Prius and Prius Prime into a crossover which will be available as a Hybrid, a PHEV, and an EV and therefore compete against the Hyundai Ioniq and Kia Niro.
Originally, Ford was understood to have been planning to build this vehicle or vehicles at Wayne Assembly in Michigan at the rate of around 120,000 units per annum. Job 1 was due in late 2018 for North America's 2019 model year. Then, plans changed. And changed again.
The Evos was to have been manufactured in Mexico at either an expanded Cuautitlán plant, or else at an additional facility in San Luis Potosí. This US$1.6bn plant, which had been under construction, was axed, Ford announced on 3 January 2017.
According to Ford's latest announcement (January 2018), it is "on track to deliver a full battery electric performance SUV that offers at least a 300-mile range, for launch in 2020". Whatever production name the production model uses, it will use a bespoke electrified vehicles architecture. It is not clear if there will also be hybrid and PHEV versions of this model. Some sources believe that there may in fact be two models – the electric crossover plus a smaller one to compete with the Niro and Ioniq.
Meanwhile, a project for what might be an electric crossover for China to be potentially developed with an Asia-based rival was announced to the media in November 2017. A 50-50 joint venture has been created and is called Zotye Ford Automobile Co. Ltd. ZFA will manufacture a range of electric vehicles in China under a yet to be named brand with production to take place at a plant which will be erected in Zhejiang province.
The media statement included this paragraph:
"Pending regulatory approval, the new JV will design, build, market and distribute all-electric passenger vehicles for China, the world's leading electric vehicle market. The establishment of the JV is a key step by Ford towards realizing its vision of a cleaner, more environmentally-sustainable future. The new JV will leverage a combined investment of 5 billion RMB (approximately U.S.$756 million)."
Pick-ups
Ford is claimed to be making plans for a Focus-based pick-up, which might be called Courier or Ranchero. This would primarily be for markets in the Americas. Where production would take place is a mystery: Ford will need to spend heavily at the relevant factory as for now, the only plants which have been retooled to manufacture the car are in Germany and China. The most likely locations would be in Argentina, Mexico and Brazil, although technically there is no reason why build could not also or instead be at Saarlouis or Chongqing. Production will likely start in 2021.
Ford is about to re-enter the mid-sized pick-up sector in the US and Canada having been absent for many years. This is with a modified and Michigan-made version of the rest of the world's Ranger. The current model, which was originally a JV with Mazda, dates to 2011. These pick-ups introduced the T6 architecture, which was developed by Ford Australia.
Production has just commenced at Michigan Assembly in Wayne, but the Ranger has been built in Thailand since mid-2011. This model is also made in Argentina and South Africa while there is knocked down assembly in Nigeria. Regular, Super and Double body styles are offered and depending on the market, up to four different engines: 2.0-litre four-cylinder diesel, 2.2-litre four-cylinder diesel, 2.5-litre four-cylinder gasoline or 3.2-litre five-cylinder diesel. Five- and six-speed manual gearboxes feature, as do six-speed and ten-speed automatic transmissions.
The Ranger Raptor was announced in February (2018). It has upgraded suspension and a bi-turbo diesel 2.0-litre engine as well as the ten-speed automatic transmission which the US-built Ranger will have as standard. Outputs are 157kW (213PS) and 500Nm. Production in Thailand commenced in July. Ford of Europe told the media one month later that the model would be released for sale in the region in mid-2019. No reason for such a long delay was stated. The Ranger Raptor will not be sold in North America.
The Federalised version of the Ranger was revealed at the Detroit auto show in January. XL, XLT and Lariat trim levels with chrome or sport appearance options will be offered when the 2019 Ranger becomes available to US and Canadian buyers in early 2019. Four-door SuperCab or SuperCrew cab configurations will be available and there also be an FX4 Off-Road Package. All Rangers for the US and Canada will be powered by a turbocharged 2.3-litre four-cylinder EcoBoost engine.
Ford has offered the Ranger to buyers in Mexico for some years. That market will likely switch to the Michigan-built model for its 2019 model year.
The next Ranger should use an evolution of the body-on-frame T6 architecture and again be built in Ford's own plants in Thailand, the USA, Argentina and South Africa.
Unlike the existing model, the future Ranger won't be a joint venture with Mazda, following the July 2016 announcement by the Japanese company that it will instead have its next generation pick-up supplied by Isuzu.
The potential for a Raptor variant in Australia – the Ranger is the best selling Ford in that country – is understood to have persuaded Ford Motor Company to make such a vehicle part of the next Ranger line-up worldwide. The Raptor is expected to be offered with biturbo four-cylinder diesel and petrol V6 engines. It will be premium priced just as the F-150 Raptor is in North America and elsewhere.
Ford and Volkswagen's announced alliance for light commercial vehicles might mean that the third generation Amarok is brought forward to 2025 or 2026 so that it can use the same architecture as the by-then three to four year old Ranger. Both models may also be co-built in the rival firms' factories.
The F-150, Ford's biggest selling model worldwide due to its domination of vehicle sales in the USA, is almost four years old. As is well known, aluminium/aluminum is used for the body-in-white, pickup bed and most exterior panels, but the frame is steel. There have been various changes for the V6 and V8 line-up, while CNG and propane powered trucks have also been added (new for the 2016 model year). A ten-speed automatic was another addition, this being new for the 2017 model year.
There was a facelift for the 2018 model year, the latest range having its public debut at the Detroit auto show in January 2017. These trucks went on sale in autumn/fall 2017. A diesel F-150 was also new for the 2018 model year. This is the company's 3.0-litre V6 which is manufactured in England at the Dagenham plant.
Another change for the 2018 model year was a 3.3-litre V6 base engine. This is now the only engine not to be paired to Ford and General Motors' co-developed ten-speed automatic gearbox, which was another change for MY2018. The 282hp 3.3 comes with a six-speed auto and replaces the 3.5-litre V6 (same power output). The main way to tell the facelifted trucks from the rear is 'F-150' tattooed onto the tailgate and from the front, the grille now has two bars instead of three. There are also new headlights and bumpers.
The 2018 F-150 engine line-up is as follows:
3.3-litre Duratec V6
2.7-litre EcoBoost biturbo V6
3.5-litre EcoBoost biturbo V6
3.0-litre Power Stroke biturbo V6 diesel
5.0-litre Ti-VCT V8
Ford is expected to add a four-cylinder EcoBoost gasoline engine for the 2019 model year. There should be a second facelift early in CY2022 and then a new generation model for the 2023 model year.
The current F-150 Raptor had its debut at the 2015 Detroit auto show. It is six inches wider than other F-150s and unlike the previous Raptor, it isn't powered by a 411hp 6.2-litre V8. Instead, there is a more powerful 3.5-litre EcoBoost V6, which is built at a powertrain plant in Cleveland. There is also a variant with four full-sized doors, the Raptor SuperCrew.
Ford has added a new feature, 'Trail Control' to the 2019 model year Raptor. The company describes it thus: Trail Control can be activated at speeds from 1 mph up to 20 mph, and Raptor is the only pickup that allows the driver to operate Trail Control in all 4×4 modes. The new feature can help overcome steep obstacles by automatically directing torque to each wheel then braking to smoothly bring the truck down on the other side. It also can help in digging the truck out if it happens to get stuck in extreme sand.
The Raptor should have a facelift for the 2020 model year and be replaced in CY2022.
The F-150 Hybrid will be available "by 2020" and sold in North America and the Middle East, Ford Motor Company told the media in January 2017. Production will be based at Dearborn Truck in Michigan, and the vehicle will "offer powerful towing and payload capacity and operate as a mobile generator". This model's introduction will probably take place during the second half of next year.
The current F-Series Super Duty trucks (F-250, F-350, F-450 and F-550) were new for the 2017 model year. Each uses the T3 platform as introduced by the F-150. Production at Kentucky Truck in Louisville commenced in August 2016. The next news for these big vehicles should be a facelift for the 2020 model year. The successors should appear in 2024.
Rather than steel, aluminium is used for the body-in-white, pickup bed and most exterior panels of the F-150, though the frame is steel. The bed is also aluminium for all F-150s. However, for Super Duty trucks, the bed is steel.
In January 2016, Ford told the media that it would be building these models at a second plant. It was already known that production would be at Kentucky Truck but there is additional production at Avon Lake. This facility, officially known as Ohio Assembly, produces F-350, F-450 and F-550 Super Duty chassis cab configurations.
The larger F-650 and F-750 are commercial trucks. A new generation of these models was announced by Ford in August 2015. Production shifted out of Mexico and into Avon Park, a Cleveland area plant in Ohio. Previous generations had been built by Blue Diamond, a 15 year old Ford and Navistar International joint venture based in Escobedo. The F-650 and F-750 are usually sold as cab-and-chassis skeletons and customised for specialist use as ambulances, beverage delivery trucks and oilfield vehicles. Both gasoline and diesel derivatives are available.
Recent reports for many other manufacturers' future models are grouped in the OEM product strategy summaries section of just-auto.com.
Future product program intelligence
More detail on the past, current and forthcoming models can be found in PLDB, the future vehicles database which is part of QUBE.
This was the second of three features examining the passenger vehicle brands of Ford Motor Company. The final one will focus on Lincoln.