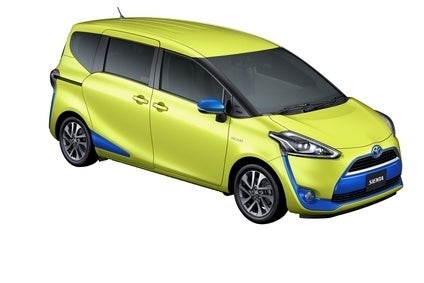 Vehicle sales ended the first half of CY2015 down 11%, due mostly to a tax rise for Kei-models. Yet not every OEM is suffering. Mazda was up 47% in June, while multiple European brands are also enjoying high percentage gains.
You have to hand it to Toyota Motor Corporation; no matter what happens, it always seems to succeed, especially when all of its would-be rivals suffer.
Even with the Japanese market in decline, TMC managed to sell 189,045 vehicles in June, compared to 188,392 in the same month of 2014. This is registrations of passenger cars and Kei-class cars combined. The main reason is the relentless onslaught of new Toyota models, the power and spread of TMC's dealer channels, and the strength of the Aqua (see top 30 list below compiled from JADA, JAIA & JMVA data). While this small hybrid car (sold in some countries as the Prius c) continues to dominate the market, the Prius family is in trouble, its combined sales being down by 31% YtD. The 690A Prius due in a few months' time should redress that.
Year to date, sales are down by 9.8% to 1,102,856 for Japan's largest company. This compares to -17.9% and 394,443 for the market's number two OEM Honda, and to -15.6% for third placed Nissan Motor , which had 326,910 registrations in the same period. Honda grabbed second spot a few years back after the success of its N Concept platform mini vehicles and it has done very well to maintain that position.
Add in demographics, the April tax rise for Kei vehicles and an imminent one for other cars and it should come as no surprise that Japan registrations continue to slowly slide, albeit with some big upticks in recent years. As is the case with the insanity of 17 million+ annual sales in Europe pre 2008, the mad excesses of the debt frenzy of the 1980s and early 1990s which gripped Japanese consumers and businesses alike will hopefully never return.
Let us also hope that Europeans keep ignoring those who continue to speak of car sales somehow going back to the highs of 2007. Apart from the expanding population of the south of England, and some countries in central and eastern Europe, the region is of course become a continent of older citizens with less desire to flip their car for a new one every few years.
As is the case with Japan, to be blunt, the industry and commentators must accept that Europeans are not replacing themselves, so demand in most EU countries has peaked. Plus, the majority of people now see how excessive personal, corporate and national debt ruined the car market in Europe, just as it has sadly done to the economies of many European nations, Greece being the best publicised one of late.
Back to Japan. It's no coincidence that the cars people are buying have high seating positions (same in Europe), are easy for entry and egress, and have fuel saving engines and drivetrains. In contrast to what is happening in China, the Japanese (and also the Koreans) are also showing an increased desire to consider a European brand car over a domestic one.
Foreign brands might be rising in popularity but TMC controls over a quarter of the Japanese market. And that's doubly impressive given that the 27.7% share for Toyota does not include Daihatsu (12.4% share) or Fuji Heavy, in which it holds a minority tranche (Subaru had 3.3% of its home market as at the end of the first half of calendar 2015). To these percentages, Lexus' 0.8% should also be added.
If every Japanese OEM with the exception of Mazda saw its market share reduced in June, then who were the winners? The astonishing sight of Mercedes-Benz in the top ten is revealing. With an impressive 19% YoY gain to 32,680 registrations, the German brand pushed Volkswagen (29,666, -17%) down to twelfth place, as did Hino Trucks, which took eleventh position thanks to sales of 29,871 (+11%).
BMW, with 22,674 sales (+1%), was behind Volkswagen, followed by Lexus (22,508 and flat) then came Fuso, and Audi (15,747, -2%). Mini is up by 33% thanks to new models, and took 17th position with 10,338 registrations ahead of Volvo (6,408, -11%) and UD Trucks, and Jeep (+5% to 3,486). Other foreign brands benefiting from the surge in demand for their products in H1 included Porsche (+31%), Renault (+13%), Maserati (+10%), Ferrari (+45% to 418 cars), and believe it or not, Saab sold 4 cars and Proton sold 2. Bugatti? It took last place with just the one vehicle being registered. Spare a thought for FCA too, with Fiat sales down by 10% and Alfa Romeo down by 34%. Worse still, only 13 Lancias were delivered. Compared to 20 Scania trucks, 41 McLarens and 76 Rolls-Royces.
With novelty so often one of the main drivers of why people choose one car over another, Mazda and a couple of other domestic brands have been cashing in on that in Japan. The new Demio, which is sold as the Mazda2 overseas, is racing out of showrooms (see below) in contrast to most other B-segment models. The same applied last year to the Suzuki Hustler, which, 18 months on, continues to be a strong seller due to its cute name and looks. Daihatsu is for the same reason seeing its little Wake go from strength to strength, even though it first hit the market in late 2014. Toyota wants some of that action so it has just launched its own variant, the Pixis Mega. TMC's strategy of leaving the Kei class to its Osaka-based small car specialist is now long gone: the parent company keeps adding ever more Daihatsu-built models to its own Pixis line.
Top 30 best sellers in Japan, H1 (includes both passenger cars and * 660cc Kei-cars)
Toyota Aqua: 121,240 (-2%)
Honda *N-BOX: 106,985 (+11%)
Daihatsu *Tanto: 87,602 (-35%)
Nissan *Dayz: 87,404 (-12%)
Daihatsu *Move: 74,566 (-9%)
Toyota Prius series: 71,401 (-31%)
Honda Fit: 67,492 (-45%)
Suzuki *Alto: 60,687 (+5%)
Suzuki *Wagon R: 57,857 (-38%)
Honda *N-Wagon: 56,236 (-36%)
Suzuki *Hustler: 55,047 (+37%)
Nissan Note: 54,454 (-9%)
Toyota Corolla: 54,187 (-16%)
Daihatsu *Mira: 52,013 (-34%)
Suzuki *Spacia: 45,169 (-32%)
Toyota Voxy: 44,850 (-16%)
Mazda Demio: 43,634 (+144%)
Toyota Vitz: 39,876 (-18%)
Honda Vezel: 38,218 (-18%)
Toyota Esquire: 36,566 (new)
Nissan Serena: 34,835 (-22%)
Daihatsu *Wake: 34,773 (new)
Toyota Harrier: 31,776 (+8%)
Toyota Vellfire: 29,426 (+29%) & its Alphard twin: 21,598 (+39%)
Nissan X-Trail: 29,023 (-15%)
It's clear from the above that hybrids continue to sell well in many cases (Honda Fit & Grace, Toyota Vellfire & Alphard) but this doesn't have to be the case, as the Mazda Demio shows, and the same applies to the CX-3, with 17,361 sold already. The bad news for the Japanese market's sixth best selling brand is that the Axela (Mazda3) is being cannibalised, its registrations having collapsed by 51% to just 13,017 in H1.
Subaru is a brand which quietly gets on with things but the performance of one of its models needs to be singled out. The new-ish Levorg, which is a clever name for what would otherwise be an Impreza estate, is up 504% to 16,694.
Finally, some bullets of other models which were diving or surging in H1, to record and watch in case they turn into a trend.
Take a look at what's going on with Kei-class roadsters, and where are Nissan and Toyota with these? Nowhere. To be fair, this segment does come and go in Japan, but it is interesting to see that new products have energised it.
Daihatsu Copen: +269% to 3,936
Honda S660: 3,332 (new)
Other stand-outs for good or bad reasons:
Nissan Moco: -47% to 12,226
Mercedes-Benz C-Class: +115% to 11,437
BMW 3 Series: -27% to 6,221, but add the 4 Series: +1,966 (new)
Audi A3: +17% to 5,902
Mercedes-Benz CLA-Class: +50% to 2,746
Mercedes-Benz A-Class: -41% to 3,199
Mini sales were 4,885 for the month of June, so it might soon overtake the Golf to become the market's number one foreign brand 'model' (even though it's a range of cars)
Ford sales were just 2,430 in H1 (-3%), some 300 behind Renault
DS is off to a decent start as a new brand with 466 registrations
Chevrolet is General Motors ' best performing brand: 453, -30%
Cadillac: 441, -11%
Hyundai: just 23 cars, -23%