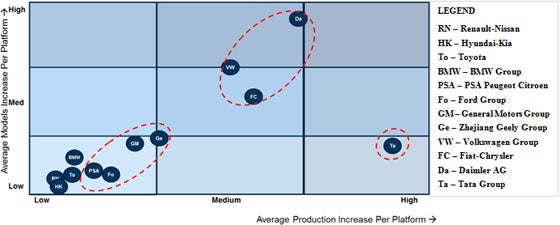 Fiat 's Sergio Marchionne has long argued that scale is all in the volume car business. Fiat has now taken control of Chrysler and the effective union of the two is to be cemented by a single management committee. Prana Natarajan, Senior Research Analyst at Frost & Sullivan, reviews the creation of a new auto giant.
Fiat S.p.A (Fiat) is about to evolve as the world's sixth largest automotive group, in the years to come, benefitting from stakes raised by the Italian automaker in Chrysler Group LLC (Chrysler). From about 2.1 million production volume in 2010, Fiat believes that this merger has the potential to take its consolidated production volumes to six million vehicles by 2014, tallying €100 billion in terms of revenue. Fiat acquired 35 per cent stake in Chrysler in 2009 and went on to increase the same to 53.5 per cent in July 2011, having bought out the stake from the US and Canadian governments. Fiat aims to further increase its stake in Chrysler to 58.5 per cent by the end of the year. Fiat also has the option of buying 40 per cent of Chrysler's shares from VEBA between Q3 2012 and Q2 2016, abiding by certain conditions. The group intends owning 70 per cent of Chrysler in the near future.
Fiat became one of the owners of Chrysler back in 2009, soon after Daimler AG (Daimler) had decided on its exit from the DaimlerChrysler Motors Company LLC. A "merger of equals", as it was called, melded Daimler with the old Chrysler. But, as George Orwell put it, some of us are more equal than others. In less than a decade's time, Daimler sold 80.1 per cent of its stake in Chrysler, and the remaining 19.9 per cent in 2009. The reason behind the failure of this merger was a cultural misalignment between the German parent and the all-American step-child. If the German line-of-control did not work for the Auburn Hill automaker, how close could the Italian equivalent be? Frost & Sullivan's research reveals that about 55 per cent of executives state that mergers fail primarily due to internal challenges. This article outlines the Fiat-Chrysler deal, touching upon financials and key success factors of this merger.
Chrysler – an Expense or an Investment for Fiat?
Prior to the increasing the stake in Chrysler, Fiat S.p.A had demerged its entities Fiat Powertrain Technologies (FPT ), Case New Holland (Cnh ) and Iveco into Fiat Industrials. This was a step towards identifying the Fiat Group Automobiles and Chrysler as a passenger car entity, by the time the Q2 2011 results were announced. One element from the Q2 2011 financial statements released by the group that stands out is the net debt that has surged from €2.89 billion in Q1 2011 to €6.27 billion. Excluding the Chrysler, Maserati and Ferrari businesses, the Fiat Group Automobiles earned €7.55 billion in Q2 2011, thereby making a trading profit of €187 million, against a speculated €175 million. Chrysler's contribution to revenues is €3.3 billion in the month of June alone, with a trading profit of €150 million. The merger has begun to make sense for the group, with Chrysler's potential to reap more profits. Going forward, Chrysler's contribution to Fiat's revenues is expected to be a larger proportion than earned by Fiat's own marques. Yet, it appears that the group intends to produce more of Fiat cars than Chrysler cars in the years ahead. While the Fiat and Chrysler labels had an approximate 60:40 split ratio last year, the trend ahead suggests a 66:33 split, by the year 2018. In terms of absolute volumes of production, certainly, there is an increase for both Chrysler and Fiat.
Towards A More Decentralized Top-Brass
When two business giants merge, change is inevitable in the top-management. Fiat Group's CEO Sergio Marchionne publicly stated that 25 executives will be managing the two brands at the C-level, eliminating redundancies in heading the functions of purchasing, engineering, quality and manufacturing among others. When Daimler and Chrysler came together, some of the American top-executives in Chrysler stayed, with their span of control largely handicapped by their German counterparts; some other pursued a more rewarding career in G.M. and Ford. Marchionne has made sure that the right talent is never lost, even if it could mean replacing one of Fiat's top executives with someone from the Chrysler, Jeep or the other brands. The new line of command, apparently, is to be shortlisted purely based on the individual's leadership skills and performance, without discriminating on grounds of ethnic origin.
Another bold step by the group is that each major geographic landscape will have its own headquarters – one each in Europe, North America, South America and Asia. This helps decentralize the decision-making process, thereby allowing each entity to opt for what best suits its business case. The Fiat group seems to have made the right moves to begin with – removing mirrored positions in an unbiased manner, retaining top talent from both worlds. The challenge is to reap synergies out of the common resources such as FPT, Mopar and a synchronized supply chain to serve both Chrysler and Fiat without compromising on the brand images of the individual marques.
Synthesizing Expertise towards Superior Performance
Smaller cars and diesel power-trains are very common in Europe. North America, on the other hand, is dominated by gasoline engines and heavier vehicles. Fiat, with its European origin, possesses expertise in making and marketing diesel vehicles, especially small cars. Fiat can transfer this expertise to the light pick-ups and SUVs, so as to find favour among American consumers. The challenge is all about making the diesel vehicles marketable in America, where new vehicle buyers are still averse towards diesel powered vehicles. Chrysler, as a native brand with a strong image, can help the group launch diesel vehicles in North America.
Moreover, Chrysler's year-to-date sales in the US grew by 21 per cent, whereas Fiat's European sales value, over the same period, has taken a dip of 12.7 per cent. Evidently, this is an element that synergizes the group's earnings and sales numbers. In June 2011, Chrysler produced a total of 179,000 vehicles of which 83 per cent were reportedly sold in US and Canada. Fiat, on the other hand, is popular in South America, Europe and parts of Asian emerging markets. Geographically, any risk of a bear market – both in terms of vehicle sales and stock-market – in one region can be balanced by a better scenario elsewhere. A visit to the Fiat Head Quarters in Turin would reveal Chrysler models bearing the Fiat badge, ready to be showcased for sale in local European markets. This is in line with Marchionne's statement that he does not distinguish between Fiat and Chrysler. As pre-crisis levels are expected back in the European and US economies only by 2013, Chrysler's high-margin low-volume business could help offset any underperformance by Fiat in its home market.
Fiat-Chrysler to focus more on Asia and Middle-East for Production
Based on production forecasts, the Fiat-Chrysler group is expected to have an increase of 61 per cent by 2018, over 2010 production volumes, globally. Production volumes from the Americas is expect to drop over the next seven years, while production volumes from Asia is expected to have a remarkable increase from 2 per cent in 2010, to 9 per cent of overall volumes in 2018. The group's Chinese production volume is expected to witness a twelve-fold increase by 2018. Taken together with projected volumes in Iran and India, more than 11 per cent of the total Fiat-Chrysler vehicles produced globally are expected to be from the group's Asian operations, depicted in Chart 1. One in five vehicles produced by the group in 2018 is expected to belong to the C-segment; a closer look into the group's platform strategy reveals that the concentration is mainly on C & D segments that are built on the C-EVO platform, while volumes are expected to drop drastically in the Sport & MPV segments.
Source: Frost & Sullivan
Platform Sharing Inevitable to Reaping Synergy through the Melding
Last year, 12 major OEM groups operated 223 platforms of which only 110 were shared platforms; i.e. approximately 50 per cent of platforms are shared. Frost & Sullivan analysis reveals that by 2020, out of 154 platforms that these OEM groups will operate, 94 will be shared platforms, representing 61 per cent of total platforms in that year. Fiat-Chrysler plans to reduce their total number of platforms from 32 down by almost 60 per cent to only 13 platforms by 2020.This also takes into account the group's plans of introducing 18 new models. During the same period, the production volume of Fiat-Chrysler is expected to grow at a CAGR of 16.1 per cent. About 86 per cent of production of the Fiat group is expected to be from their Top-5 platforms alone. Chart 2 illustrates Frost & Sullivan's Platform Strategy Measurement Index, according to which, Fiat-Chrysler ranks fourth globally, only behind Daimler, Tata and Volkswagen groups. Fiat-Chrysler is expected to increase the average production volumes per platform as well as the average number of models per platform by 2020. Clearly, this results in optimal utilization of each of the platforms operated by the group over the next decade.
Chart 2: OEM Positioning of Average Production Increase per Platform vs. Average Number of Model Increase per Platform between 2010 and 2020
Source: Frost & Sullivan
Plagued with an image of a gas-guzzler, Chrysler vehicles may now enjoy the FPT advantage, thus making them more fuel-efficient. Chrysler's sales-weighted fleet average fuel economy rating for April 2011 was 18.4 miles per gallon, ranking the Chrysler group of vehicles as the least fuel-efficient in North America. Fiat, on the contrary, has been consistently ranked as the group with lowest carbon emissions at about 123.1 g/km, ahead of nearest competitor Toyota by 4.1%. Powered by Fiat Powertrain Technologies, Chrysler is poised to become more fuel-efficient in the coming year. Yet, this strategy needs to be deployed without compromising on the overall driving experience of a Chrysler.
Platform sharing could result in economies of scale for systems such as transmissions, steering, braking etc. Such savings will be reflected directly in the cost-cutting. This gives the Fiat-Chrysler group an option of passing this benefit to the consumer by reducing the sticker-price, to make the vehicles more competitive. Alternatively, as these are price-targeted vehicles, it would be possible to beef up the car, with more power or other features, dwelling in the same price-band. Either way, a fully-loaded vehicle from the Fiat-Chrysler stables is poised to provide stiffer competition to a vehicle from Ford or Hyundai groups, which sell more volumes globally.
What shall the History Books Read
Chrysler has been the smallest of the Detroit-Three, in terms of production volumes; Fiat did not produce as many cars as Peugeot Citroen or Volkswagen, in Europe either. However, Fiat-Chrysler replaced Honda, falling behind Ford, as the seventh largest automaker in 2010, and aims to be the sixth largest automaker by 2014. A glance at the top spots in the automotive market would reveal that, with the sole exception of Honda, every OEM group was born from an alliance or a merger. Recently Suzuki 's announced that their cooperation with Fiat appeared more beneficial than with Volkswagen. Fiat-Chrysler's conquest in the triads seems to be in the direction, in becoming one of the top global OEM groups, to say the least. Fiat's joint venture with Tata Motors in India and Tata Motors' Jaguar Land Rover brands make it a largely entangled network of brands.
Going forward, synergy could be the only goal and leveraged buyouts in the automotive scene could result in a few OEM groups controlling the majority of the market in the decades ahead. Fiat's acquisition of one of the Detroit-Three reiterates the thought that, at the end of this decade, a vast portion of the world's automobiles could emanate from a few drawing boards. Fiat had earlier expressed interest in acquiring Opel in 2009, and the German government spokesperson had appraised their proposal to be interesting. A decade from now, if one were to analyse this deal in retrospect, the Fiat-Chrysler alliance would still be one of the most important milestone in the history of the automotive industry.