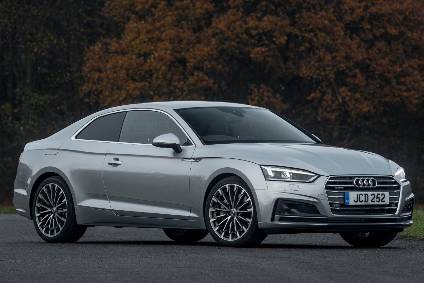 SUVs and crossovers might be stealing sales from many two-door cars but that doesn't mean premium-priced models are disappearing. Far from it. Audi continues to respond to the challenge of strong competition from the BMW 4 Series and Mercedes C-Class Coupé by rolling out multiple derivatives of the new A5 range.
The second generation A5 Coupé and S5 Coupé (project code: AU494) were announced to the media in June 2016. These were followed three months later by the A5 Sportback and S5 Sportback (AU493). All four car had their world premieres later that month at the Paris motor show with the coupés arriving at German dealerships in October. The A5 Cabriolet and S5 Cabriolet (AU495) would be added to the line-up from March 2017, it was announced in November 2016, these cars having their world premieres at the Detroit auto show in January 2017.
Engines & transmissions
There is a wide variety of engines plus three transmissions. The gearbox options consist of a six-speed manual transmission; a seven-speed dual clutch gearbox which is branded by Audi as an S tronic; and, for the first time, an eight-speed torque converter 'tiptonic' automatic.
Audi claims the range of TFSI and TDI engines which debuted in the A5 Coupé have up to 17 per cent more power and up to 22 per cent lower fuel consumption. They are as follows:
2.0 TFSI with 140kW (190hp) and 320Nm (236.0 lb-ft)
2.0 TFSI with 185kW (252hp) and 370Nm (272.9 lb-ft)
3.0 TFSI with 260kW (354hp) and 500Nm (368.8 lb-ft) for S5
2.0 TDI with 140kW (190hp) and 400Nm (295.0 lb-ft)
2.0 TDI ultra with 140kW (190hp) and 400Nm (295.0 lb-ft)
3.0 TDI with 160kW (218hp) and 400Nm (295.0 lb-ft)
3.0 TDI with 210kW (286hp) and 620Nm (457.3 lb-ft)
The vehicle supplied by Audi UK was fitted with the 190hp 2.0-litre diesel in normal form, rather than a special low emissions ultra. Like most other Volkswagen Group models which need Urea to meet the EC's emissions norms, the AdBlue tank's cap is located under the same flap as the one for diesel. Something which will please owners is a 24 litre tank available as a no-cost option, so refills won't have to take place too often.
Due to the ongoing negative publicity of TDI-gate, most people won't realise just now dramatic the improvements in the Volkswagen Group's latest diesel technology have been. The new A5 Coupe's 2.0-litre engine for example, will power the car to a top speed of 146mph. The key factor here is torque, which is 400Nm.
The fast shifting of the seven-speed transmission means 62 mph is reached in a mere 7.7 seconds and it sounds good getting there too. The S tronic is a hydraulically operated wet dual clutch gearbox. This is axially arranged and features a dual mass flywheel with centrifugal pendulum.
Audi claims up to 74.3mpg (Extra Urban) but a more realistic average will be in the mid-50s, which is still pretty amazing for a car which weighs 1,490kg (excluding a driver). The CO2 number, which is 111g/km, is also highly competitive.
The inside story
Step inside the A5 Coupe and it's all very familiar Audi, yet with some tweaks, such as a handy electric system which delivers the seat belt to you with a satisfying whir. The dashboard holds little in the way of surprises if you know the inside of an A4. The brand's Virtual Cockpit digital instrumentation is present, though that's an option. At just GBP250, it's a surprisingly affordable one.
Faults? The front-wheel drive chassis offers excellent high speed stability but it would have been better to have had the extra traction of quattro drive. The latest S tronic gearbox is a vast improvement over older ones and the seven ratios are a boon both for quiet cruising and fuel economy. You wouldn't want to spend too much time in the rear seats of this car, though. While the ride is good, neither head- nor leg-room are adequate for even averagely sized adults. Better to buy the A5 Sportback if you regularly transport people in the back of the car.
Global manufacturing
The A5 is one of the few Audi model ranges which is not also built in China. The reason for this is the relatively small market for coupes and premium brand five-door hatchbacks, along with virtually zero demand for convertibles. Production takes place at Audi's two main German plants – Ingolstadt and Neckarsulm – and there is also some smaller scale assembly at Kaluga in Russia. All three bodystyles use the MLB Evo architecture which they share with the A4, S4 and RS 4 ranges.
MQB Evo platform = longitudinally-mounted engines
China's VW Phideon and 2018's similarly sized A6/A6L sedans and A6 Avant/A6 allroad will be the next models for MLB Evo. Other vehicles which use this highly versatile architecture are the Audi Q7/SQ7 and Bentley Bentagya. Future models include the Lamborghini Urus, Audi Q6, Porsche Macan, Audi Q8, Porsche Cayenne and Audi RS 6 Avant.
Audi's sales drop
Compared to its utter dominance of the UK's premium brand market in recent years, Audi isn't having the best 2017, so far anyway. A lot of that is down to how long it has taken for the second generation Q5 to reach Britain. Perhaps things will change soon, but as at the end of the first quarter, the brand's registrations rose by just 0.4 per cent to 47,780 vehicles. Even in the overall blockbuster March, sales were up by only 1.26 per cent to 30,867 vehicles. Year-to-date, BMW has pushed its way into second place with 49,481 registrations (+6.42 per cent) with Mercedes-Benz way out in front on 54,837 (+16.08 per cent) thanks to the popularity of the C-Class series.
Globally, Audi has also had a challenging Q1. This, the company says, is down to 'temporary extraordinary effects in China'. That translates as a very public spat with its dealer network, which has now been resolved. Nonetheless, this was nasty enough to have caused Chinese market sales to plunge by 19 per cent in March. This also meant that global deliveries were down by 7.3 per cent in the first quarter.
A5 – the lifecycle
Given how new all three of the A5 body styles are, we won't be seeing any changes for some years. Significantly, the Sportback is being sold in the USA for the first time, though, as Audi tries to see if American buyers can be tempted by a five-door hatchback. GM has the same idea, having just revealed a five-door bodystyle for the Buick Regal and this will also soon apply in China.
After the arrival of the RS versions of the A5, we should see a facelift for the A5s in 2020 with a third generation range rolled out from 2024.