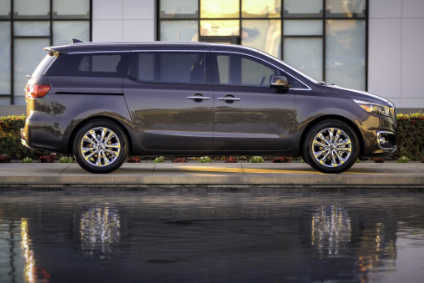 At 5,115m long and 1,985mm wide, the Carnival is just too big for many of Kia's global markets. That's a shame as its comfort and handling make it a better bet for large families than some similarly sized SUVs.
The XL-sized minivan segment isn't exactly the most fashionable one, though FCA is doing its best to change that right now with its US launch campaign for the Chrysler Pacifica. Not all vans are mere big boxes on wheels driven reluctantly by moms, the ads would have us believe.
Kia is nowhere near being the largest player in this global class but after FCA, Toyota (Sienna) and Honda (Odyssey), the Carnival (Sedona in North America) is a strong number four in the US, way ahead of Nissan (Quest).
Such vehicles are no longer the force that they had been but still, US market Sedona deliveries numbered 4,241 units in March and a respectable 10,231 for the year to date. Those totals represent year on year rises of around 600 and 3,000 vehicles respectively. With that sort of volume possible, it's a wonder that Kia's parent company remains absent from this segment: Hyundai ended production of its Entourage minivan in June 2009, US market sales having peaked at 17,155 units in 2007.
The current Carnival had its public debut just two years ago at the Busan motor show, production commencing at the Sohari plant in South Korea later that May. In that market, the standard engine is a 202PS 2.2-litre diesel in combination with a six-speed automatic gearbox but in North America, China, Australia and a few other places, there is also a 276hp 3.3-litre V6. It depends on the country but both seven- and eight-seat layouts are available.
This was the first vehicle for HMG's UM platform, which has since been seen in modified (i.e. AWD capability) form in the latest Sorento SUV. Kia says the body is 76 percent Ultra High Strength Steel (press hardened) or High Strength Steel and there are Ultra High Strength Steel tubes which run inside the A-pillars. Extensive use of adhesives and large diameter welds are also claimed to add to the overall structural integrity and strength.
All that metal is one of the reasons why the Carnival weighs 2,092kg in as tested diesel form, or 2,048kg with the V6. Yet despite the heft, economy is good, with the diesel returning a Combined average of 7.7 litres/100km, and the petrol V6 having an official average of 11.6. CO2 numbers are 167g/km and 212 respectively.
Despite its modest capacity in such a large, weighty vehicle, the diesel was surprisingly not overwhelmed, though no-one is going to be driving one of these vehicles as they would something like an MX-5. Body lean is well checked, there isn't that much nose diving under heavy braking and the 2.2-litre engine isn't buzzy at speed either.
The test vehicle came in eight-seater form and the interior was simplicity itself to reconfigure. But the biggest and best surprise was the size of the boot. Kia's engineers have been especially clever in designing a deep space for luggage, which gives the Carnival a major advantage over many SUVs which prospects would likely be cross shopping. Seats up space is 960 litres (SAE), which rises to 2,220 with the third row folded into the floor or as much as 4,022 litres if you remove the centre second row seat and have the outer two standing.
The old Carnival wasn't too van-like to drive and the latest one is even better in that respect. The hydraulically powered steering has good levels of feel and an 11.2m turning circle. Things were of course helped by the 19″ wheels on wide 235/55 tyres so it might be a different story for handling and roadholding with the base 17″ steel rims and 235/65 rubber.
Even the entry level variants have ten cupholders, four bottle holders, three USB charging ports and 12V power outlets, a conversation mirror, plus there are electric windows in the sliding doors and these have auto up and down functions in the more expensive model grades. Higher priced trims also add a 360 degree camera, hands free operation for the tailgate and electrically opening side doors.
Kia Motors Europe does not offer this model due to low sales of the previous generation vehicle and the contraction of the regional segment in which it competed. That's a pity, as the Carnival would make an excellent hotel shuttle and as VW and Mercedes show, there is much business to be had in that niche. But in parts of the world where garages and parking spaces are long and wide, Kia's people mover is one of the best vehicles of its kind and deservedly successful. And for a minivan, it looks pretty good too.