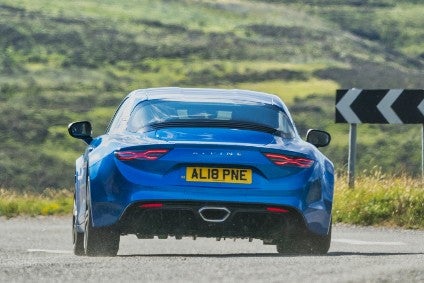 The reinvention of Alpine as a high priced sports car marque seems to be working, as deliveries of the A110 accelerate towards the 2,000 level a year after production commenced. Just how good is the car itself though?
Novelty is all when it comes to most sports cars. Having been around for almost seven years, the 718 Cayman and Boxster are the least popular Porsches; BMW dropped the Z4 two years ago and is hoping costs shared with TMC will make the business case for a new one work; while Daimler and Audi are said to be exiting the same segment when the Mercedes SLC and TT complete their current life cycles. And what about the even rarer 370Z? It will soon be ten years old and there's no sign of any confirmed project to replace it.
Because of what has been going on in the sports car segment, Renault was either brave or foolhardy to think it could succeed where so many long-established models now meet with a lack of buyer desire. And yet the Alpine A110 is doing far better than many had believed it possibly could. How will it be selling in a year's time or during the early 2020s though? Such rhetoric cannot of course be answered here and now, so better to look instead at why this little mid-engined delight is off to as good a sales start as it is.
It cannot be due to a low price. The A110, at least in the fifty thousand pound 'Première Édition' form (GBP51,805 to be exact) I recently had the chance to drive, costs more than some of the German competition. Production of this limited-edition version would be restricted to 1,955 cars, Renault told us in December 2016 as part of the brand-building activities surrounding a renaissance for the Alpine marque. That number is a reference to the year when Alpine founder Jean Rédélé established the brand.
All 1,955 cars were "reserved" within five days of the launch edition being announced, Renault claimed in January. It is not known which countries these will be delivered to. ACEA data for 30 European markets show that during the first quarter of 2018, only 38 cars were sold, 37 of these in March. Production clearly took a while to ramp up, as Renault's own data, announced in July, noted that 644 found owners during the first six months of CY2018. By the end of September, the total had reached 1,393.
Perhaps the 2,000 barrier will be broken by year end, helped by the addition of the Pure and Légende, two less expensive variants which we saw for the first time at the Geneva show in March. Renault will likely keep the A110 newsworthy by creating new batches of cars, each one with a fresh suffix, and playing up the exclusivity of these names. Bugatti had the same idea with the EB 16.4 Veyron, constantly announcing special versions over a nine-year life cycle. Alpine's pricing may be miniscule by comparison yet the principle is the same: "when they're gone, they're gone". The trick is to make sure that the car in question is worthy of becoming a highly desired object.
There is no hiding the fact that this not-inexpensive vehicle has Clio door handles, HVAC controls, and probably, many more components which the owner doesn't see the moment he or she sits in an A110 for the first time. Does it matter? The decades-old remote volume/music source controller is there too, hard to see but easy to reach behind the steering wheel. Renault could certainly have asked suppliers to quote for bespoke parts but there is the argument that being true to Alpine's heritage means the Renault links should be clearly seen.
Back in July, Graeme covered the manufacturing side of things in an informative piece which can be seen here. Suffice to say, the A110 build project wasn't originally going to be a solus Renault affair, but it became that way following the abandonment of a proposed JV between the company and Caterham Group. The former Société des Automobiles Alpine Caterham subsequently changed its name to Société des Automobiles Alpine.
Various concept models did a good job of building interest in the project, so that by the time the production model was eventually revealed, target buyers already knew much about the priorities. These were a design which instantly linked the new car to Alpine's heritage and the A110 Berlinette plus outstanding handling and agility thanks to an obsession with keeping weight to a minimum. Motorsport is another part of the picture, proving that Renault knows it must make the return of Alpine authentic.
To drive, the A110 more than lives up to the hype. It's small, feels nimble, has steering so beautifully direct that it makes the Renaultsport Megane's seem slightly vague (I drove that car immediately after the Alpine) and boy is it fast. I knew the power was only 252PS yet still had to double check my facts after the first drive. Zero to 62mph takes 4.5 seconds, and top speed is electronically limited to 155mph. It's even fairly economical and not too polluting as the averages are 46mpg (NEDC, Combined) and 138g/km.
An aluminium platform plays a main role in keeping weight down, as do panels for the upper body made from the same metal. Kerb mass for the Première Édition is quoted as 1,103kg. The turbocharged 1.8-litre engine develops its maximum power at 6,000rpm but will merrily spin well beyond. The aural satisfaction of doing that is recommended. Torque, at 320Nm, feels like just the right amount and drive to the back axle is delivered via a Getrag seven-speed wet-clutch DCT gearbox.
The brake calipers (guess what material they are too) were developed by Brembo, and the rear braking system, specific to Alpine, features an integrated parking brake actuator. Claimed to be a world first, its contribution to the weight saving goal is 2.5 kg. Otto Fuchs provides the 18-inch forged aluminium wheels, while Sabelt developed one-piece bucket seats that weigh just 13.1kg each.
My time with the A110 went all too quickly. This is clearly a car which was developed and honed by people who love driving. It's not wide so you can overtake easily. Also, there are great views to the sides and front. A pity then that the narrow back window is made worse by the unforgivable omission of a reversing camera as standard equipment. There is nothing else I would say Renault needs to change about the A110, having accepted that the front boot, which isn't too commodious, probably will be fine for the needs of most owners.
What I love most about this car is that Renault has created something properly exciting and authentic. The A110 doesn't have the word Porsche across its rear but in multiple ways, it's good enough to. What struck me in the hours after driving it – and the buzz of that experience remains – is that Alpine as a business division, if intelligently managed and developed, could well succeed.
The Premiere Edition is no longer available to order for the UK market. The line-up therefore consists of the A110 Pure (GBP46,905) – which comes without A/C – and the A110 Légende (GBP50,805). Both cars may only be ordered with white, blue or grey paint, while the PE came only in black or a different shade of blue.