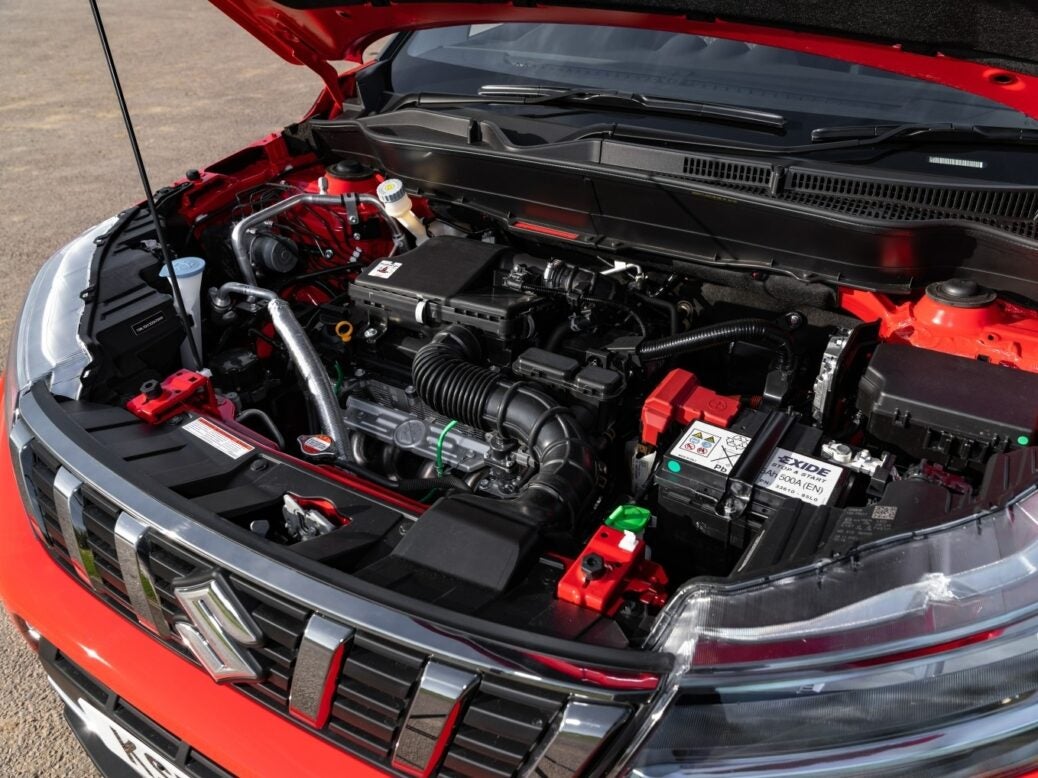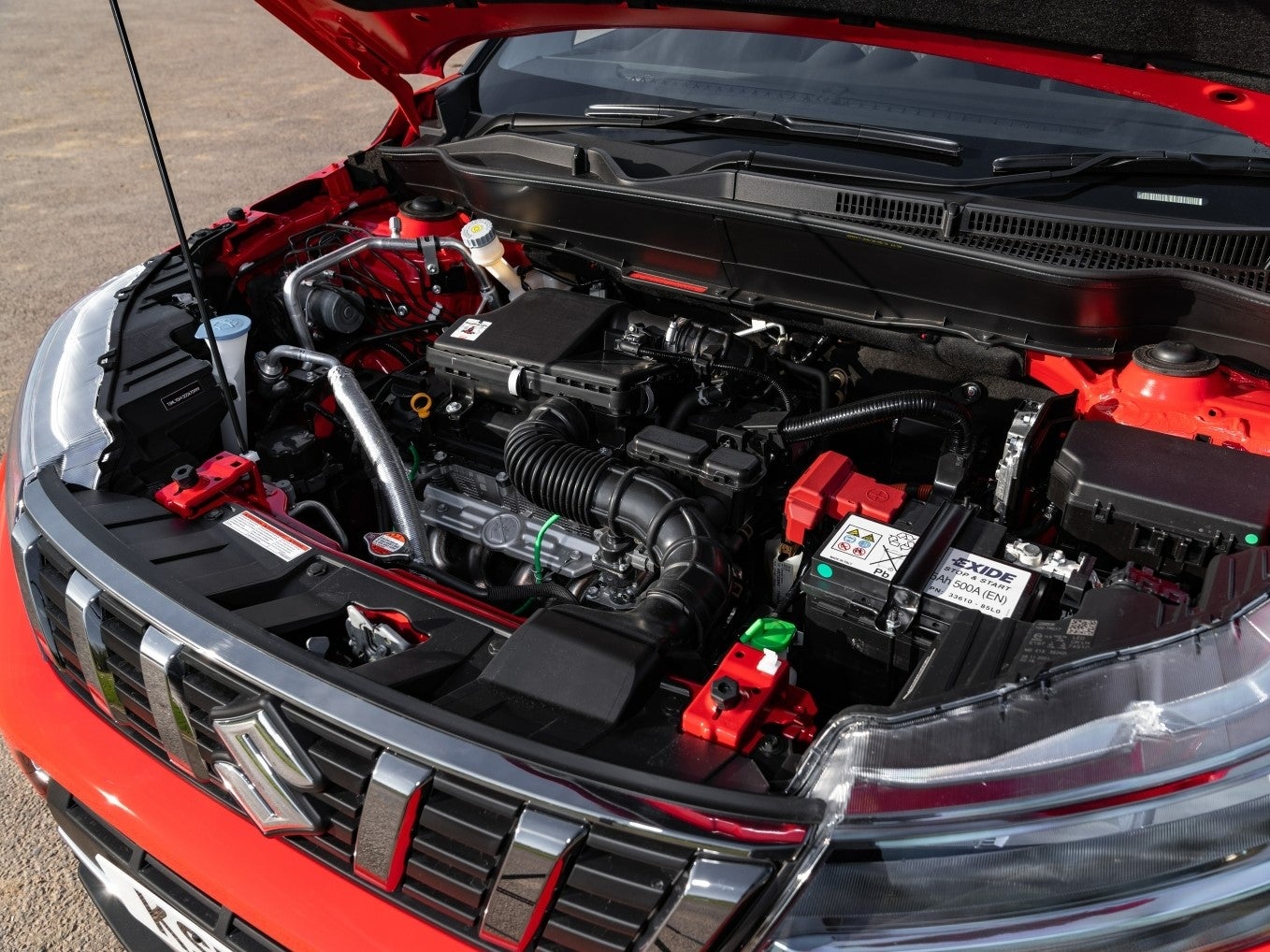 After 40 years of writing about the auto industry, I should have learned never to make assumptions. Toyota has a small slice of Suzuki and provides two of its full hybrid models on an OEM basis for Suzuki to sell here in Europe. Ergo, the new 'full hybrid' Vitara would have a Toyota powertrain? Wrong.
Instead of the Yaris hybrid powertrain I thought it might have borrowed from Toyota, Suzuki, which hitherto has developed a series of mild hybrid models, such as the Swift, using an integrated starter/generator and belt drive assist powered by a 12 volt battery, has developed its own high voltage, full hybrid powertrain, in-house.
While Toyota et al usually use a combustion engine combined with an integrated generator/starter/electric motor and a CVT automatic transmission, Suzuki's approach is to use a conventional automated manual transmission (AMT) of the type optional for some Maruti Suzuki small car models in India, and then add a 25kW belt driven motor generator unit (MGU) which assists the petrol engine like the unit in the smaller Swift hatchback. The notable difference from that mild hybrid layout is the location of the Vitara MGU on the output side of the transmission assembly. Thus, its output is transmitted directly to the driveshafts to fill the torque gap during shifting and provides a smoother transition from the transmission. Voila, genuine full hybrid but different from the approach taken by Toyota and many others. The newly enlarged 1.5-litre, 85kW K15C petrol engine (up from 1.4-litres in more recent Vitara iterations) is combined with a 140V lithium-ion battery and inverter, the MGU, a 12V lithium-ion battery, and a conventional 12V lead-acid battery to power components such as lights, instruments and heating/air conditioning.
Dual mode
This new hybrid system has driver selected eco and standard modes. In standard mode, the MGU more frequently assists the petrol engine "to allow more spirited driving enjoyment", Suzuki says. The MGU assists the petrol engine during vehicle take off while the 140v lithium-ion battery stores electrical energy recovered from deceleration and braking and incorporates an idle stop function operated via the integrated starter generator. Based on engine speed and throttle position, the engine ECU judges when the driver will accelerate and then uses electric motor assist to add additional torque. The hybrid system efficiently collects kinetic energy and generates electricity by stopping the engine and disengaging the clutch during deceleration which expands the EV driving range. This new Vitara can run on its electric motor alone for unspecified "short distances".
The automated manual which, for this application, Suzuki calls Auto Gear Shift (AGS), automatically shifts the manual transmission which has gear ratios optimised for "a good combination of performance and fuel economy". This, Suzuki says, "enables the driver to enjoy both the direct driving experience of a manual gearbox and the shifting ease of an automatic transmission". The key advantage is lower component weight (15-20kg depending on version) and lower CO2 emissions compared with a conventional torque converter type automatic as offered for older Vitara variants which had 1.4- and 1.6- litre petrol engines. The transmission also has a manual mode with steering wheel mounted shift paddles.
I approached this new model (I drove only the two wheel drive version) with a degree of cynicism, recalling the awful, jerky full-throttle shifts of some rivals' earlier attempts at AMTs and was pleasantly surprised. Floor the accelerator and the gear changes are still not as smooth as a torque converter auto because the transmission momentarily disengages the clutch to change ratio but this automated manual is nonetheless the smoothest I have ever tried. Drive it as most buyers will, gently, and it changes pretty smoothly and you soon learn to judge when a gear shift is coming and 'lift off' a little, pressing the accelerator again once the change is made so it is almost imperceptible. The reward will come at the pump, as UK petrol prices continue to soar, with claimed WTLP combined consumption varying from 53mpg (2WD) to 48.4mpg (4WD).
In slow urban traffic the Vitara full hybrid will pootle along for a bit in electric mode but it doesn't take much of a press on the gas pedal to fire the petrol engine which restarts almost imperceptibly. But the ECU also cuts the petrol engine out at every opportunity – such as when coasting – which contributes to the excellent fuel economy. Various driver selectable displays show power flow and current/average fuel consumption so you can see exactly what the powertrain is doing.
This latest powertrain goes into a Vitara body style pretty much unchanged since launch back in 2015 but there have since been various updates such as a 1.4 petrol turbo engine in 2016 and additional one- and 1.4-litre mild hybrid variations plus extra standard safety equipment in 2019/20. Competition in the UK small SUV segment has grown from 14 rival models in 2016 to 23 today with a consequent reduction in the Vitara's market share from 5.1% to 3.7%. Current rivals include the Hyundai Kona, Kia Stonic, Nissan Juke, Renault Captur, Peugeot 2008, Seat Arona, Toyota Yaris X and the class leading Ford Puma, most of which are newer designs than the six year old Suzuki. The GB unit reckons there's a 20% slice of the segment for hybrids and that buyers will willingly pay extra for hybrid, gaining automatic transmission as well.
For the UK, the Hungary built Vitara full hybrid comes in three versions; 'nicely equipped' SZ-T 2WD plus 2WD and 4WD (Allgrip) SZ5 which add polished alloy wheels, panoramic sunroof, suede seat fabric, front and rear parking sensors and electric folding door mirrors to an already comprehensive package. Prices start at GBP25,499, or GBP1,750 more than the equivalent mild hybrid 1.4 manual. Suzuki GB predicts the overall revamped Vitara line model mix at 60% for the SZ-T with 20% of buyers opting for the full hybrid and 40% for the SZ5 (15% full hybrid).
With UK petrol prices soaring and ever increasing buyer interest in electrified vehicles, this new Vitara Hybrid has arrived at just the right time and deserves success.